5 unique wedding food traditions from around the world
Have you ever attended a wedding with a fascinating food tradition?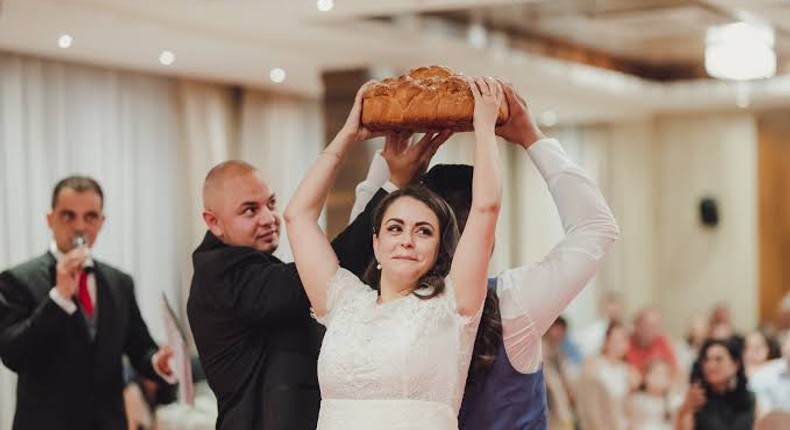 Different cultures around the world celebrate weddings in unique ways.
One thing common though is food. Apart from treating guests to delicious meals, food in some weddings also come with a deeper meaning.
Here are five unique wedding food traditions from around the world;
1. Nigeria - kolanut
Kolanut is one important item in traditional weddings in Nigeria, especially in the Igbo culture. In a typical Igbo wedding, Kolanut is shared between the bride and groom and is seen as a symbol of the couple's willingness to care for each other throughout the marriage.
2. Bulgaria - bread
In Bulgaria, breaking of bread is an important part of their traditional wedding ceremonies.
This act involves the bride's mother baking a special bread and on the wedding day, the newlyweds each hold the bread and pull it apart. It is said that whoever pulls the biggest piece of bread becomes the "leader" in the marriage.
3. Bermuda - cake
Cake is quite popular in weddings, but in Bermuda, there is a twist to it. In the typical Bermuda wedding tradition, the couple each get a special cake decorated in a different way in order to symbolise what they hope to bring to the union.
The bride's cake is usually a 3-tier fruit cake with silver icing symbolising a fruitful marriage. The groom's cake is single-tier and it is usually covered in gold to symbolise prosperity.
Pulse Nigeria
Another interesting part of the Bermuda cake wedding tradition is that the cakes are topped with cedar saplings. After the wedding, the couple plants this in their garden to signify their growing love.
4. Thai - foi thong cake
In Thai tradition, the wedding cake also comes with a twist popularly known as the foi thong cake. This cake has a signature golden hue that is said to symbolise good luck to the lives of the newlyweds.
Pulse Nigeria
The cake is also topped with foi thong noodles, hence the name. In addition to this, the couple decides the flavour of their foi thong cake.
5. Italy - Jordan almonds
In Italy, there is a special wedding food tradition that involves Jordan almonds. These are sugar coated nuts that come in different colours.
Pulse Nigeria
Jordan almonds are shared during weddings and it is said that the bittersweet flavour of the almonds represents how bittersweet life is. The sugar on the other hand symbolises how the life of the couple will be sweetened.
Which one of these unique wedding food traditions do you find most fascinating?
JOIN OUR PULSE COMMUNITY!
Recommended articles
A Night of Queens, an all-female lineup concert celebrating Nigeria's musical powerhouses
One Wellness Centre hosts exclusive brunch and tour event
Here's why you jerk when sleeping
5 tips to stop drinking alcohol
Chivas Palace: Celebrating the blend of success
7 things your belly button says about your health
Christmas traditions from our childhood that should come back
If you crave constant companionship, avoid dating people in these 4 professions
4 things I wish I knew before getting Botox for the first time
DIY Recipes: How to make ice cream without milk or cream
5 major differences between UTI and STI
5 tips to stop drooling in your sleep
Shelly-Ann Fraser-Pryce: Track legend signs mouthwatering deal with luxurious wristwatch brand
Sha'Carri Richardson: World's fastest woman reportedly bags $20,000,000 endorsement deal
She needs a break - Super Falcons coach explains Ashleigh Plumptre's absence from team
Sergio Ramos makes Champions League history 31 years after Daniel Amokachi