Trey Songz set to bring sexy back at 2015 Edition
One of Nigeria's, Pepsi Rhythm Unplugged is back with a bang.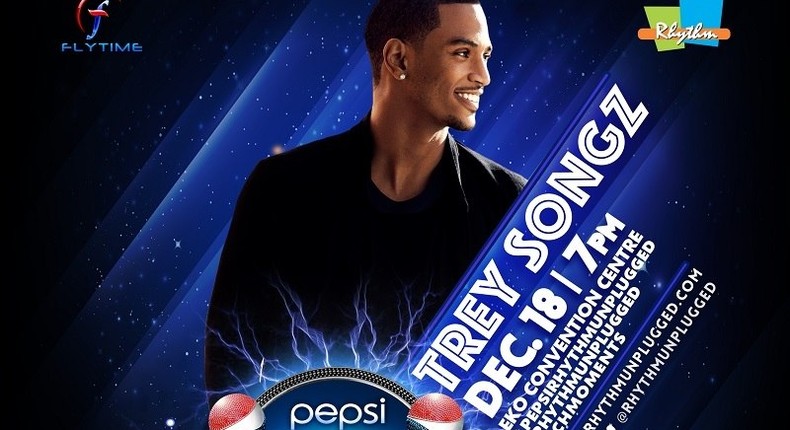 Flytime Promotions and Rhythm 93.7 present Nigeria's No. 1 concert, Pepsi Rhythm Unplugged 2015 featuring Trey Songz.
The 11th edition of Nigeria's biggest music event takes center stage again on Friday, December 18, 2015 by 7pm at the Eko Convention Centre, Victoria Island, Lagos, Nigeria.
Host for this edition include comedic geniuses, Basket mouth and Bovi. The show will feature high voltage performances by some of Nigeria's finest and Grammy award-nominated singer-songwriter Trey Songz.
Watch his announcement here
Join the conversation, use #PepsiRhythmUnplugged and follow us on Facebook, Twitter and Instagram @RhythmUnplugged for first hand show updates and to participate in our giveaways.Pepsi Rhythm Unplugged....Anything can happen.
TICKET PRICESGeneral Admission: N7,500VIP Tickets: N25,000Gold VIP Tickets: N50,000For Table Bookings and enquiries, please call 08174565603 or email info@flytimeltd.com.
JOIN OUR PULSE COMMUNITY!
Recommended articles
Let's take a minute to appreciate Bella Okagbue's finale outfit
Decagon celebrates 500+ graduates securing full-time developer roles globally
Here's why sleeping with your phone in bed can affect your health
Your marriage may be happier if you marry as a virgin, experts say
How UNWIND is financially empowering spa therapists
7 unusual driving laws from around the world
Balenciaga has taken creativity too far with its muddy fashion show in Paris
3 similarities between Igbo and Yoruba
Ladies! Here's one major reason guys suddenly stop showing interest in you after some time
Get our Top Stories delivered to your inbox