World class laser hair removal solution in Nigeria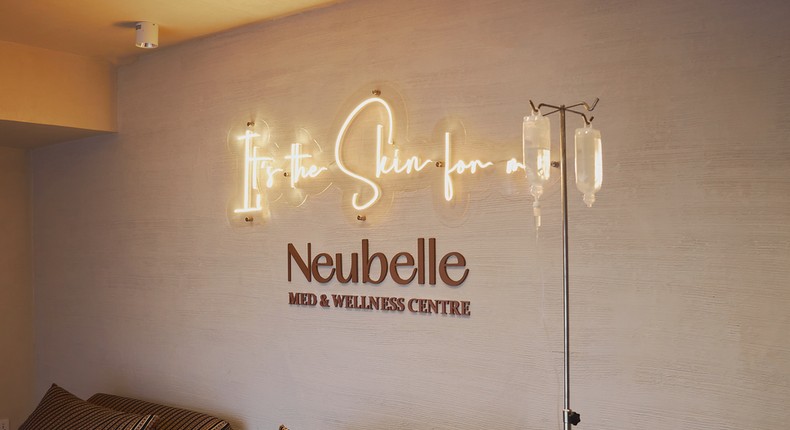 At Neubelle Med & Wellness Centre, you can enjoy laser hair removal services that effectively help with resolving unwanted hair.
Dealing with unwanted hair struggles every day can be time-consuming. It's amazing how technology has given us this exciting game-changer: laser hair removal.
It's a more long-lasting solution compared to traditional methods and will make life a lot easier for you. Neubelle officially launched in Lagos, in 2018 and they've just opened up a new, state-of-the-art centre on the Island.
This is your chance to indulge in some well-deserved self-care and pampering.
Tap into the Power of Precision and Efficiency
Did you know that laser hair removal uses laser energy to target and disable hair follicles? It can treat both larger areas like the legs or back, and smaller, sensitive areas, such as the upper lip or bikini line, with minimal discomfort. It also guarantees a longer-lasting solution compared to traditional methods like shaving or waxing.
What to Expect During the Laser Hair Removal Process
Your path to achieving silky-smooth skin starts with a consultation; first, a certified specialist will take a close look at your skin type, hair colour, and medical history to identify the best treatment plan for you. After your treatment plan has been developed, you will start the removal procedure which includes applying the laser to the specific area, where it gets absorbed by your hair follicles.
Pulse Nigeria
This will prevent hair from growing back, and over a few sessions, depending on your skin and hair composition, you'll notice a gradual reduction in hair density and thickness. At Neubelle Med & Wellness Centre, your safety and satisfaction is paramount, your therapist will share what you should expect in more detail and provide pre and post-treatment care instruction guides to ensure a seamless hair removal journey.
Farewell to Shaving and Waxing
One of the most significant advantages of laser hair removal is its long-lasting results. Unlike temporary methods that require frequent maintenance, laser hair removal offers a semi-permanent to permanent solution for unwanted hair.
Pulse Nigeria
As you progress through your treatment sessions, you'll notice a reduction in hair growth, translating to smoother skin and considerably fewer maintenance struggles. Say goodbye to the constraints of shaving or waxing. Trust the Neubelle team to guide you on your journey to hair-free skin, leaving you feeling sexy, confident, and liberated.
Embrace the power of laser technology and discover the freedom of silky-smooth skin at Neubelle Med and Wellness Centre.
Book your appointment now at neubellewellness.com and follow them on Instagram @neubellewellnesscentre for wellness updates, insights and offerings.
JOIN OUR PULSE COMMUNITY!
Recommended articles
Premium travel company, Kairos World Travels receives IATA certification
3 reasons relationships that start in December may not last
A Night of Queens, an all-female lineup concert celebrating Nigeria's musical powerhouses
DIY Recipe: How to make African drop doughnuts
One Wellness Centre hosts exclusive brunch and tour event
5 things every young man in a relationship should know about women
Here's why you jerk when sleeping
5 tips to stop drinking alcohol
The truth about feminine wash and perfumes
Chivas Palace: Celebrating the blend of success
7 things your belly button says about your health
Some common causes of coarse palms and how to soften them