Sleep paralysis: Caused by witches or a natural occurrence?
Sleep paralysis is feeling pressed down and unable to move or wake up while sleeping.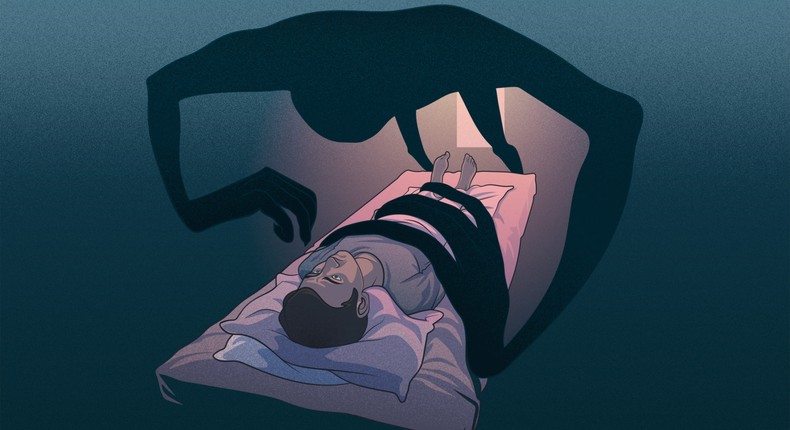 Experiencing sleep paralysis can be very scary, but is it evidence of paranormal activity or is it not?
Sleep paralysis is a condition where a person is conscious but unable to move during the transition between wakefulness and sleep. It can cause temporary paralysis, such as a few seconds of inability to move or speak while experiencing pressure or choking.
Sleep paralysis episodes often involve hallucinations that are different from normal dreams, which can occur during sleep or upon waking.
These hallucinations can be classified into three categories: intruder hallucinations, chest pressure hallucinations, and vestibular-motor (V-M) hallucinations.
Intruder hallucinations involves feeling there is a dangerous person or presence in the room, while chest pressure hallucinations may cause suffocation or sensations of someone sitting on your chest. Vestibular-motor (V-M) hallucinations has to do with out of body sensations and feelings of movements.
The cause of sleep paralysis
The cause of sleep paralysis is believed to be a disturbed rapid eye movement cycle, as it occurs during REM sleep when the brain normally paralyzes muscles, preventing the sleeper from executing their dreams.
Sleep paralysis is often a sign of a body's difficulty moving through sleep stages and is rarely linked to underlying psychiatric issues.
Symptoms have been attributed to unseen night demons, witches, or other supernatural creatures, but sleep researchers now believe it is a sign of body irregularity rather than underlying spiritual issues.
Why does sleep paralysis happen?
Sleep paralysis affects up to four out of every 10 people, often first noticed when they are teenagers. It is believed to be genetic and can be influenced by factors such as lack of sleep, changing sleep schedules, mental conditions like stress or bipolar disorder, sleeping on the back, other sleep problems like narcolepsy (inability to control when one falls asleep) or leg cramps, drugs like ADHD medication, and substance abuse.
As to whether it is caused by witches, science cannot prove the existence of a spiritual realm. But since it is quite common and can be explained by science, it's less likely to be caused by witches.
Treatment
Treatments for sleep paralysis may involve improving sleep habits, using prescribed antidepressants, treating mental health issues like stress and depression contributing to sleep paralysis, treating other sleep disorders like narcolepsy, treating leg cramps. It is crucial to sleep for six to eight hours every night.
JOIN OUR PULSE COMMUNITY!
Recommended articles
Raising a Toast to the true Orijinals: Orijin unveils new limited edition packs this festive season
8 sperm-killing foods that dads need to avoid!
Why reverse cowgirl is the world's most dangerous sex position
The male G-Spot, where it is and how to stimulate it
5 ways to spot a sex addict or know if you are one
Beyond the runway: Lush hair steals the spotlight at Lagos Fashion Week's 10th edition
Escudo Rojo introduces Luminoso Wine in spectacular launch event
Bikiya Graham-Douglas continues to promote African Arts & Culture with Beeta Arts Festival (BAF)
Spices, Stories and Surprises: Detailed look at vibrant African Food & Drinks Festival Abuja
Make this no-yeast bread with only 3 ingredients
What is a Jacob's ladder piercing? It's pretty extreme
3 ways to get rid of vaginal odour
Shelly-Ann Fraser-Pryce: Track legend signs mouthwatering deal with luxurious wristwatch brand
Sha'Carri Richardson: World's fastest woman reportedly bags $20,000,000 endorsement deal
She needs a break - Super Falcons coach explains Ashleigh Plumptre's absence from team
Sergio Ramos makes Champions League history 31 years after Daniel Amokachi
Thiago Silva recalls TB fright ahead of Chelsea debut