How Nigerian skincare merchants were exposed for damaging people's skin
Will Nigerians stop bleaching after skincare industry players were called out this year?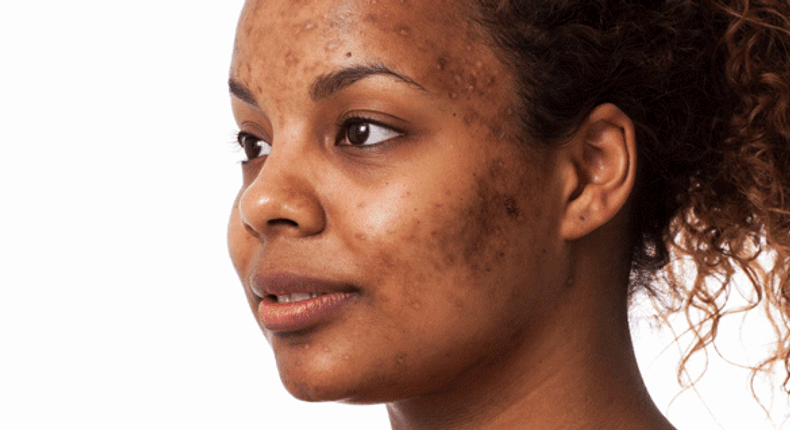 For many organic skincare brands and retailers of fake products in Nigeria, 2023 is their nemesis.
It all started with a TikToker, Very Dark Blackman, this viral sensation is known for conversing in his singlet in a dark room with the ring light on. He called out Jenny'sGlow skincare for selling unlicensed products. He said National Agency for Food and Drug Administration and Control (NAFDAC) sealed up her store in Abuja for selling products without NAFDAC number, and that sparked endless reactions and banter. He also showed negative reviews from people who have used her products.
Oshaprapra White, 7D Whitening, and many other weird names are some of the tags used for these 'organic' products.
For years, many people have made these so-called organic skincare products, which are glorified bleaching creams, by putting substances like powdered milk, carrot, palm kernel oil, and many other strange substances in their products and selling them online.
These substances are abrasive on the skin and lead to hyperpigmentation, a condition where one area of your skin is darker than the rest, swollen red acne, spots on the face, and even liver damage.
These skincare vendors use many popular celebrities and influencers—who do not even use the products—to market their products, enticing many people with legitimate skincare issues and those who want to become lighter in complexion.
These products sell because there is a market for them. A World Health Organization (WHO) study has revealed that the use of skin bleaching creams is prevalent among 77% of Nigerian women.
Recently, people have spoken against the dangers of using bleaching creams and buying these products, but there was something about how Very Dark Blackman, whom many people called the skincare Batman, spoke against these nefarious activities that eventually made people pay attention.
Now many more organic skincare brands will more likely seek NAFDAC's approval before selling a product to be used on the largest organ on the body, the skin, to avoid being called out by him, but will Nigerians listen and stop bleaching their skin?
Another scrooge in the skincare industry in Nigeria are the retailers of fake products. Many retailers are selling fake products to the public. With the rise of many skin enthusiasts like Hey Yoyo, SkinwithLolami, and the Skin Priest, people are starting to learn how to distinguish between a fake product and a real one. This year, many Nigerians discovered that their moisturiser, Cosrx Advanced Snail Mucin, was fake because of a video posted by a Twitter skincare influencer.
Because of this, Cosrx itself responded and said you could only buy their original products from BuyButterng. That's commendable, but that's not enough. Many retailers need access to original products as the markets are saturated with fake products, and fake products are as harmful as unlicensed products.
Many Nigerians use topical steroids like Funbact-A, which are drugs to be prescribed by a doctor and discontinued after a short time, because they want to look lighter in complexion. Overuse of these products can lead to skin thinning, stretch marks, easy bruising, dilated blood vessels, and, less commonly, increased hair growth.
One of the lessons yet to be learned by many Nigerians is that you can't just buy any product because it's trending and popular; you have to understand what's suitable for your skin type, which sometimes involves seeing a dermatologist. Your friend's or social media recommendation is not enough for you to gamble on your skin.
JOIN OUR PULSE COMMUNITY!
Recommended articles
How your favourite artistes showed up at Pulse Fiesta 2023
Pulse Fiesta 2023 ushers Lagos into Detty December proper
Raising a Toast to the true Orijinals: Orijin unveils new limited edition packs this festive season
8 sperm-killing foods that dads need to avoid!
Why reverse cowgirl is the world's most dangerous sex position
The male G-Spot, where it is and how to stimulate it
5 ways to spot a sex addict or know if you are one
Beyond the runway: Lush hair steals the spotlight at Lagos Fashion Week's 10th edition
Escudo Rojo introduces Luminoso Wine in spectacular launch event
Bikiya Graham-Douglas continues to promote African Arts & Culture with Beeta Arts Festival (BAF)
Spices, Stories and Surprises: Detailed look at vibrant African Food & Drinks Festival Abuja
Make this no-yeast bread with only 3 ingredients
Shelly-Ann Fraser-Pryce: Track legend signs mouthwatering deal with luxurious wristwatch brand
Sha'Carri Richardson: World's fastest woman reportedly bags $20,000,000 endorsement deal
She needs a break - Super Falcons coach explains Ashleigh Plumptre's absence from team
Sergio Ramos makes Champions League history 31 years after Daniel Amokachi
Thiago Silva recalls TB fright ahead of Chelsea debut