Toke Makinwa commoditizes her pain for profit
Toke Makinwa has turned her painful love story into a commodity that will inspire hope and true love.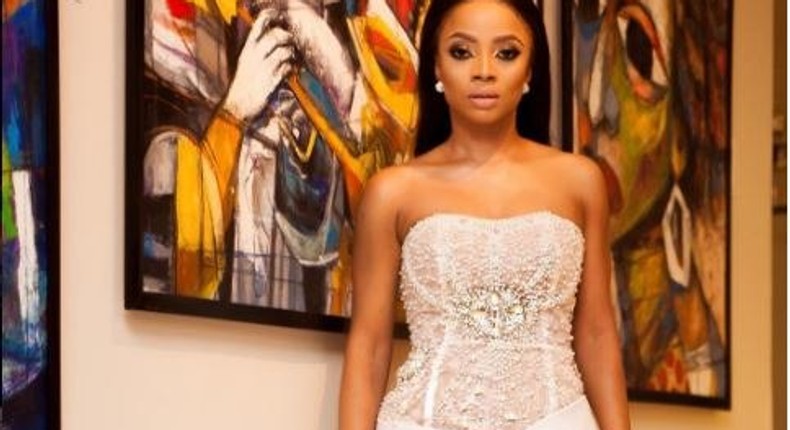 Hello, my good people. Another Monday, another day of madness in this city called Lagos.
Forget about work for a bit and let us gist. Don't worry your boss can't fire you. The gist all around town is Toke Makinwa's new book 'undefined with her ex-husband Maje Ayida.
The book was released yesterday, Sunday, November 27, 2016, and already it is the talk of the town.
Excerpts from the book have been flying all over social media, the latest sizzling revelation being that the beautiful media personality contracted an STI from her philandering husband, Maje Ayida. Ha! This Maje guy sef.
Women who connect to Toke's tale of love, pain and rebirth have started paying top Naira and Pounds to get a copy of her memoir. On Kindle, the book goes for £8 or so I have heard. In these days of the recession, the only book that I can buy for that amount is The 3D version of the Holy Bible.
Let's be truthful though, Toke Makinwa is a sharp girl. Mama wants to make money so she has written a tear-jerking emotional tale of love gone wrong. It's the stuff of telenovelas. Times are hard, any way na way as they say on the streets.
Her critics might deny her impact on Nigeria's social and media scenes but one thing that is hard to deny is that Toke Makinwa is a business savvy woman.
Toke Makinwa has always been very secretive about her private life. Her marriage was hush-hush and when it was reported that her it had crashed, the radio presenter did not say a word...well until now.
Instead of crying her eyes out on Instagram and going on a rant, she opened her laptop and wrote about the lows and all-time of her marriage packaged it and made it available for sale.
What Toke Makinwa has essentially done is commoditize her pain for profit. She has turned her touching story into a tangible product that people can buy online or in bookshops. Her book is a commercial venture.
There is no crime in doing this. Kanye West's '' is a musical product that commoditizes the pain he felt when his mother passed away and his mother left it. Canadian rapper Drake has made an empire by selling the pain of his heart-breaking relationships. It's a hustle and everyone does it.
Money is hard to come buy these days and you have to do what you have to do to make cash. 'On Becoming' no doubt sells a story of hope and a greater tomorrow- do not just forget the emphasis on sells.
JOIN OUR PULSE COMMUNITY!
Recommended articles
Rick Ross declares interest in Ayra Starr
See the ambitious Sh1.4 trillion ($10 billion) project the president of Kenya is involved in
Nigerians express concern over immediate implementation of subsidy removal
Europe is aiming to replace Chinese commercial connections with African ones
BREAKING: Tinubu confirms Gbajabiamila as chief-of staff
Top 10 African cities where it is cheap to get food
In this Ugandan tribe, the bride's aunt has s*x with the groom to test his sexual prowess
Study shows men have been peeing wrong; they ought to sit and not stand
Uba Sani appoints 29-year-old Jewel Tok Pam as SSA