2 ladies trafficked into prostitution in Togo narrates ordeal
Two Nigerian ladies who were trafficked for prostitution managed to escape and tell their sad ordeal.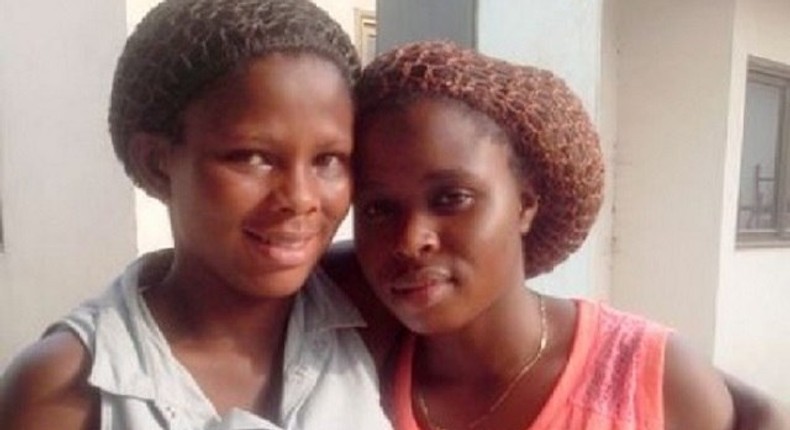 Two Nigerian ladies who were rescued from Togo where they were trafficked for the
The ladies, Franca Akhimen, 25, and Ehinon Onofua, 23, both from Edo State, according to them, were deceived with the promise of good jobs by an unidentified female trafficker at Ekpoma, in th state, promising to help the ladies seek greener pastures as workers in a restaurant in Ivory Coast but ended up in Togo where they were forced to work as prostitutes.
Speaking to Encomium Magazine, Akhimen and Onofua said they were unaware of the woman's true intentions being that they would be traded for prostitution after being made to swear to an oath that the would be paying the woman known simply as 'Madam Excellent,' the sum of 800,000 cefas.
But the ladies who saw what they did not bargain for, summoned courage and managed to escape to Ghana from where they were helped by the Nigerian community to get back home.
The girls shared their touching ordeal in the hands of 'Madam Excellent.'
First to speak was Akhimen:
"It was in Ekpoma in Edo state where I met one lady. I was actually going to church when I met her and she approached me and said she was looking for girls that can work in her restaurant in Ivory Coast.
So, when I got home I told Ehinon and we arranged to meet her and she told us what the plan was and when we will be leaving Nigeria for Ivory Coast. So, on February 2, we left Edo for Lagos, had a stop at Mile 2, and she told us that was where the car that will take us to Ivory Coast will pick us.
So, at exactly 9.30pm, the car came for us and we all boarded that evening. When we got to Togo, I noticed that we were not going to proceed with our journey, so I asked the woman 'why are we here, you said we were going to Ivory Coast not Togo'.
She told me to keep quiet, that whatever she asked me to do, I should just do it without complaining. Later, she went out to buy clothes and came back with some skimpy and short dresses and gave them to us to wear.
I asked why such dresses, because they don't look like clothes that are worn by a waitress or a person selling food. Again, she told me to keep quiet and just do whatever she asked me to do, adding that we were brought to Togo for prostitution and in return, we get to pay her 800,000 cefas each.
So, I told my sister, we can't do this kind of job, we have to find a way to escape from her than to stay here. So, we left without even carrying our bags in order not to arouse any suspicion of us running away."
JOIN OUR PULSE COMMUNITY!
Recommended articles
Despite $3 billion bailout, Ghana has essentially gone bankrupt
My marriage is sweeter than what you see online - Regina Daniels
Naira Marley loses 500,000 Instagram followers over Mohbad's death
American rappers Lil Durk & Kodak Black pay tribute to Mohbad
Goge Africa is concerned some BBNaija acts violate Nigeria's moral values
Burna Boy shows love to Ghanaian market women dancing to his song [VIDEO]
5 signs you may be a horrible girlfriend or wife
Court grants ₦500k bail to 69 men accused of attending gay wedding in Delta
How to send nudes safely - Police offers tips