See pictures of Pig born with the face of monkey
The pictures of a piglet born with the head of a monkey has gone viral on social media.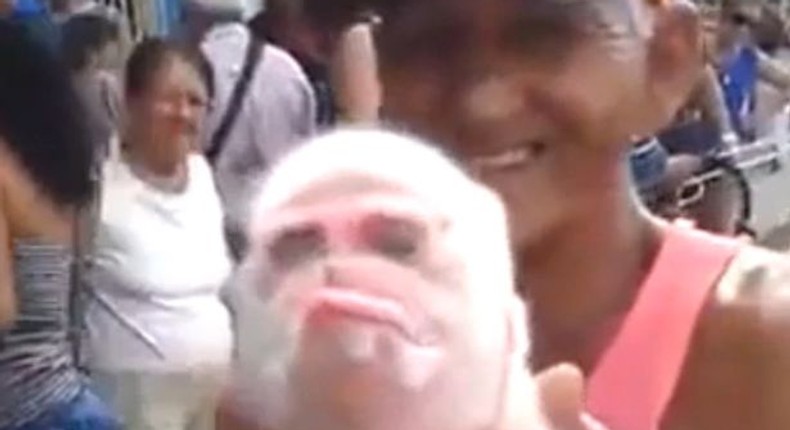 Branded a 'Monkey Pig' by social media users, the strange creature could be a result of 'environmental pollution'.
The animal appears to have a considerably shortened snout as well as monkey-like ears and eyes.
Sadly, the piglet died just four days after it was born.
According to local media in Cuba, the owner visited a vet, who explained that the piglet had been born with a congenital defect which caused its look - and its death.
Mirror UK reported that this is not the first time that a porcine creature has come into the world looking like it belongs in a jungle, with deformed pigs being reported from South America through to China.
Some blamed environmental pollution while others argue people are simply more aware of such deformities due to social media.
Whatever the reason, the monkey-piglet quickly became something of a local tourist attraction, with people coming from across the area to photograph its remarkable features before it died.
JOIN OUR PULSE COMMUNITY!
Recommended articles
For women: 4 foreplay tips to drive men wild
Family rejects coffin from son-in-law for his mother-in-law's burial, says it's not beautiful
BBNaija's Nini says 'yes' to Saga as they take things to next level
4 African countries are responsible for 70% of the chocolate in the world
DSS confirms plot to install interim government to stop Tinubu
Yul Edochie loses first son with May, Kambili
Train crash: Bus driver begs for forgiveness after psychiatric, drug tests
Yul Edochie urges Lagos police to investigate son's death
Jada Pollock criticised for promoting Wizkid album on eve of Davido's release