Billionaire, Richard Branson, survives bike crash
Billionaire business tycoon, Richard Branson, was involved in a near fatal bike accident that almost claimed his life.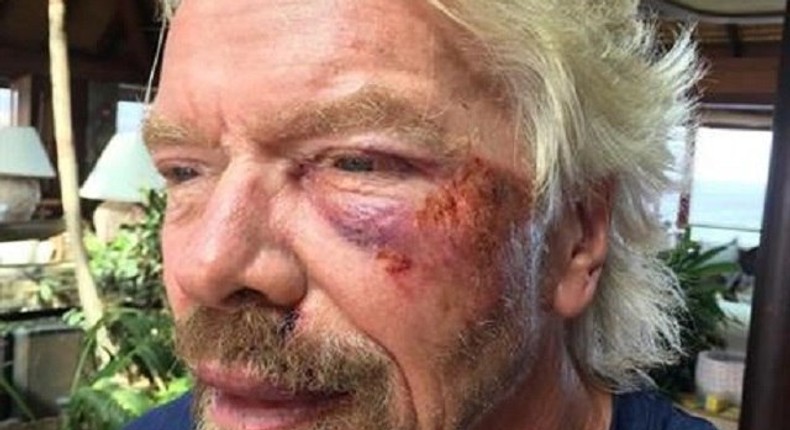 Dare-devil billionaire entrepreneur,
The Sun UK reports that the 66-year-old Virgin Group boss hit a bump in the road on Virgin Gorda, one of the islands in the Caribbean, catapulting him into the road.
The owner of Virgin Airlines, who posted pictures of his bloodied face on social media earlier today, August 26, 2016, showing the gruesome injuries that included a cracked cheek, torn ligaments and severe cuts, said he was lucky that his shoulder and cheek took the brunt of the impact and the helmet he was wearing practically saved his life.
Richard Branson cheated death yet again
Speaking of his near-death experience, the adventurous Branson  said he was on a training cycle run with his two grown up children on the British Virgin Islands when the accident happened.
"I went cycling on Virgin Gorda with and as part of my training for the Virgin Strive Challenge. I was heading down a hill towards Leverick Bay when it suddenly got really dark and I managed to hit a 'sleeping policeman' hump in the road head on.
The next thing I knew, I was being hurled over the handlebars and my life was literally flashing before my eyes.
I really thought I was going to die. I went flying head-first towards the concrete road, but fortunately, my shoulder and cheek took the brunt of the impact, and I was wearing a helmet that saved my life.
My bike went flying off the cliff and disappeared. We've since recovered the crumpled bicycle, completely destroyed. My cheek has been badly damaged and my knee, chin, shoulder and body severely cut.
As I landed, once I realized I was alive, I began testing my movement. I really couldn't believe I was alive, let alone not paralyzed."
"Coincidentally, the first person to arrive on the scene was my assistant , who had just returned from holiday. She was wondering who was lying prostrate on the road.
The injured billionaire showing off his injuries
I was so glad to be alive that I quickly was able to summon my sense of humour, and said to her: 'I'm alive! At least you've still got a job!", the tycoon recalled.
JOIN OUR PULSE COMMUNITY!
Recommended articles
Rick Ross declares interest in Ayra Starr
Top 10 African cities where it is cheap to get food
Nigerians express concern over immediate implementation of subsidy removal
BREAKING: Tinubu confirms Gbajabiamila as chief-of staff
In this Ugandan tribe, the bride's aunt has s*x with the groom to test his sexual prowess
Study shows men have been peeing wrong; they ought to sit and not stand
Uba Sani appoints 29-year-old Jewel Tok Pam as SSA
Veteran Nollywood actor Adewale Adeyemo is dead
Naira marginally rises against dollar in 24 hours of Tinubu's presidency