Man mobbed over suspicion of manhood theft
The reports reveal that that man who had been suspected of stealing another's manhood, had received the beating of his life at Madalla market, Abuja.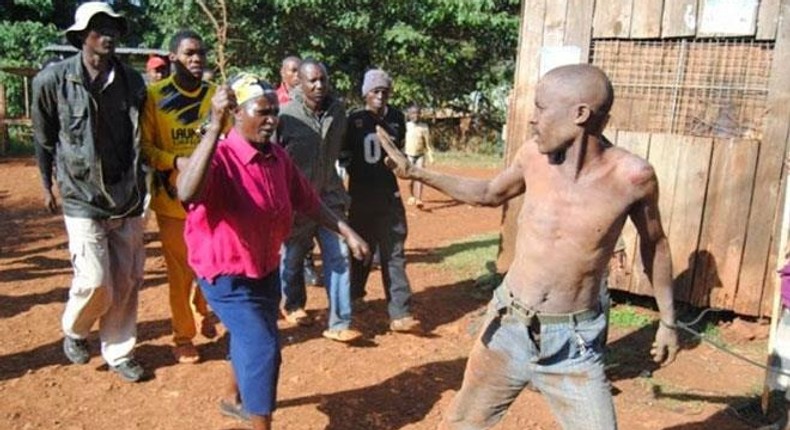 News reports have revealed that a man was almost mobbed over accusations of stealing another mans manhood in Abuja.
The suspect had only been spared by the timely intervention of members of the vigilante group in the market.
A witness who had been at the scene at the time of the incident, Shehu Yakubu, revealed that the incident had taken place at about 2:14p.m., adding that the suspect had reportedly confessed before returning the stolen manhood.
Yakubu adds that the suspect, who is reportedly from Suleja, had come down from an unmarked vehicle before pretending to buy fairly used clothes, in the process of which he brushed a passer-by, revealed to be the victim.
"The man pretended as if he had fallen down and in the process brushed the victim with his shoulder. The young man raised an alarm about the disappearance of his manhood few minutes later."
Yakubu went on to reveal that people had immediately responded, chasing down the suspect and stopping him from leaving the market.
The reports reveal that the suspect had initially denied stealing the manhood causing the already gathered mob attack him until the members of the vigilante group had intervened.
After efforts to reach the Divisional Police Officer in charge of Madalla division had failed, a police officer had later revealed that the suspect would be charged to court soon enough, adding that the victim's manhood had been intact upon their arrival at the police station.
JOIN OUR PULSE COMMUNITY!
Recommended articles
10 African countries with the largest population lacking electricity
Egypt's richest man joins trending billionaire migration to UAE
Meet the Sapeurs, Congolese who wear expensive outfits though they live in poor communities
Top 10 African cities with the highest purchasing power
10 African countries with the highest fertility rate in 2023
5 ways to spot a sex addict or know if you are one
7 reasons women don't get wet even when aroused
4 African countries are responsible for 70% of the chocolate in the world
Thieves forced to drink crates of alcohol they stole from a store [video]