Pastor orders single members to choose partners for marriage [Video]
A man of God based in Delta State has caused a stir after he brought out single people in his church and told them to pick their partners for marriage.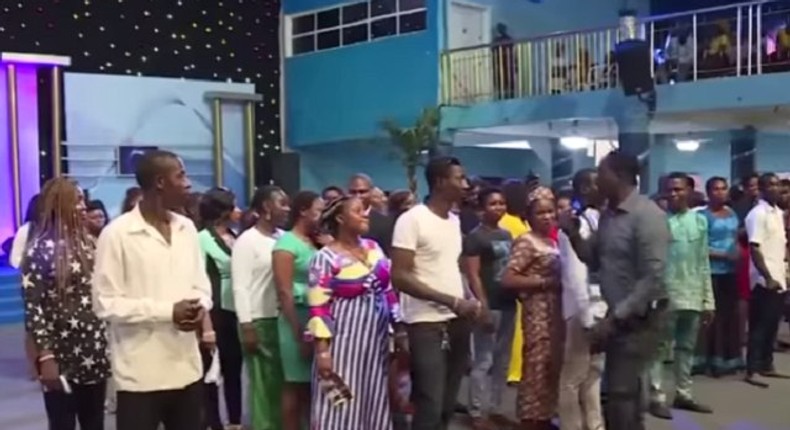 A man of God based in Warri, Delta State,
The incident allegedly happened during a church service when Prophet Fufeyin invited single people to the altar and ordered them to start choosing any person they fancied so that he could join them in marriage immediately.
In the video that has gone viral, the Prophet is seen summoning a lady and asked if she was married. When she replied in the negative, he asked her if she would like to get married and she said yes, then he told her to choose any man she liked in the auditorium so he could wed them on the spot.
The woman was then seen searching through the congregation to find a man of her choice but when she could not settle on any man, Prophet Fufeyin told her that there was a demonic mark on her which has been preventing her prospective husband from coming to her.
He told her that the men that usually came her way were only after her body and when they have had sex with her, they would dump her.
"Those ones coming only chop and go. How many men don chop you?" he asked her and she replied that such men who only use and dump her were many.
Prophet Fufeyin then lined up single men and asked her if she found any of them appealing and that she could choose anyone but she told him none of the single men met her standard for a husband.
The matchmaking then went to another level as the man of God summoned all the single men in the church to file out and the spinsters to line up behind the men of their choice.
"If anybody wants to marry anyone here, come and touch the person; any person you like. We cannot allow women to be like this forever. I want to marry for these people.
Look at your back. I give you people from now till month ending to screen your wives. Nobody should go and meet for night o," the man of God jokingly concluded.
Though the strange matchmaking has been raising eyebrows with many condemning the man of God, others think he has done nothing wrong as that was his own way of getting single people to settle down easily.
JOIN OUR PULSE COMMUNITY!
Recommended articles
Despite $3 billion bailout, Ghana has essentially gone bankrupt
South Korea eyes one of Nigeria's precious minerals
4 highlights from Thursday's pool party on 'BBNaija All Stars'
Pere calls out housemates for disrespecting Ilebaye on 'BBNaija All Stars'
List of African countries and how much of their salaries they spend on iPhones
Ukraine plans to fight hunger in Africa despite the dangerous transport routes
Ghana is looking to supply Nigeria with its electricity needs following power grid shutdown
Top 10 African countries with the highest food inflation rates