Uncle drives nail into 8-yr-old nephew's skull over N500
A heartless man has been arrested by the police in Lagos for allegedly driving a nail into his nephew's skull over theft allegation.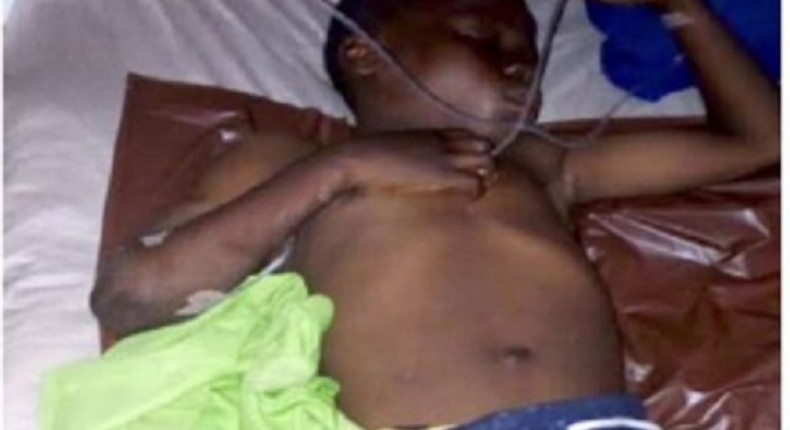 A middle-aged man identified only as
Vanguard reports that the victim identified as Friday, an orphan, is the son of Paul's brother and had been living with him after the death of his parents two years ago, but had never had a moment's peace as his uncle has been maltreating him on a daily basis.
The incident happened at Paul's residence on 6, Anjolarin Street, Odogunyan, area of the state after he accused his young nephew of stealing the money and in a bid to make him confess, Paul resorted to the brutality on him.
The suspect, according to residents of the area, had allegedly accused his nephew of stealing the money he kept in his room at the weekend but the eight-year-old boy denied taking the money which infuriated his uncle.
Paul was said to have dragged the boy into his apartment and tortured him. Not done with that, he was said to have driven three inches nail into the boy's skull and his cries for help was said to have attracted neighbours who rushed to the scene, but Paul was said to have abandoned the boy and fled.
It was learned that sympathizers caught up with him and handed him over to the Police at Sagamu Road Division while the young boy was rushed to The Saviour the Rock Hospital, Odonla Road, Odogunyan, where doctors are still battling to save his life.
A resident who did not want his name in print said if not for the quick arrival of the police, Paul would have been lynched by the angry crowd.
It was gathered that doctors at the hospital managed to remove the nail in the boy's head but may have to carry out an urgent surgery to remove any blood clot that could have formed in his head following the severe injuries caused by the nail.
JOIN OUR PULSE COMMUNITY!
Recommended articles
DRC and Angola set aside a 50-year oil block dispute to become joint holders
Veteran Nollywood actor Adewale Adeyemo is dead
Naira marginally rises against dollar in 24 hours of Tinubu's presidency
Beautiful Nubia, Tosin Ashafa, others pay tribute to OAU alumnus Abass Oyeyemi
Zainab Balogun explains how medical disorder affected her marriage
5 most fashionable plus-size celebs in Nigeria
Poverty level in Nigeria unacceptable, Tinubu tells governors
Obaseki increases minimum wage to ₦40k, asks workers to work from home twice a week
Tribunal rejects PDP, LP's request for live broadcast of court proceedings