OAP secures bail, pays rent for widow jailed by landlady
The controversial OAP has shown that beyond his troublesome nature, he also has human feelings.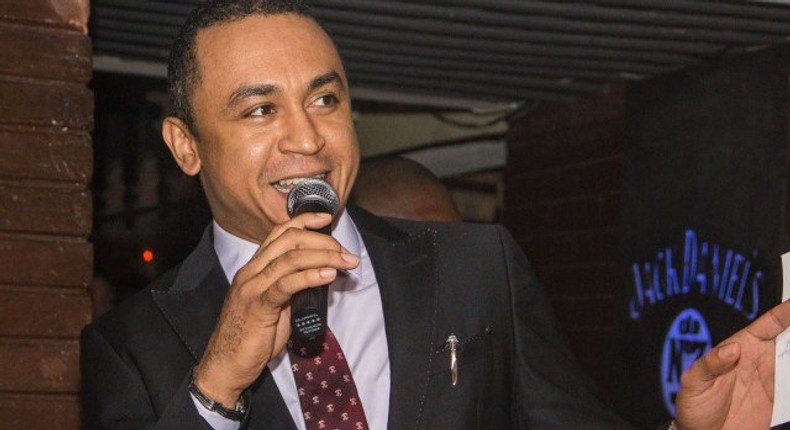 The popular Beat FM On Air Personality,
The woman, Lateefat Aremu who is a widow, was remanded in prison custody after her landlady dragged her to the police following her inability to pay her house rent, leaving her three young children stranded.
Lateefat was arrested after she had a disagreement with her landlady over rent and taken to the Olosan Police station in Mushin, Lagos State, from where she was taken to a court and remanded in prison when she could not meet their bail conditions of N50,000.
The widow reportedly spent over one month in prison.
But in a show of magnanimity, Daddy Freeze swung into action and secured the bail for the woman and her husband and went ahead to get a new accommodation for her.
He took to his Instagram page to post the good news that has elicited good vibes from Nigerians who now see him in a different light from the cantankerous man who is always getting into fights.
The lucky widow, Lateefat Aremu and her children
"This is Lateefa, a mother of 3. She was imprisoned for over a month wrongfully, by her landlady.
The #FreeTheSheeple movement freed her from prison through our wonderful Barrister BUKKY, who got the case against her thrown out of court. We went on to contribute towards her rent and paid for 1 year.
Now we are uniting her with her children, who were taken into government custody. This is what we do.
All the blogs report about the negative. But while you are busy criticizing us, we are touching lives and freeing sheeple from yahoo boy pastors.
P.S the widow we contributed money for was so excited, she said the last time she saw the type of money we gave her was 10yrs ago.
Her husband died leaving her with nothing 10 years ago. Her 8yr son died a few months ago. Don't just comment on the internet, touch a life, it's what we do! ~FRZ
However, some Nigerians have taken Daddy Freeze to the cleaners, saying he should not have made public the good deed but be that as it may, the woman is out of prison and has a roof over her head.
JOIN OUR PULSE COMMUNITY!
Recommended articles
Lai Mohammed appointed managing partner of international lobbying firm
Masturbation may increase a male primate's chances of impregnating a female - Study
Tanzania could become the top investment destination for Australia
DRC and Angola set aside a 50-year oil block dispute to become joint holders
Sex is now a sport in Sweden, all you need to know about the competition
Peter Obi tenders more evidence in Presidential Election Tribunal
Kate Henshaw finally unveils daughter publicly
Portable Zazu announces the arrival of fifth child with Yoruba actress
Veteran Nollywood actor Adewale Adeyemo is dead