Arrested pick pocket says he spends his loot on prostitutes
A suspected pick pocket confessed to the police that his love for prostitutes made spend all his money on them.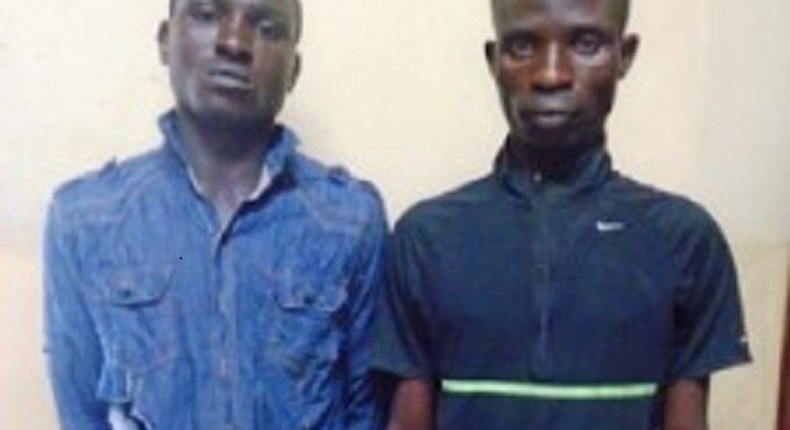 A suspected pick pocket and
The 24-year-old Ashimiyu who was arrested alongside his partner in crime, Kayode Jolaade, 34, in the Maryland and Mile 12 areas Lagos, explained that he found it hard to resist the scarlet ladies and hence he could spend even his last Kobo on them to satisfy his sexual appetite.
The suspects who were caught in the act by policemen after they had successfully removed three phones from commuters in different BRT buses, both confessed that they are experts in robbing commuters that ply the Mile 12 to Maryland routes.
Ashimyu, a native of Yemetu, Alawada in Oyo State, said:
"I have not spent a dime from my proceeds in stealing on anything tangible. I womanise a lot and I spent my money on both young and old ladies.
I smoke Indian-hemp and drink all sorts of hard drinks. Before I was arrested, I had successfully removed two mobile phones from commuters during a rush at the Maryland bus-stop.
It was my third attempt that led to my arrest. My accomplice caused my arrest today. Before he joined me at Maryland, I had stolen two phones successfully. If he had not joined, I would not have been arrested.
People who knew him in the area were monitoring us, unknown to us. The people after monitoring our operations for some time started chasing me. On sighting them, I took to my heels. They were many, they caught up with me and started beating me.
I was able to escape from them and ran after Bus Rapid Transport (BRT). As I was attempting to board, I saw a guy at the entrance, who was trying to assist me in getting into the bus. In the process of helping me, I dipped my hand in his pocket and removed his phone, and jumped down.
But he didn't know I had equally removed his phone. As I jumped down, the people continued chasing me. When I had no option left, I tried to cross the express way, but unfortunately for me I was knocked down by a truck.
I was writhing in pains on the highway. People thought I was dead, I opened my eyes to see RRS men, who later arrested me."
JOIN OUR PULSE COMMUNITY!
Recommended articles
Rick Ross declares interest in Ayra Starr
Nigerian actor Hawwal Ogungbadero, 29 others set Guinness World Record for longest recording session
Nigerians express concern over immediate implementation of subsidy removal
10 African countries with the lowest digital quality of life index
Study shows men have been peeing wrong; they ought to sit and not stand
Shaffy Bello opens up about her split from husband after 25-year marriage
Fuel prices will go down after removal of subsidy, says NNPC CEO Kyari
Nigerians react as Tinubu's daughter declares self as Iyaloja General of Nigeria
Veteran Nollywood actor Adewale Adeyemo is dead