Melanin movement fights back against colourism
Dark skin people are beginning to push their own narrative that black is beautiful.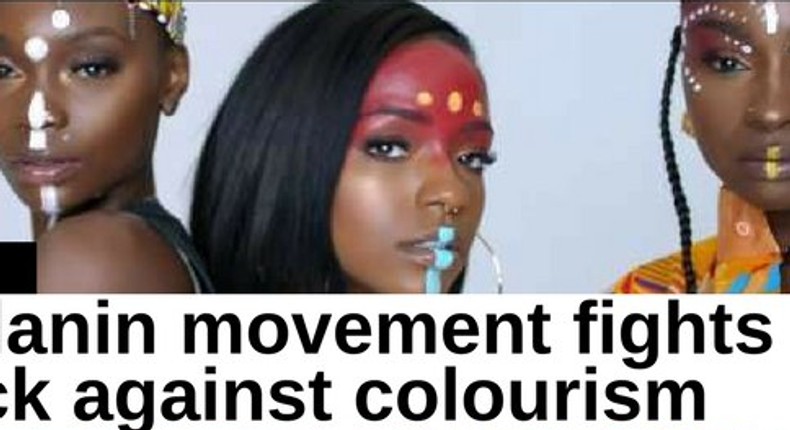 I was a huge fan of Michael Jackson in the 80s and 90s. Which kid wasnt?
Thriller video scared me a lot but I couldn't stop watching MJ's music videos no matter how crazy and outlandish they were.
Then came the '' album. When I watched the music video of the same name I was sort of confused. I asked my mum what was wrong with Michael Jackson and she said: "he is now white."
My young mind couldn't fathom how a black man could become a white man. I had heard Fela's 'Yellow Fever' but Michael Jackson was the first person I knew who decided to do away with his black pigmentation. Please save the vitiligo stories for another day.
As you grow older and wiser you understand that there is a bias towards black people with fairer skin. Colour film was invented to capture white people and not black people- true story. I have been told by a music video director that he prefers light skin models to dark skin models, a sentiment which I guess is strong in the music video industry.
"Oyinbo pepper" is used to describe light skin attractive women in Nigeria or really any light skin woman because Nigerian men tend to prefer them over dark women.
Nigeria is notorious for many things and you can add bleaching to it. It has taken different names over the years, the latest moniker is skin whitening which apparently has made singer Dencia filthy rich.
You might deny there is a bias but you cannot deny that many sex workers (runs girls and prostitutes) bleach, tone or lighten their skin. "Yellow pawpaw" tends to attract the eyes of men more.
Societal pressure has led many women and men to alter the colour of their skin for business and personal reasons. It is sort of ironic that the most populous black nation in the world is the capital of skin bleaching. You can blame colourism for this.
No one is prejudiced against light skin women but dark skin women face discrimination every day because of their dark skin tone.
A couple of years ago, black is beautiful narrative picked up immensely with the likes of Kenyan actress Lupita Nyong'o spearheading the unofficial movement.
Melanin is a buzzword and a badge of symbol now. A popular account on Instagram called Melanin Feed only posts photos of beautiful dark skinned women. The account has close to 250,000 followers on the social media platform.
Even in media, the tone (pun intended) is beginning to shift. The two versions of Wizkid's collaboration with Drake 'Come Closer' notably features dark skin models. This was a pop star who was earlier accused of only putting light skin women in his music videos. Even pop stars are going with the tide.
Black pride and the pro-melanin movement is trying to fight colourism. Hopefully, it is not a trend but a thing that has come to stay.
JOIN OUR PULSE COMMUNITY!
Recommended articles
Top 10 African countries with the highest crime rates
BREAKING: Sam Larry in police custody over Mohbad's death probe
NADECO calls for Tinubu's resignation amidst academic scandal
BBNaija's Angel debunks rumours tagging her relationship with Soma as PR
Sam Larry pleads his innocence over alleged involvement in Mohad's death
3 things you shouldn't do for a woman you are not married to
Why some people refrigerate their condoms before use
The wild sex and sexual practices of ancient Rome
Nigerians react as Amaechi, Adeyanju spotted in Law School