Who is your favourite character on "Jemeji"?
Who's your favorite character in the ongoing Africa Magic Telenovela, "Jemeji?" Vote in Poll below.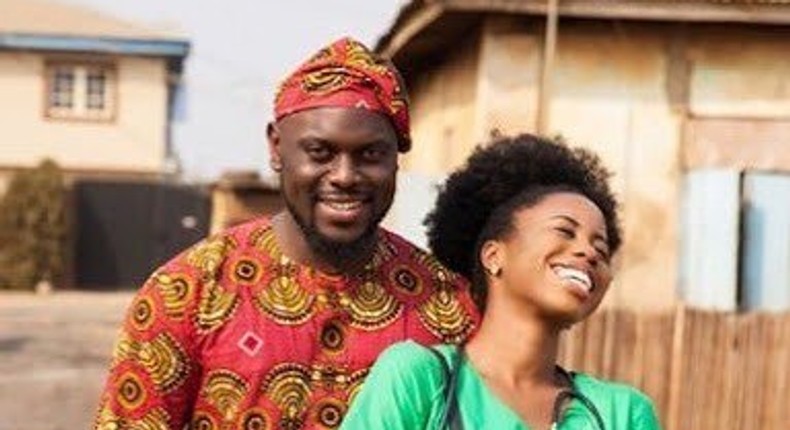 With strong story arcs and engaging characters, "Jemeji" should be one of your favourite TV series.
From Oviyon 'V' Hunyinbo to Senami, we have created a poll for you to chose your favourite character on the show.
1. Senami George - Played by A'rese Emokpae
Senami George is a  28-year-old Doctor, who returns to Nigeria for her NYSC, despite discouragement from her father.
Against his decision, she returns to her hometown Aji, and is determined to get to the root of a family mystery.
She wants to know why her family never visits their home town anymore and why her father seems to want her to keep her away from Nigeria ever since her mother died during childbirth in Aji.
2. Akweyon - Played by Teniola A. Aladese
17-year-old Akweyon is taken under Mausi's (priestess) wing as a young girl after a childhood incident that changed her life.
3. Seyiveh - Played by Wendy Lawal
Older sister to Akweyon, 19-year-old Seyevi struggles with the guilt of not speaking the truth when Akweyon accused an uncle of molesting her.
Seyevi was called to bear witness, but too scared to tell the truth, she failed her sister. Seyevi moved to Aji to be close to her sister and somehow make amends for not speaking the truth.
4. Oviyon 'V' Hunyinbo - Played by Ayoola Ayolola
A 30-year-old who leaves his job in the city after an accident which he feels guilty about.
An introvert, Oviyon is slow to speak or act, but when he does, his reactions could be drastic.
Oviyon works as a foreman for hire on farms in and around Aji, while he takes care of his mother.
5. Tafe Fonton - Played by Tony Akposheri
Fonton is an entitled 56-year-old who blames everyone but himself for every wrong in his life.
He resented his brother, Oviyon's father, for being a more successful farmer than him and tries, upon his brother's death, to seize the lands left behind. This results in tension between him and his nephew Oviyon.
A father of four, Fonton is superstitious, diabolical and greedy.
6. Chief Adomeh - Played by Akin Lewis
Chief Adomeh is the head Chief of the village, who feels imprisoned by his position.
He is forced to believe and depend on Mausi, after his son goes missing and his wife passes away not long after.
7. Folake Adeoti - Played by Omowumi Dada
Folake Adeoti is a 23-year-old, who grew up in Ogun State.
She is the daughter of a new age Pastor, and has mastered the act of being a 'good girl.' She loves gossip and often gets into trouble for it.
8. Neza - Played by Bucci Franklin
Nebuchadnezzar grew up with Oviyon and Miyise, and was also one of the last people to see the chief's son alive.
His parents died a couple of years ago and he has been spending his inheritance on stuffs like weed.
9. Obi Nwaemike - Tope Tedela
26-year-old Obi is easy going and always in search of a peaceful solution to any conflict.
He enjoys the anonymity, the lack of pressure, the new identities he takes on, being the hero of the community for a year, and most of all, the fact that he can walk away from all the connections he has made at the end of the year and start anew.
Vote for your favourite "Jemeji" character below.
JOIN OUR PULSE COMMUNITY!
Recommended articles
Johnny Depp reportedly in talks to return to 'Pirates of the Caribbean'
Moelogo says 'Euphonic' could be his last project [Pulse EP Review]
Asake's 'Peace Be Unto You' debuts at No. 1 on the Top 50
Viola Davis stuns in teaser for Gina Prince-Bythewood's 'The Woman King'
'My mum is in her 50s, how in God's name will I be 46?' - Carolyn Hutchings
MR Eazi Shares 'Legalize'(Acoustic) featuring Michaël Brun
Audiomack signs Licensing Agreement with Universal Music Group to expand global footprint in Africa
AFRIMA 2022 Entry Submission Portal to close on August 5th
Glamour Girls: Play Studios needs to RESPECTFULLY hands-off classics [Review]