Nollywood reacts to art director's death on social media
Kpokpogri reportedly passed away after complaining of pains from peptic ulcer. Ini Edo, Uche Jombo, Omoni Oboli have taken to social media to mourn the death of the art director.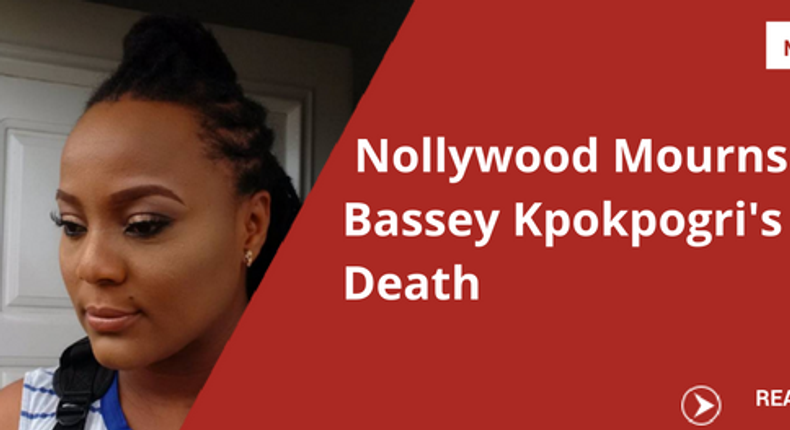 The Nigerian film industry is in mourning over the death of art director and scriptwriter
The mum-of-one reportedly passed away after complaining of pains from peptic ulcer.
The news of her death was revealed by filmmaker, Uduak Isong Oguamanam who took to her Facebook page to announce her passing.
"Grief. It makes you remember things. Minute details, like the sound of their feet, the colour of their hair and the sweet smell of their body spray. It makes you regret. The holidays you never took, the movies you never watched together, the visits you kept planning to but never made. It reminds you of your own mortality. You wonder if there's a row call and what your number is on the list," Oguamanam wrote.
Several actors and film producers have taken to Instagram to mourn her death:
"I am still in shock this feels like a bad dream, my prayers are with your husband /family and young child.RIP Ansa @ansa_kpokpogri ...totally heartbreaking #ripansa" - Uche Jombo
"Ansa why? Is this how we are taking over the filmmaking world? Dear Lord! This wasn't part of the plan but you know best. Rest well darling. May God give your beautiful daughter, your husband, your parents and indeed the whole Nollywood family the fortitude to bear this loss #GoneTooSoon #RipAnsa" - Omoni Oboli
"I have no words to express my sadness and utter shock at the news that you died hours ago. How? I have asked- God oooh!!! Go with God Ansa and may our good Lord give your family the strength they need...... #RipAnsa" - Andrea Chika Chukwu
"What do you say to life cut short ,so suddenly.. before you know it ,it's ended . Only ends so quickly to "good"people . My dear your "are " good ..good at your job , good in relationships, good as a spouse to your husband , I couldn't possibly say you are good in death. Ansa I remember the last time I saw you less than a month ago I was pleasantly surprised to see you on the set I visited , we chatted for a while like we would see some other time ,day..soon.. No it wasn't going to happen , not on this earth anymore , once again another reminder that the most minute things we take for granted LOVE , RELATIONSHIPS,TRUTHFULNESS,DEDICATION RESPECT FOR ONE ANOTHER should be our everyday watch word. Adieu..friend and colleague adieu. Keep sleeping in the bossom of our lord . This really hurts." - Desmond Elliot
"This is extremely shocking ..... honestly can't find the right words ..... rip." - Ini Edo "My heart is so heavy! What you were saying in this photo is "ohhh everybody let's work now" and then I made you smile after this photo was taken. Your impact will not be forgotten. RIP ANSA God comfort your family. Live everyday like it's your last. " - Kunle Remi
"Dear Yellow, I know you'll never get to see this. But I am glad that we both know that my life's story can never be complete without the chapters you wrote. Sleep wellI will miss you Yellow." - Mbong Amata (Actress, TV producer)
"Where do I start??? Do I say I'm sorry now? Everyday I'm aware the world is not ours forever but you have made me realize it's nothing to bother my head with. I learnt you had gone to rest and all that's in my head is that stupid quarrel we had on set that I never tried to reach out to you to resolve. How do I keep calm? My heart went down my stomach, tears filled my eyes talking to Ayana on the phone. Young and overly dedicated to her craft, she will not back down if you don't give her what she wants. Ansa Rest In Peace. Ps: focus on the things that matter and leave the rest. You might not have tomorrow to focus on the important things of life. Rest In Peace my Art Director Ansa #GodForgiveMe" - Yvonne Jegede
" ...we still can't find the words. We still expect a miracle that doesn't seem to be coming... Selfless, dedicated, hard working... You'd be greatly missed! #RIPAnsa." - Royal Arts Academy
"I've attempted to publish this for over 5 times. I keep holding back to see if the story would change. Praying it should be a rumour, but NO, "Ansa is no more". "We've lost Ansa". "Ansa is gone". "Ansa has passed" etc, etc and these words keep piercing my heart. #ripansa #farewell we shall meet to part no more." - Dorothy Essien (Actress, screenwriter)
May her soul rest in peace.
JOIN OUR PULSE COMMUNITY!
Recommended articles
Naira Marley unveils new signee Vusic
Asake records 10th NO. 1 song on Nigeria's foremost music chart
Iyabo Ojo calls out Sanwo-Olu, Lagos State over ₦‎18 million tax bill
Kate Henshaw finally unveils daughter publicly
BNXN & Joeboy feature on Iyanya's upcoming EP 'Love & Trust'
Omah Lay & Ayra Starr join Wizkid on 'Across the Spider-Verse' album soundtrack
Rema's 'Calm Down' reaches new NO. 3 peak on UK Singles chart
Eniola Badmus receives Certificate of Appreciation from Seyi Tinubu
Twitter trolls struggling to buy fuel trying to spoil our fun - Ruger