Singer 9ice begs wife for forgiveness on Instagram after 'admitting to cheating'
The music star and Sunkami will be celebrating their first wedding anniversary later in December.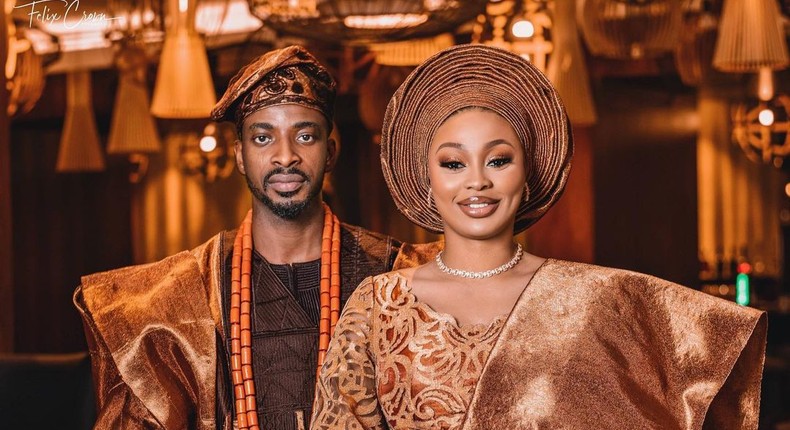 Nigerian singer Alexander Abolore Adegbola Akande also known as 9ice has come out to appeal for his wife, Sunkami's forgiveness.
In an almost two minutes video, the music appealed to his wife to forgive him for the terrible thing he has done.
"I have done something so shameful, so terrible, and its costing me my family. And the most important thing is my family. That 9ice you always see that you always appreciate is by my wife, Olasunkunmi Ajala Akande. And because of this terrible thing that I have done, it is costing me a lot," he said.
"I apologise for what I have done and I need you guys to help me beg my wife. She is my backbone. That 9ice that you always see, that strives, that brings out the best in our culture and tradition is because I have a backbone. I apologise for my wrongdoing and I need you guys to help me beg my wife."
"I have excelled in many other things but one thing that I have failed in, is my marriage but this one I want this one to work. Please, please, and please help me beg my wife. Save this marriage for me, God bless you."
The singer's appeal is coming less than 48 hours after a video of him with a young lady simply identified as Tiwalope broke the Internet.
In the video, the singer and the young lady were spotted in a compromising position.
Interestingly, 9ice's first wedding anniversary to Sunkami is just weeks away.
9ice and Sunkami have a daughter together.
JOIN OUR PULSE COMMUNITY!
Recommended articles
Davido and Chioma spotted together for the first time since rumoured breakup
Fed Poly Bauchi sacks 2 lecturers for alleged sexual harassment
10 countries where prostitution is legal
'Fela Kuti was so hard'- Rap mogul Jay Z on why he included Fela's record in the soundtrack of new Netflix movie 'The Harder They Fall'
Why do single women find married men attractive for relationships?
Ghanaian artiste commits suicide after 'friend' said 'kill yourself' on his post
7 things every woman wants to hear during sex
Ever heard about the massacred souls that haunt Iva Valley in Enugu?
Socialite Cubana Chief Priest accuses BBNaija's Maria of 'stealing' his sister's husband