Actress reportedly beaten up by husband
The actress has reportedly been enduring domestic violence for a long time in her marriage but it's gotten worse lately.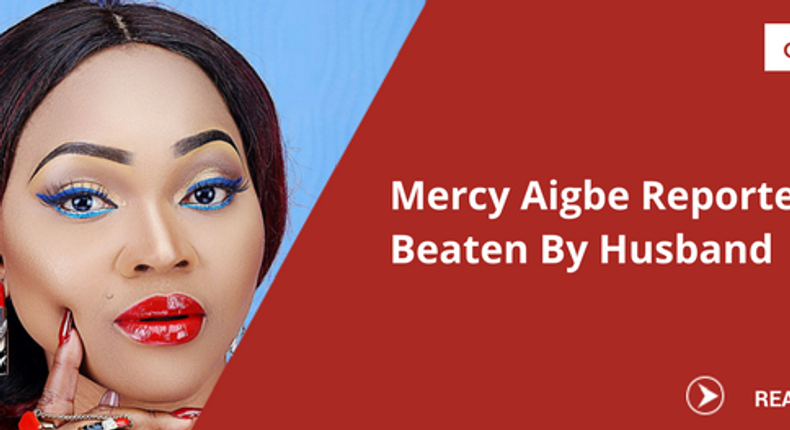 Nollywood actress Mercy Aigbe-Gentrys has been reportedly beaten up by her husband Lanre Gentry.
According to Linda Ikeji's blog, the actress has been enduring domestic violence for a long time in her marriage but it has gotten worse lately.
The couple were reportedly in a nasty fight last week that left the actress with severe injuries and she's still receiving treatment at an undisclosed hospital in Lagos.
We went through the actress' Instagram page where she put up a photo of a battered woman writing, "Say no to domestic violence.Only a Coward hits a woman! REAL MEN don't HIT!".
Her husband responded with a post saying, "say No to the promiscuous and irresponsible women."
Pulse has reached out to the actress' rep but they refused to speak to us. According to her rep, "they have no comment."
This is not the first time domestic violence allegations have trailed Mercy Aigbe's marriage. In 2013, it was reported that Mercy Aigbe was beaten up by her husband at a public event. The event allegedly happened on Sunday April 7,2013 at recorded TV Show for Oodua Amounmaworan (TV).
"So slightly before the show ended, Mercy just vanished and everybody started looking for her including her hubby, Lanre Gentry."After like an hour or so, the hubby forced the MC to announced that he was looking for his wife and when that didn't work, he stood up a with fierce look and began causing a scene..when it was obvious he meant business,they later took him to a room where his darling wife who has arrived the venue in a short black dress with her back bare had changed to a night gown!!!Enraged hubby Lanre  dragged her out in the night gown and threw her into his SUV and drove angrily out of the venue whilst shocked onlookers looked on!'' wrote Stella Dimokokorkus.
Mercy Aigbe and Lanre denied this and released a YouTube video saying nothing of such happened.
JOIN OUR PULSE COMMUNITY!
Recommended articles
'BBTitans': Yemi and Blue Aiva disclose their sexual escapades
'BBTitans': Yemi goes back to Khosi after Blue Aiva saved him from eviction
'The Feature': Everything we know about Tosin Akintuyosi's new film
4 Nigerian titles coming to Netflix this February!
'Die Hart': Kevin Hart's new movie is coming to Prime Video
Beverly Naya says she was bullied, called ugly while growing up
Solomon Buchi ecstatic as he ties knot with lover
Simi launches new children's clothing line 'The Big Little Company.' Inspired by their daughter Adejare 'Deja' Kosoko
DJ Neptune drops new thrilling single 'Bienvenue' featuring Ruger