Priest exposes alleged plot to kill Buhari [VIDEO]
Mbaka also advised his followers not to speak against Buhari because God has blessed him, and they might be cursed if they do.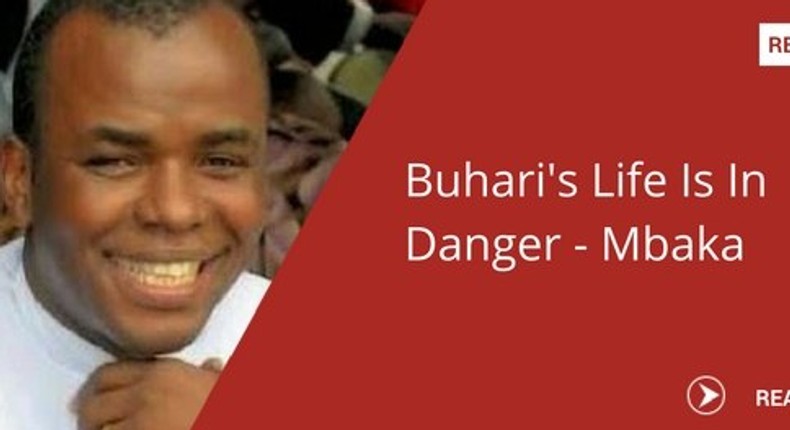 The priest revealed that there are many plans to kill the President so that corruption can continue as usual.
Mbaka also said "So I want to tell you that so far, God is happy with Buhari. And him whom God has blessed, may you not try to accurse, because God will curse you," said the priest.
"Many people are planning, as it is revealed, to kill him. There are many plans on how to eliminate his life so that corruption will continue, so that quantum embezzlement will continue.
"But the Lord says 'God who put you there will not forsake you. Be firm, be resolute, remain focused, and be unbiased. Refuse to be intimidated and refuse to be distracted. Go ahead and war against evil. President Buhari, go ahead and war against corruption. President Buhari, God and his people are behind you, you are the answer of the prayers of the people, amen," Premium Times reports.
The priest in a video, obtained recently,  said those who led us from last year till now, are not qualified to remain in this country by now, adding that they are wicked.
JOIN OUR PULSE COMMUNITY!
Recommended articles
Meet the Sapeurs, Congolese who wear expensive outfits though they live in poor communities
Top 10 African cities with the highest purchasing power
Aliko Dangote announces refinery license to process 300,000 barrels of Nigerian crude daily
10 African countries with the highest fertility rate in 2023
Top 5 largest economies in East Africa ranked
5 ways to spot a sex addict or know if you are one
Top 10 African countries leading in attracting and retaining talents
Top 10 African cities with the most expensive real estate
7 reasons women don't get wet even when aroused