Experience uninterrupted power - discover the Infinix NOTE 30 and its revolutionary fast charging technology
#FeatureByByInfinix: Scrambling to find an outlet to charge... No compatible charger in sight… the constant fear of overcharging…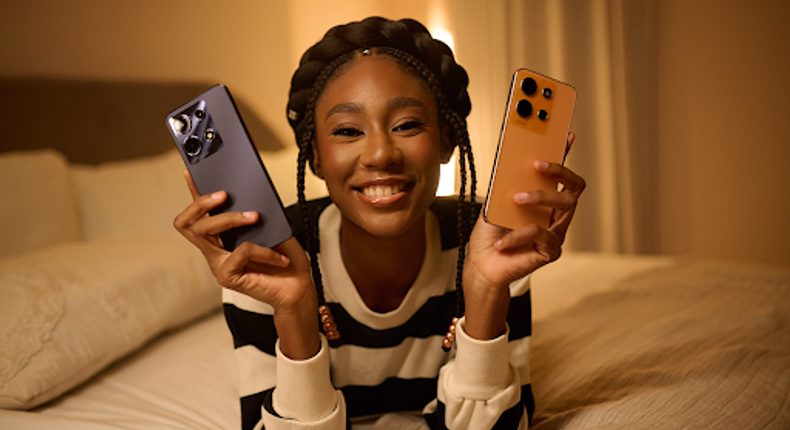 Up until now, your phone battery ruled your life.
Most batteries can't keep up with your lifestyle. Take gaming as a prime example – this hobby requires plenty of power, but charging while playing often isn't an option, with most smartphones experience temperature increases from the high-performance use, interrupting your game.
You're faced with a lose, lose situation. Even when battery performance is strong, and the charging is quick, phones often overheat easily. If the battery is too small, the battery life is short and doesn't provide the longevity you're looking for. Additionally, if the battery is big to allow for longer charge, the phone is too bulky.
Enter Infinix's NOTE 30 Series. You can say goodbye to charging anxiety and hello to an all-new charging experience.
The Infinix NOTE 30 Series: Ushering in the New Charging Standard
The Infinix NOTE 30 Series, which includes the flagship NOTE 30 Pro, the NOTE 30, and the NOTE 30 5G, offers a next generation fast-charging experience: All-Round FastCharge. Infinix's intelligent charging innovation considers not just how long it takes a device to charge and how long it retains power, but seeks to transform how consumers view what it means to "juice up" their smartphone.
The NOTE 30 Series delivers a first-of-its-kind super phone in this price range, and the All-Round FastCharge technology reaches new horizons in intelligent smartphone charging innovation, boasting a myriad of unparalleled, vanguard features.
Introducing: All-Round FastCharge
The new smartphone series from Infinix shows consumers what's possible when it comes to charging scenarios via eight specific features that make up the All-Round FastCharge experience.
Perhaps you woke up in the morning and realized you forgot to charge your phone the night prior. In the time it takes you to eat breakfast and drink your first cup of coffee, you can juice up your phone. The series uses dual-channel fast charge technology with new generation charging pumps to provide industry-leading fast charge capabilities, including up to 68W wired fast charge. The Substrate Switch Charge Pump technology enables a high conversion efficiency of 98.5% with less heat generation. With this feature, users can achieve 80% power from 1% in just 30 minutes.
In addition to the wired fast charge, the series also boasts 15W wireless charge. If you're someone who enjoys a tidy, cord-free work space at your desk, the wireless charging feature is perfect for you. This is a flagship feature of the series, making the NOTE 30 Pro Infinix's first smartphone on the market to offer wireless charging capabilities.
Pulse Nigeria
Use of the phone needn't to stop when the device is plugged in. Imagine you are taking a work break and decide to game with colleagues, but your phone battery is low. No sweat, you can do both – charge your phone and game! The bypass charge feature enables charging directly from the motherboard instead of the battery after the power reaches 30%. Not only does this extend the life of the battery, but it also allows the phone to remain cool while performance is high – so you can continue your winning game.
Pulse Nigeria
The smartphones in the series also act as a charging device for other phones – helping you be the hero friend or family member when they're running low on charge. Perhaps your friend is awaiting an important work call, but you're out at lunch with no charger or outlet around. With its wireless reverse charge, users can help power a friend's device (Android or Apple) by simply touching phone to phone. The NOTE 30 Series supports wired reverse charge as well, which means that the phone acts dually as a phone and a power bank.
If it's a charger your friend is asking for, the series charger supports PD 2.0, PD 3.0, PPS protocol and other agreements, so it can super charge all type-C electronic devices with a maximum output power of 45W.
Pulse Nigeria
Additionally, the series is equipped with Intelligent Power E-IQ to maximize the charging experience over long periods. A lot of charging anxiety comes when it's time to plug your phone in to charge all night – either concerned that you're over-charging the device or fearful to leave the charging device unattended. The AI capability learns consumer habits to choose the most efficient charging solution, so it charges the phone to 80% during the night and fully charges the phone before dawn.
Also, for some users, instable power grids frequently interrupt charging. The NOTE 30 Series uses a closed-loop control strategy of the charge pump to ensure continuous and stable charging. This works because of the added current-limiting function – the charge pump limits the current to the desired value when the charger output fluctuates.
Ultimately, the charging experience of the NOTE 30 Series is grounded in safe, smart, and flexible charging. The devices are equipped with up to 63 protections for charging, including overload, over-temperature, fire protection, over-voltage, short circuit protection, water drop detection, amongst others. This is complemented by a strong battery: The battery is made of high-capacity materials to improve the energy density of the battery, enabling 80% retention of its energy after 1,000 times, far exceeding the conventional standard requirement of 80% energy retention after 500 cycles.
Put simply: You'll never have to worry about charging safety again.
Today, users have grown to expect a smartphone battery that keeps pace with their lifestyle. The new All-Round FastCharge on the Infinix NOTE Series does just that, all while setting a new industry standard, and consumer expectation.
The Infinix Note 30 Series is available for purchase at Infinix authorized retail outlets across Nigeria. For more information about the Infinix Note 30 Series go to ng.infinixmobility.com
Follow Infinix official page on Tiktok via Infinix and on Profile to get early access to upcoming competitions and new product launches!
#FeaturedPost #FeatureByByInfinix
JOIN OUR PULSE COMMUNITY!
Recommended articles
Are we going too far with the evolution of AI technology?
Oraimo: Top 100 most admired smart accessory brand in Africa
Xiaomi 13T: A masterpiece of photography and performance
A year later, Nigeria insists on pressing ahead with its N30 billion grievance against Facebook
Infinix Nigeria soars at Marketing Edge Awards, clinches 2 Awards
Top 5 African countries with the costliest internet shutdown in 2023
Nigeria can make $400 million annually launching 20 satellites - NASRDA
Trading made clear: OctaFX becomes Octa, launches global campaign
Average price of 5kg cooking gas at ₦4,115.32 in August - NBS
Newcastle defender ready to deny his son over Kylian Mbappe
'It is racist' — Arsenal legend Thierry Henry slams Napoli's treatment of Osimhen
Osimhen's Real Madrid moment slips by as Napoli's marksman avoids spot-kicks
'De Bruyne, Mbappe…' — Super Eagles legend Jay Jay Okocha identifies players most similar to him today
Liverpool fined ₦23m despite VAR scandal in Tottenham clash
'Like Ketchup' — Super Falcons star Michelle Alozie borrows Ronaldo's line after scoring brace
Super Eagles: Iwobi and Moffi return, Bashiru a new addition as Peseiro calls up 25 players for Saudi Arabia and Mozambique friendly games
You Sabi: Vardy hails Ndidi in Pidgin for Leicester Player of the Match award
Napoli vs Real Madrid: Fans fear for safety of Osimhen and other players as earthquake reportedly hit Naples