What is going on between Russia and Ukraine?
Putin launches attack on Ukraine: How the invasion started and what has happened so far...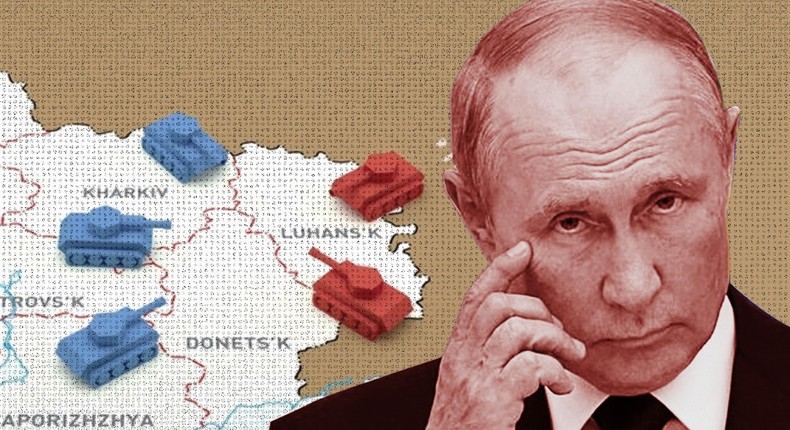 Russian President, Vladimir Putin, has launched a military operation in Ukraine, with explosions heard and reported across the country.
Pulse Nigeria presents a timeline of events and developments between both countries on Thursday, February 24, 2022, as monitored by CNN reporters and United Nations TV (UNTV).
(Reported in West Africa Standard Time)
4:00am- CNN's Frederik Pleitgen has witnessed what he describes as "a lot of very ominous movement" on the ground in Russia, near northeast Ukraine.
"We've seen ... military trucks, who have actually had their license plates on backwards. They turned the license plates around, which could be them trying to mask some sort of movement," Pleitgen told CNN.
4:06am- Putin announces a "special military operation" in Donbas.
Putin says his troops will take action in the separatist-held region of Ukraine he declared independent this week.
4:15am- The CNN correspondents in Kharkiv, the second-largest city in Ukraine located in the country's northeast, is hearing a "steady stream of loud explosions." The reporters on the ground also reported hearing explosions near the capital Kyiv.
An explosion is seen in the Ukrainian capital of Kyiv early Thursday, February 24. (from Ukrainian President's Office)
4:25am- US president, Joe Biden, condemns attacks.
"The prayers of the entire world are with the people of Ukraine tonight as they suffer an unprovoked and unjustified attack by Russian military forces. President Putin has chosen a premeditated war that will bring a catastrophic loss of life and human suffering.
"Russia alone is responsible for the death and destruction this attack will bring, and the United States and its Allies and partners will respond in a united and decisive way. The world will hold Russia accountable."
1e0ab64a-36cc-42ad-a29e-a420f31cfaf1
4:40am- CNN correspondents in the Ukrainian capital Kyiv are hearing explosions come from the the direction of the international airport.
Reports on social media indicate several explosions in the Boryspil area to the east of the capital, where the international airport is located. Hence confirming CNN's reports.
The areas reportedly attacked are Kyiv, Kharkiv, Kramatorsk, Dnipro, Mariupol, Odessa, and Zaporizhzhya.
Areas reportedly attacked Pulse Nigeria
5:14am- Putin called for Ukraine's "demilitarization" in televised remarks, shortly after announcing a military operation in the region of Donbas in eastern Ukraine.
"Circumstances require us to take decisive and immediate action," Putin said, according to a RIA-Novosti transcript. "The People's Republics of Donbas turned to Russia with a request for help.
"In this regard, in accordance with Article 51, part 7 of the UN Charter, with the sanction of the Federation Council and in pursuance of the friendship treaties ratified by the Federal Assembly and mutual assistance with the DPR and LPR, I have decided to conduct a special military operation."
Pulse Nigeria
5:20am- Putin unleashed attack while we are at our emergency security meeting- US ambassador to UN.
The US Ambassador to the United Nations, Linda Thomas-Greenfield, said Putin had "delivered a message of war" by announcing his military operation in the Donbas region of eastern Ukraine during an emergency meeting of the UN Security Council.
"In my remarks tonight, I said that we predicted Russia's false flag attacks. The misinformation, the theatrical emergency meetings and cyber-attacks. But one piece had not come to pass. Unfortunately while we've been meeting in the Security Council tonight, it appears that President Putin has ordered that last step," said Thomas-Greenfield.
"At the exact time as we are gathered in the council seeking peace, Putin delivered a message of war in total disdain for the responsibility for this council. This is a grave emergency."
Pulse Nigeria
5:45am- The Ukrainian ambassador to the United Nations, Sergiy Kyslytsya, urged other member nations to "stop the war," at an emergency meeting of the UN Security Council.
"It is the responsibility of this body to stop the war. So I call on every one of you to do everything possible to stop the war," Kyslytsya said to the council, before turning to face the Russian ambassador to the UN and asking: "Or should I play the video with your president declaring the war?"
The Russian ambassador responded, "This isn't called a war, this is called a special military operation in Donbas."
Ukrainian Ambassador to the UN Sergiy Kyslytsya Pulse Nigeria
6:40am- Russian ambassador to UN defends military operation against Ukraine in emergency Security Council meeting.
The Russian ambassador to the United Nations, Vasily Alekseevich Nebenzya, defended Russia's decision to take military action in the Donbas region of eastern Ukraine during an emergency meeting of the UN Security Council.
"The root of today's crisis around Ukraine is the actions of Ukraine itself, who for many years were sabotaging its obligations under the (Minsk agreement)," said Nebenzya. He claimed that the Russian operation aimed to protect residents in the separatist pro-Moscow regions of eastern Ukraine, "who for eight years have been cowering from Ukraine's shelling."
He claimed that "Ukrainian provocation against those in Donbas not only has not stopped but has intensified," which prompted separatist leaders in the regions of Luhansk and Donetsk to request Russian assistance.
Pulse Nigeria
6:38am- Russian troops have landed in Odessa and are crossing the border, Ukrainian official says.
An adviser for the Interior Minister of Ukraine, Anton Gerashchenko, has told journalists on an official WhatsApp group that Russian troops have landed in the city Odessa and are crossing the border in the city of Kharkiv.
Gerashchenko added there have been missile strikes on the Vasilkovsky airfield near Kyiv.
He also said that Borys Filatov, the mayor of Dnipro, just called to say he was hearing explosions.
Pulse Nigeria
6:45am- Putin threatens those who plan to intervene in Russia's 'military action'
After Putin announced that he had ordered military action in Ukraine early Thursday, he threatened "those who may be tempted to intervene" on Ukraine's behalf.
"Now a few important, very important words for those who may be tempted to intervene in ongoing events from the outside," Putin said. "Whoever tries to interfere with us, and even more so to create threats to our country, to our people, should know that Russia's response will be immediate and will lead you to such consequences as you have never experienced in your history. We are ready for any development of events. All necessary decisions in this regard have been made. I hope that I will be heard."
7:00am- "Full scale" of sanctions on Russia to be deployed by US and allies on Thursday, US official says
The United States and its allies are planning on Thursday to trigger the "full scale" of sanctions against Russia that have been discussed over the past several weeks, according to a senior Biden administration official.
While the official declined to lay out specifics, the US has planned to target Russia's two largest banks, as well as other financial firms, and has prepared to deploy export controls to cut off Russian access to critical Western technology for entire Russian economic sectors.
Additional members of Putin's inner circle and their families will also be targeted; CNN reports.
7:15am- Ukrainian President, Volodymyr Zelensky, has introduced martial law, and urged people to remain calm in a brief video address on Thursday morning.
"Dear Ukrainian citizens, this morning President Putin announced a special military operation in Donbas. Russia conducted strikes on our military infrastructure and our border guards. There were blasts heard in many cities of Ukraine. We're introducing martial law on the whole territory of our country. A minute ago I had a conversation with President Biden. The US have already started uniting international support. Today each of you should keep calm. Stay at home if you can. We are working. The army is working. The whole sector of defense and security is working."
"No panic. We are strong. We are ready for everything. We will win over everybody because we are Ukraine."
Ukrainian President Volodymyr Zelensky Pulse Nigeria
7:30- The Russian military released a statement Thursday claiming it was not targeting Ukrainian cities, as CNN teams on the ground report explosions around the country.
"The Russian Armed Forces are not launching any missile or artillery strikes on the cities of Ukraine. High-precision weapons destroy military infrastructure: military airfields, aviation, air defense facilities of the Armed Forces of Ukraine," the statement read. "The civilian population is not at risk."
As Ukraine wakes-up to a new reality, Zelensky urges citizens to remain calm and assures them that the world is in support of Ukraine. Zelensky tweeted on Thursday that he is continuing consultations with world leaders.
JOIN OUR PULSE COMMUNITY!
Recommended articles
Ibadan philanthropist donates 2 transformers to support Makinde's govt
Deputy Senate President: What Barau Jibrin will bring to the 10th Assembly
Akeredolu immortalises victims of Owo Church attack with memorial park
BREAKING: Court restrains NLC, TUC from going on strike
Judge frowns on invasion of his privacy over Stella Oduah's ₦‎5bn fraud case
Governor Mbah begs Enugu residents to fight IPOB's sit-at-home intimidation
Amaewhule emerges as Speaker of Rivers 10th Assembly
Suspected political thugs assault PDP chieftain as tribunal sits in Ogun
Yahaya Bello dissolves 7th Kogi Assembly