United States President Donald Trump tests positive for coronavirus
Trump was hardly seen in public wearing a mask.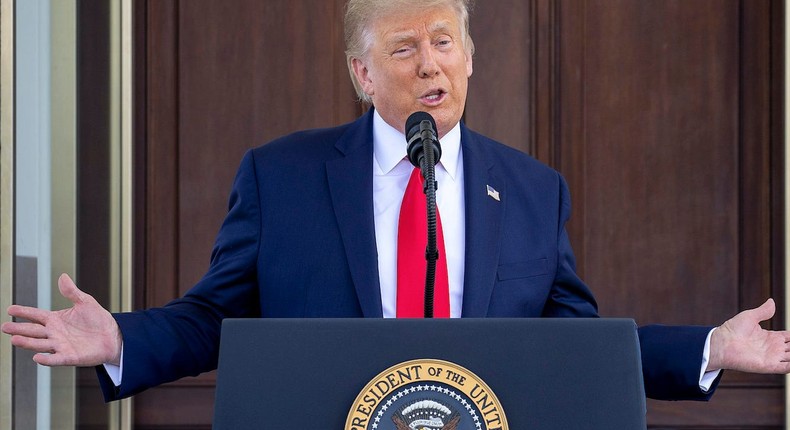 President of the United States, Donald Trump, has tested positive for the novel coronavirus disease (COVID-19).
Trump broke the news himself on his favourite social media platform, Twitter.
The president announced that his wife, Melania Trump, has also tested positive for COVID-19 and that they are both heading into quarantine immediately.
Trump faces re-election in November and has been squaring up to Democrat candidate Joe Biden on the campaign trail and on the debate stage.
It took Trump a long time to wear a mask as the virus engulfed the world, shut down economies and killed millions.
Wearing a mask became a campaign and political issue in the U.S., with Trump rallies and events filled with people who wouldn't wear masks.
Trump's political base has been referred to as anti-maskers, and the media has taken turns to bash the president for his slow and tepid response to containing the virus.
The president himself rarely wore a mask in political gatherings where social and physical distancing safety protocols were rarely observed.
In his last and only debate with Biden, Trump mocked his opponent for wearing masks everywhere and at every opportunity.
"I don't wear a mask like him," Trump said. "Every time you see him, he's got a mask. He could be speaking 200 feet away from me and he shows up with the biggest mask I've ever seen," Trump said of Biden.
More than 200, 000 Americans have died from the coronavirus, with millions infected.
JOIN OUR PULSE COMMUNITY!
Recommended articles
Adeleke suspends Osun election commission chair, members
Delta debt profile stands at N272bn —Commissioner
Soludo commiserates with victims of Kano street fire in Onitsha
You may lose your belongings – FG tells Nigerians travelling abroad
Machina defeats Lawan as Appeal Court affirms him as APC candidate for Yobe North
Loughborough University UK rolls out exciting list of courses for January 2023; offers students 20% scholarships
Minister of Finance refutes budget padding allegation
FG says if you have to use Abuja-Kaduna train, you must have NIN
Troops neutralize 4 bandits in Kaduna State — Commissioner
Get our Top Stories delivered to your inbox