PDP accuses Rotimi Amaechi of inciting violence in Rivers
PDP also called on Nigerians told hold the minister available if there is a breakdown of law and order in Rivers state.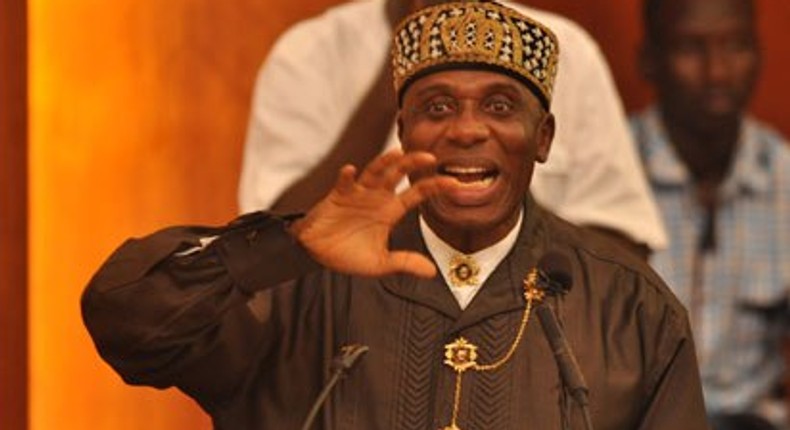 The Peoples Democratic Party (PDP) has accused the minister of transportation, Rotimi Amaechi of inciting violence.
According to Punch, Amaechi, on Tuesday, February 12, 2019, threatened to retaliate any action by the Governor of Rivers, Nyesom Wike.
Wike and the minister have been at loggerheads for the control of the oil rich state.
Amaechi accused the Rivers state Governor of betraying him after he recommended him to be appointed as a minister in Goodluck Jonathan's administration.
 "Whatever Wike wants on Saturday, we will give him. Whatever the PDP wants in Rivers State, we are equal to the task. It's as simple as that. It gets to a stage where a man must be a man. Your Excellency, I'm not going to Abuja anymore. I am here from today till (Election Day).
"In 2015, the army tried to arrest me as a sitting governor. You have a governor who is busy lobbying us, trying to negotiate with us, 'Let us give you presidency, you give me governor.' He is afraid. We will battle him to the last. On Saturday, they should get ready.
"The support we want is that the President should just thank us when we finish. We are ready for them. They used federal and state institutions against us. They kill our people, APC people, every day; cut off their necks every day. The right to choose our leaders to stop the killings — they got a state high court judge to give judgment," he added.
PDP condemns Amaechi's statement
The PDP, while reacting to Amaechi's statement, called on Nigerians told hold the minister available if there is a breakdown of law and order in Rivers state.
Vanguard reports that the party, in a statement issued by its spokesman, Kola Ologbondiyan said "The PDP notes that the threat of violence by Rotimi Amaechi which came few days after President Muhammadu Buhari called on his supporters to get ready to fight; as well as the threat by Governor Nasir el-Rufai of Kaduna state, who declared that members of the global democratic institutions working for peaceful elections will return to their countries in body bags, have all exposed APC's plot against peaceful elections in Nigeria. 
"It is completely reprehensible that Amaechi, who had the privilege of governing Rivers state for eight years, will resort to importation of thugs into the state and inciting violence, just because the people have rejected President Buhari and his party has no candidate in the state for the general elections.
ece-auto-gen
"Nigerians understand Amaechi frustration as a salesman of a failed product, in President Buhari, which he also attested to in his leaked audio recording, but seeking to vent this frustration on the peace-loving people of Rivers state is totally unacceptable. 
"Amaechi should have understood that Nigerians, across the board, have rejected President Buhari and reached a consensus to elect the people's candidate, Atiku Abubakar, as the next President of our country. He should know that no form of intimidation, enticement or blackmail can change that reality. 
"The PDP therefore urges Nigerians to hold Amaechi and the APC responsible should there be any breakdown of law and order in River State or any other part of our country, before, during and after the elections."
Rotimi Amaechi also served as the Governor of Rivers state from 2007 to 2015.
JOIN OUR PULSE COMMUNITY!
Recommended articles
Court upholds Iyorchia Ayu's suspension from PDP
BREAKING: Tinubu confirms Gbajabiamila as chief-of staff
Abia lawmaker urges Otti to focus on Aba roads
Ondo House of Assembly speaker denies resignation
Uba Sani appoints 29-year-old Jewel Tok Pam as SSA
FRSC warns motorists against indiscriminate parking as amidst fuel scarcity
I will be Speaker come June 13, says Tajudeen Abbas
Army addresses 39 human rights cases in Borno
Groups kick against Buhari's last-minute appointments in aviation agencies