President Buhari rallies support for Akeredolu
President Buhari has rallied support for APC governorship candidate, Rotimi Akeredolu while thanking all candidates.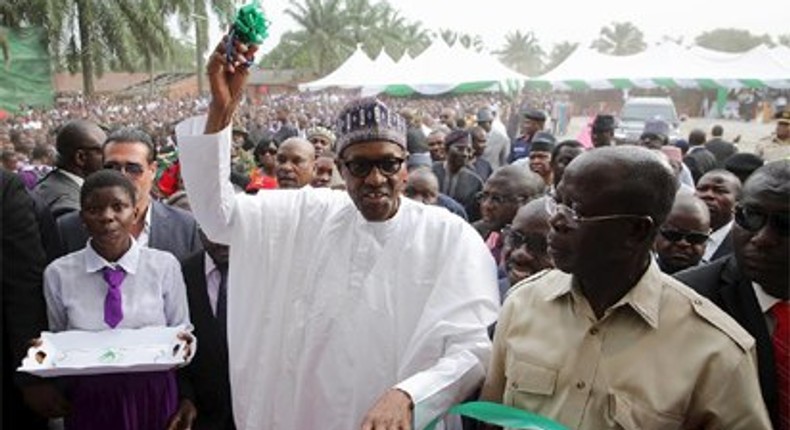 Buhari also lauded them supporting Oluwarotimi Akeredolu, the party's candidate for the Nov. 26 elections in the state.
Speaking at a meeting with the gubernatorial aspirants, APC elders in the state, and national officers of the party, President Buhari said the unity of the party was crucial for the outcome of next Saturday's election.
"I am very pleased that those of you who lost the primaries are still very much in the party.
"That you lose elections doesn't mean you should walk away, you keep on trying. I went to the Supreme Court three times in my bid to become the President of Nigeria.
"I like your high spirit and your commitment to the party and I hope your constituencies are taking note of that,'' the President told the aspirants shortly before departing for the Democracy Park in Akure for the grand finale of the Ondo APC gubernatorial rally.
The President, who was accompanied to the meeting by the Senate President, Sen. Bukola Saraki,  APC National Chairman, several APC Governors and Ministers, told the party faithful in Ondo that he looked forward to a successful election next week.
President Buhari assured Nigerians that determined, steadfast and patriotic people in the APC-led government would transform the nation's ailing economy, which was run aground by the party that governed Nigeria for 16 years from 1999-2015.
In his remarks, the representative of the aspirants, Mr Tunji Abayomi, assured the President that they have resolved to deliver Ondo to APC.
"No single aspirant left the party after the primaries. Those who left the party were not party members; they returned to where they belonged,'' he said.
Also speaking, the Chairman of APC Elders Council, Ondo State, Sen. Olorunnimbe Farukanmi, said Akeredolu, a Senior Advocate of Nigeria (SAN) was eminently qualified to lead the state.
"We have fielded an experienced, informed, hardworking and capable legal practitioner to work with President Buhari to carry out massive industrial development, job creation, eradication of poverty and massive economic improvement in the nation,'' he said.
The News Agency of Nigeria (NAN) reports that President Buhari, who later attended a mega rally ahead of the Nov. 26 governorship election, pleaded with the people of Ondo to vote for the APC candidate in the election.
The President also commended all the APC members and supporters for organising a peaceful party primaries in the state.
JOIN OUR PULSE COMMUNITY!
Recommended articles
Fuel price hits ₦‎520 in Edo, Delta over scarcity
We now challenge presidents, it's sweeter – Datti Baba-Ahmed brags
President Tinubu resumes work at Aso Villa office
Ooni of Ife sends message to President Tinubu
Tinubu clarifies his statement on subsidy as petrol price rises to ₦600 per litre
Petrol queues resurface, marketers sell ₦350 per litre
EFCC, DSS fight over shared office building in Lagos
Court convicts Osun hotelier after finding him guilty of k*lling OAU ex-student
Kalu urges Tinubu to scrap Ministry of Niger Delta Affairs