How OBJ sent me to prison for no reason - Bamaiyi recounts
Bamaiyi said Gen. Abdulsalami Abubakar advised Obasanjo to silence him (Bamaiyi) for fears that he could overthrow the new government.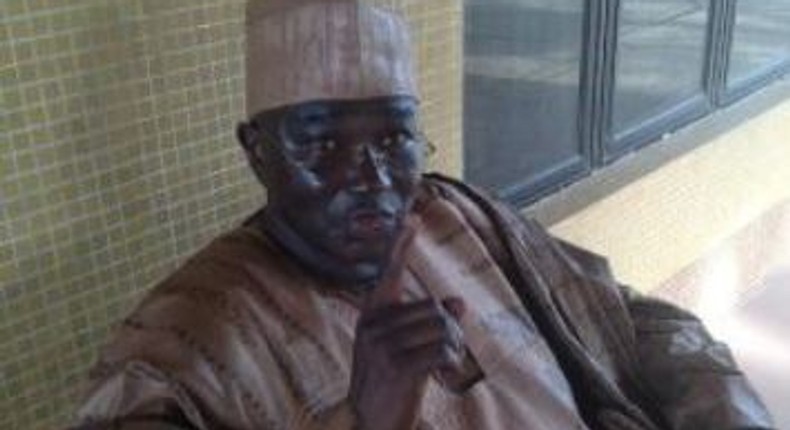 Former  Chief of Army Staff (COAS) Lt. Gen.
Bamaiyi said apart from the fact that he opposed the choice of Obasanjo as successor to former Head of State, Gen. Abdulsalami Abubakar, he was jailed for fears that he would overthrow the Obasanjo government.
The ex-army chief revealed this in his book, "Vindication of A General" which was unveiled in Abuja last weekend.
According to Bamaiyi's account in the book, upon handing over power to Obasanjo in May 1999, Abubakar told the new civilian president to silence him (Bamaiyi) because he could overthrow the new government.
Bamaiyi said from that moment, General Aliyu Gusau, the then National Security Adviser and Obasanjo did everything possible to imprison him.
In Chapter 10, page 128, of the book, as cited by Vanguard, Gen. Bamaiyi said: "As soon as Obasanjo took over, Gen. Abubakar and some of his people told Obasanjo that if I were left free, I would overthrow Gen. Obasanjo's government.
"This did not surprise me because while we were in service, General Abubakar set up a secret investigation of certain people during the Abacha rule. I had not been told although some soldiers in the army, like Sgt Rogers, were invited for investigation.
"When I had to replace my security officer, I asked for Capt. Najaja to replace Capt Bature, who was assigned to the USA. Gen. Abubakar said Najaja was being investigated. He realized his mistake and kept quiet. I did not bother myself about the investigation because I knew I was not involved in any criminal act.
"Abubakar's committee completed its assignment and gave clean bills to all those questioned. When Obasanjo took over, some PDP big shots decided that based on the report, I had control of the Army and should be arrested. The government looked for avenues to arrest me.
"They started by checking Army accounts to see if I had stolen money. They spoke to the Director of Army Finance and Accounts, DAFA, Maj. Gen. Omosebi who told them he had never worked with an officer who believed in accountability like I did. They felt disappointed.
"The government wanted to take my personal house in Asokoro. The NSA , Gen. Gusau talked to Mr. Daboul, a friend of mine who had built the house for me. He told General Gusau of our agreement that I would pay for the house over 10 years. This saved my house.
"When everything failed, Obasanjo and his government decided to revisit their investigation. Col. JB Yakubu and Capt. Najaja were forced to implicate me. This gave the government the opportunity to start looking for me. I was following everything that was happening."
Bamaiyi said he was advised some people to run away but he refused because he believed he was clean.
He said that he traveled to the UK twice and the USA once and that on each occasion, he phoned to tell the NSA, Gusau, of his journey.
"I did that so no one would think I was running away. He did not know I was aware of what was happening. Many people who were aware of what was going on advised me to stay out of the country but I believed I had no cause to run away from a democracy where the rule of law would prevail. I also had to protect my family. What would I tell my children and grand-children in  future, if I ran away?" he said.
Bamaiyi recounted how Gusau eventually arrested him.
He said: "In October 1999, General Gusau told my brother, Senator Danladi Bamaiyi that he wanted to see me. I suspected the call. I left Zuru for Abuja. When I got to Abuja, I went to see Gusau in his office.
"He told me an investigation was on and that CP Danbaba said I had authorized him to issue a weapon with which Mr. Alex Ibru was shot. I asked him, 'As COAS, would I need any weapon from the police?' I told him I did not know anything about it and did not believe Danbaba would have said that.
"He directed me to go and think about it and see him on 12 October 1999. I told him there was nothing to think about because what I had told him was the truth. On 13 October, I went to see him and he asked me if I had thought about what he had told me. I told him I had nothing to think about.
"General Gusau told me I was under arrest and directed Cmnd Brigade of Guards, Brig. Gen. Alex Mshelbwala, to take me to a place prepared to detain me, which turned out to be my guest house while I was COAS, inside Fort IBB. I believe it was arranged by the COAS to keep his former boss. That was how I was arrested and detained without a warrant. The Guest House was guarded by more than 40 soldiers and one officer daily. I was there for seven days without anybody saying anything to me."
Bamaiyi said that an investigation team led by one CP Udo Ubam was sent to interrogate him. He gave the names of the other team members as: Mr. A. Gadzama, then a Director of SSS; Mr. S.B. Ibrahim, another Director of SSS; Lt. Col. U.M. Bobai (DMI); Mrs. A.A. Obileye, Director of NIA and Ms. I.A. Nworgu , then an Assistant Director of NIA.
He claimed that the investigators submitted a report to the IGP and the NSA.
The IGP sent the report to the Federal Ministry of Justice for Legal Advice and that the ministry in a letter with reference: FJP/MISC/1000/106/53 dated 29 October, 1999, and signed by the Permanent Secretary, Mr. T. Osinuga, stated clearly that after reviewing the report and the statements of the witnesses, there was no prima facie case against him (Bamaiyi) and, therefore, opined non-prosecution.
"This report got to the NSA and Obasanjo. Both of them insisted I must be prosecuted to keep me away for many years. This decision kept me in prison for more than eight years without conviction."
The former army boss had earlier challenged Gen. Abubakar to tell Nigerians what really killed Chief MKO Abiola, the presumed winner of the annulled June 12, 1993, presidential election, adding that the philanthropist did not die of natural causes.
JOIN OUR PULSE COMMUNITY!
Recommended articles
Pastor Enenche warns witches, wizards coming for Tinubu's inauguration
Senate passes Bill to take CBN Ways and Means advances to FG 15%
Buhari preaches unity, inclusion as Kenyatta delivers inauguration lecture
Buhari to make farewell broadcast to Nigerians on Sunday
Elections are over, it's time to unite Nigerians - Kenyatta tells Tinubu
Our government has no Islamisation agenda - Shettima assures Nigerians
Governor-elect, Alia vows to prioritise Benue children's welfare
Buhari could have achieved more by monitoring appointees – IPAC
My staff worked under intense pressure — Aisha Buhari