Guber Poll: Go all out for Tonye Cole, Amaechi tells Rivers residents
Former Minister of Transportation Rotimi Amaechi has called on Rivers residents to go all out, vote and support Tonye Cole, the APC gubernatorial candidate of the state on March 18.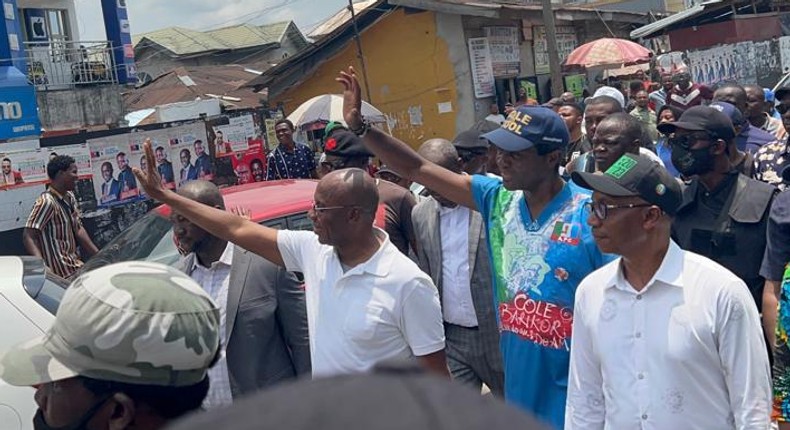 A statement from Amaechi's media office said he made the call when he visited the Northern community in Rivers.
The statement said that Amaechi also campaigned with Tonye Cole at Computer Village and other parts of Garrison axis as well as at Oroworoko Community ahead of the election.
Amaechi also urged the residents of the state to protect their votes on election day.
"All we need from you is to go out and vote, and protect your votes; everybody should be his own policeman.
"When you vote, sit down there until they upload it, even when they upload it, escort them to the Ward Centre, let them upload it there.
"Another set of people should escort them to the Local Government centre, that's how you become your own policeman," he said.
Amaechi told the people that he did not discriminate based on ethnic and religious lines when he was a governor.
He said that he made sure that 1,200 Christians went on pilgrimage, 500 Muslims also went on pilgrimage every year for eight years.
He added that he appointed a Muslim Pilgrims Board, the same way he appointed a Christian Welfare pilgrims Board.
The Chief Imam of Rivers State, Alhaji Haliru Imam said that the Northern Community in Rivers had thrown its weight behind the Governorship Candidate of the All Progressives Congress (APC), Tonye Cole.
According to Imam , Tonye Cole, being a Pastor, will be good in office like Amaechi .
"I remember when you were in power, people were shouting about Northerners, but you told us, 'feel free, this is your home' .
"During your tenure, the Christian Muslim Board existed, but today there is nothing like pilgrim board even to Christians, because of one man."
Imam expressed hope that Tonye Cole would do better when elected as Governor of the State and establish an abattoir for them .
The Northern Youth Leader in Rivers, Alhaji Shehu Ahmed, expressed delight over Amaechi's visit, stating that Rivers people and party faithful would be better off.
Ahmed said that APC would reclaim the state.
"Sir, your coming has emboldened us. We beg you to leave Abuja for now and stay with us in Rivers state," he said.
Cole assured the Northern Community of change, urging them to come out en-masse and vote.
"We are with you. Your suffering is our suffering. Rivers people are tired and are looking for change, and we will bring you that change.
"I want to assure you that we will do more. I have a business background and I have taken note of your complaints about taskforce and pilgrimage.
"Everybody is crying about it, the Muslims and the Christians.
"It is our business as government to help you succeed. That's what government should be," he said
Cole assured the people that his administration would give them the enabling environment to help them succeed.
He added that the pilgrims board would be resuscitated .
"Please come out in your numbers to vote. What they are counting on is that you will not come out.
"After voting, stay there until they count the result and follow the result from the unit to the ward to the collation centre," he said.
JOIN OUR PULSE COMMUNITY!
Recommended articles
We're part of them  —  LP confirms its membership of coalition formed by PDP, others
Gombe Govt expresses concern over rising cases of HIV among children
Niger Government pledges support for NDLEA on drug free society
Nigerian Breweries announces Ighodalo's resignation, Hiemstra's appointment
NNPP denies membership of coalition of concerned political parties
FG warns against use of rapid test-kits for blood screening known for transfusion
Betta Edu says Bishop Oyedepo prayed for her to become minister at Shiloh 2022
Zuma Film Festival a springboard for economic growth in FCT - Wike
Gov Radda suspends school principal for alleged sexual harassment of female student