Suspended Yusuf says NHIS has failed Nigerians, covered only 3 million in 13 years
The suspended Secretary believes the scheme could offer more to the country if properly managed.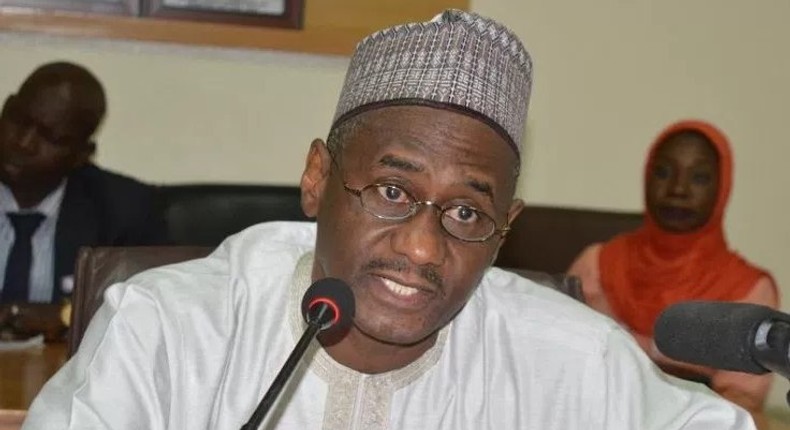 The suspended Executive Secretary of the National Health Insurance Scheme (NHIS), Prof.
In a recent video which he published to defend himself against allegations of fraud levelled against him, Yusuf said the scheme has been badly managed over the years so much that it has only been able to cover three million Nigerians in 13 years. However, he also noted that despite the scheme's failings, it has managed to increase access to healthcare and reduced its cost.
While explaining how the scheme works, he said it has been abandoned for too long in the hands of those who are only hoping to exploit it. He said that all the stakeholders in the scheme have failed to properly play their roles and, as a consequence, jeopardised the goal of the scheme which is to offer universal health coverage to all Nigerians.
He said, "In 13 years, NHIS, we've been able to cover only 3 million Nigerians. I started asking questions. How much came in? How much went out? The amount of money that the Federal Government invested into the NHIS the output has not been impressive and abysmally embarrassing for this country that has so much natural and human resources.
"Who are the major stakeholders in the NHIS? It is we the NHIS as the regulator; HMOs (health maintenance organisations) they are our middlemen, NHIS does not pay hospitals directly, it pays to these middlemen called HMOs who are supposed to pay hospitals.
"The next stakeholder are hospitals and then our elected representatives and then labour and then leaders that appointed us in the ministry and in the presidency. And then, above all, all Nigerians whether or not you're an enrollee, particularly our men and women in uniform.
"NHIS as an agency, fellow Nigerians, is an agency, more than many, that has the potential to do a lot of good for our people. It can make impactful difference in the lives of our people.
"In spite of all our failings at NHIS, and there are many and I'm the first to say we've failed in many ways, NHIS has increased access to healthcare for our people. NHIS has reduced the cost of health care.
"NHIS sustains all federal tertiary hospitals, all state hospitals, all military hospitals, and major private hospitals in this country.
"So, ladies and gentlemen, this is an agency that is very crucial to our health care and an agency that should be taken care of. It's an agency that we've left for too long in the hands of those who have brought it to its knees."
HMOs are after me - Yusuf
Yusuf accused the health maintenance organisations (HMO) of collecting billions of naira from the NHIS but failing to pay hospitals as required, and, as a consequence, jeopardising the care that NHIS enrollees are entitled to, a practice he said he's been cracking down on as Executive Secretary.
He claimed that the allegations that have been levelled against him are false allegations sponsored by the HMOs to stop him from fixing the NHIS.
He said, "The problem is one and one alone. HMOs are the ones that have been inciting all the rancour in the boardroom. They've been paying unions as their foot soldiers. They've been paying the press and taking me to court to maintain the status quo."
"They're funding unions, they're funding the press, they've taken me to court to hold status quo. Fellow Nigerians, status quo is not acceptable," he added.
Yusuf vowed that his controversial suspension and the campaign against him will not stop him from doing what is right to ensure Nigerians get the best benefits out of the NHIS.
"I ask myself, what is the real purpose for all of this? Is it to malign me, embarrass me, kick me out of office or to embarrass this government? My answer is all of the above.
"If it is me you're after, good luck because I remain focused, I will not be shaken or intimated into doing anything that's wrong. You can do more than suspend me but I'll continue to do that which is right," he said.
Controversy over Yusuf's conduct as Secretary
Yusuf was first suspended as Executive Secretary by the Minister of Health, Prof. Isaac Adewole in July 2017, following allegations of monumental fraud, gross abuse of office and nepotic acts. After the initial three months suspension, it extended indefinitely after the panel that probed allegations against him found him "culpable in many areas" of his performance.
Yusuf was then suspended indefinitely again by the NHIS governing council on October 18, after a two-day closed-door meeting. The council's chairman, Ifenne Enyanatu, revealed that it had the approval of Prof. Adewole and also set up a panel to look into the allegations of gross misconduct and fraud levelled against Yusuf.
Allegations levelled against Yusuf include financial recklessness and refusal to follow due process as he's been accused of awarding contracts to his associates, including one to his own brother.
He's also accused of high-handedness, budget distortion, fraudulent cost manipulation, illegal investments and unprofessional manipulation of the human resources of the agency.
JOIN OUR PULSE COMMUNITY!
Recommended articles
‎Benue Governor orders removal of roadblocks on highways
Arewa group denies backing Kalu for senate presidency
Court stops EFCC, ICPC, DSS from detaining ex-Gov. Yari
Lagos dep governor wants Nigeria to charge foreign countries taking doctors
Atiku confident in court to help reclaim mandate from President Tinubu
Tribunal resumes hearing on Atiku's suit against Tinubu's victory
Melaye condemns violence in Kogi politics, calls FG to investigate Bello, Yakubu
National Orientation Agency caught sleeping amid fuel subsidy controversy
Tinubu will transform fortunes of Nigeria, says Group