7 things Boko Haram fighter disclosed about commander
Abubakar Shekau has been hiding away from the notorious Sambisa forest base. But there's more.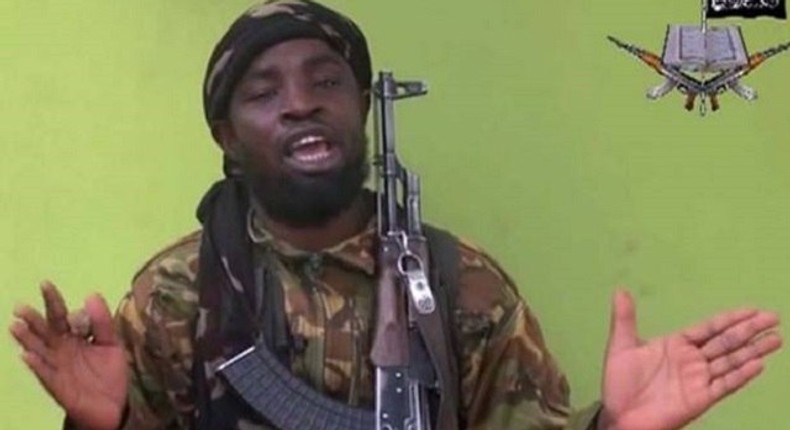 Abdulkadir Abubakar once served as Chief Intelligence Officer of terrorist sect Boko Haram.
Boko Haram is led by the murderous and fearsome Abubakar Shekau.
Abdulkadir Abubakar was arrested by the military in Buni Yadi, Gujba local government area of Yobe State in June of 2017.
Still in custody, the Boko Haram commander has been singing like a fatigued bird.
Here are some of the lyrics from his song:
1. There are three Boko Haram factions.
According to Abubakar, Boko Haram now consists of three factions, not two, like we always thought.
The Boko Haram factions are led by the following commanders: Abubakar Shekau, Abu Musab Al-Barnawi and Mamman Nur.
2. The factions split following a disagreement over methods of operation.
According to the detained commander, Boko Haram was split in three after Al Barnawi and Nur disagreed with Shekau's crude and bloody methods.
His words: "During the early days of the insurgency, we fought for what we thought was a just cause, to establish a caliphate where human beings are valued, cherished and respected.
"After annexing vast territories, Shekau began to demonstrate his cruelty and atrocities against humanity.
"In view of the high level atrocities committed by the group, some of the top commanders including myself, Al-Barnawi and Mamman Nur challenged Shekau, demanding an immediate end to the ugly saga.
"Thereafter, Al-Barnawi and Mamman Nur parted ways and formed their groups".
3. Shekau's faction is the most bloodthirsty and vicious out there.
Abubakar says the faction led by Shekau is the most brutal.
According to the detained former intelligence officer of terror, "Shekau is responsible for suicide bombings and attack on soft targets in the North-East.
"The Al Barnawi and Mamman Nur groups never attacked schools, religious places of worship, markets, women and children. Our fight was strictly with security forces. Even the kidnapped oil workers would not be killed by the group".
4. The Shekau faction was behind abduction of Chibok Girls.
Abubakar says Shekau has a thing for using young women as sex slaves and toys; hence his abduction of hundreds of girls for fun--including the schoolgirls from Chibok who were abducted in April of 2014.
"Shekau is fond of using the girls and other abducted women as sex toys, and suicide bombers. He kills on the pretence of punishing for lies, theft, and rebellion. Shekau kills without justification", Abubakar said.
He added that: "Shekau arrogated to himself the powers to accuse, prosecute, convict and punish in total contradiction to Islamic teachings. Children and women also starved to death in Sambisa due to  Shekau's cruelty."
5. The other two factions are ready for dialogue with the FG.
The Boko Haram insurgency has raged on since 2009, leading to the loss of lives of thousands and the displacement of millions.
The Nigerian government has said it is not against a negotiation with genuine leaders of the group, if only to halt the ceaseless bombing campaign.
Abubakar told law enforcement that the Al-Barnawi and Nur factions are open to dialogue.
He however added that he can't say the same of Shekau's faction.
In Abubakar's words: "Al-Barnawi has indicated interest to dialogue with the government to end insurgency and provide a lasting solution to the crisis. Al-Barnawi discusses this with members of his circle. And I can assure the government that he would cooperate to achieve peace.
"The two factions are willing to cooperate with Nigerian Government to defeat Shekau."
6. Abubakar says the FG has been talking to the wrong faction.
"Shekau is not willing to surrender due to his high handedness", says Abubakar. "Unfortunately, the government and military authorities accorded priority on dealing with Shekau, who is blood thirsty."
7. Shekau is hiding in Mandara mountain.
Mandara mountain lies on the border between Nigeria and Cameroon.
Late last year, the Nigerian military successfully smoked out Boko Haram fighters from their Sambisa Forest hideout.
Abubakar says the military offensive did succeed in dislodging Boko Haram from Sambisa.
However, he adds, Shekau and his men now have a new hideout—up in the Mandara hills.
"I am cooperating with the military and I am ready to provide information on the whereabouts of Shekau.
"Shekau has left his enclave in Sambisa and moved deep into Mandara mountain. I know the area where he is hiding and willing to provide a guide to the military.
"The intensified military offensive has weakened Shekau's position and that of the other groups."
Your move, Nigeria military.
JOIN OUR PULSE COMMUNITY!
Recommended articles
Buhari knows they call him 'Baba Go slow' – Lai Mohammed
Catholic Bishop wants Tinubu to cut down on cost of governance
Osinbajo invokes God's blessings on Tinubu's government
Akintoye condemns invasion of Ibadan radio station by 'Yoruba Nation Army'
NDLEA intercepts explosives enroute bandits camp in Niger
Buhari confers national honours on 338 Nigerians, friends of Nigeria
Igbo group congratulates Tinubu, tasks him on true federalism
Our family doesn't need Nigeria's wealth to survive - Remi Tinubu
My 8 years in office passed by quickly, Osinbajo reflects