Governor calls for follow-up on Niger Delta discussion
Dickson also said Niger Delta Governors will work with the Federal Government to end militancy.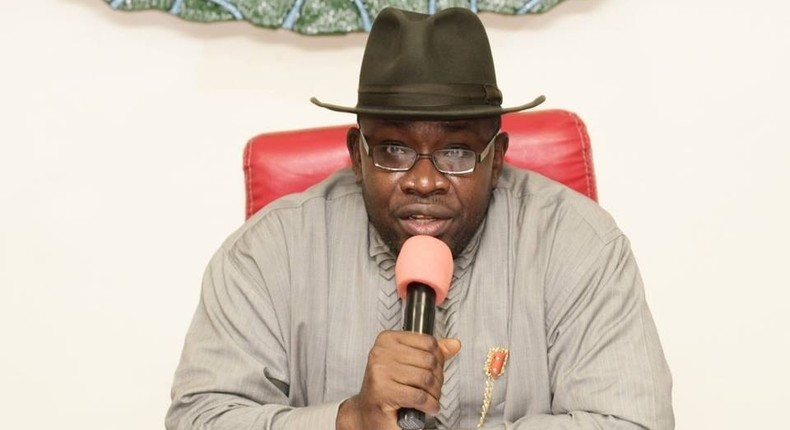 Gov. Seriake Dickson of Bayelsa has called for follow-up discussions on issues raised during the just concluded meeting between
Dickson told statehouse correspondents that the follow-up discussions had become imperative in order to achieve the objectives of the ongoing dialogue in the Niger Delta region.
The governor assured that his colleagues in the Niger Delta region were partnering with the federal government in addressing challenges in the region, including militancy and sabotage of oil installations.
"But I said at the meeting we cannot discuss and agree on a master plan, moving forward in this meeting.
"I believe that there will be follow-up discussions where some of these issues will be taken up and discussed in greater detail.
"All the state governors are working in collaboration with the federal government and its agencies to ensure that these issues that we highlighted are addressed," he said.
Dickson commended the President Buhari-led administration for embarking on the clean-up of Ogoniland, saying the exercise would go a long way in addressing the issues of environmental protection.
He said "The federal government has done well, working with its partners to begin the clean-up in Ogoni.''
Florence Ita-Giwa, a former Special Adviser on the National Assembly, also called for speedy resettlement of people of Bakassi Peninsula.
She said that President Buhari commented on the issue, saying that they were not asking for the issue to be revisited but that of resettlement of the affected people.
"The President commented even in the history of Bakassi. What we are asking for, we are not asking for the issue to be revisited.
"What we are asking now is to be resettled in Nigeria as Nigerians that we have chosen to be. The President pledged that the government would look into it.
"We are not asking for the President to go back into the case, because that will be an exercise in futility. We want to be properly resettled in Nigeria as Nigerians," she said.
JOIN OUR PULSE COMMUNITY!
Recommended articles
Tinubu begs striking health workers to return to work
PDP witness tells tribunal he signed Nasarawa result sheet under duress
Kogi traditional rulers condemn attack on Governor Bello
Remi Tinubu takes up first official engagement as Nigeria's new first lady
Fire causes ₦‎40 million damage to Ebonyi court, exhibits lost
Secondary school in Bauchi with 350 students has only 3 teachers
100 students poisoned in Taliban-controlled Afghanistan
Remi Tinubu assumes office as Nigeria's first lady
Wike reveals response to potential appointment offer from Tinubu