'Is Minister fantastically corrupt?' - UK Mail writes
The publication had last week queried Buhari's anti-corruption fight, saying he is wealthy and that his family lives large.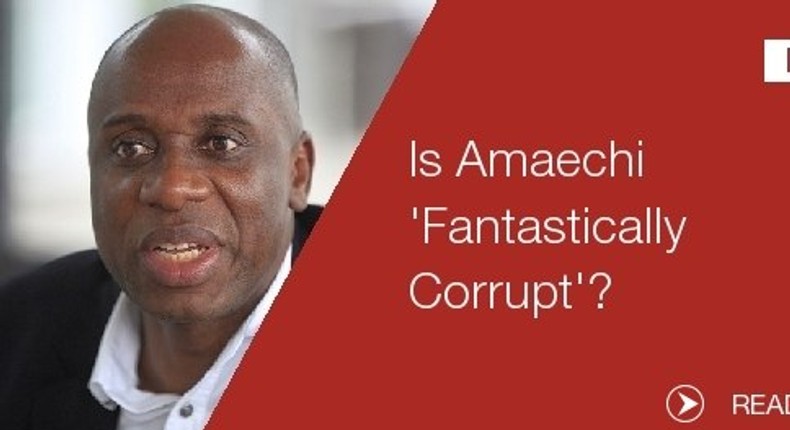 The publication had last week queried  Buhari's anti-corruption fight, saying  he is wealthy and that his family lives large.
In the new article written by Paul Cahalan and published on Sunday, May 15, it said although Muhammadu Buhari is seen by some as leading the battle against corruption, worrying allegations swirl around one of his close allies.
The article also alleged that, Amaechi, who travelled with the president to the summit on corruption in London, bankrolled Buhari's presidential campaign.
It partly reads: "In the Nigerian press he has been dubbed 'ATM' – the American term for cash machine – because of his ability to produce vast sums of money at short notice.
"He remains in his post despite being accused of misappropriating £338million by a commission investigating the sale of state assets.
"Separately, Amaechi is accused of diverting £140million of state funds into Buhari's presidential campaign, with reports he paid for media, consultants and private jets.
"The allegations come as the president stands accused of enjoying a lavish lifestyle while many millions suffer in poverty.
"There was also a request for £13million for building a VIP wing at a hospital used by families of the president and his ministerial team."
"Mr Amaechi has denied the allegations against him."
It would be recalled that the Rivers State Governor, Nyesom Wike, had set up a Commission of Inquiry headed by Justice George Omereji to look into the sale of value assets of the state by Amaechi's administration - the Commission indicted the ex-governor.
In its October 2015 report, the Commission accused Amaechi of selling valuable Rivers' assets including four gas turbines without due process.
Defending Amaechi, who was a ministerial nominee at that time, the APC publicity secretary in Rivers, Mr.Chris Finebone described the release of the government white paper as "nothing worth more than the decrepit paperweight and putrefying character of its mastermind and authors."
"However, it is a huge relief to our leader, Rotimi Amaechi that Nyesom Wike finally accepts that an accused is taken to court of law and not court of public opinion through the manipulation of the media.
"Wike is at liberty to amuse himself but wanton display by a governor of crass ignorance of the basic workings of government with regard to how government disposes its property and the process of channelling the payments into government coffers calls for sober reflection by every Rivers man, woman and youth.
"The APC would like to state that those who crafted this whole melodrama know very well that their contraption is nothing more than a tale told by an idiot, full of sound and fury, signifying nothing.
"We have no doubt that very concrete records of every bit of matter relating to the Monorail, sale of power stations, reserve fund, agricultural grant, lease of Olympia Hotel and any others have all been articulated and already in the public domain. Of course, these will be availed the court to permanently put paid to the ongoing chicanery Wike and his friends."
In a related report, Wike and Buhari are reportedly in an ongoing behind-closed door meeting at the Presidential Villa, Abuja. Though the agenda of the meeting was unclear as at press time.
JOIN OUR PULSE COMMUNITY!
Recommended articles
Group urges Tinubu to prioritise care for senior citizens
My people want a Christian to emerge as Senate President  —  Gbenga Daniel
6 positive news stories from Nigeria in May 2023
Fuel prices will go down after removal of subsidy, says NNPC CEO Kyari
Niger governor sacks political appointees
5 Buhari appointees President Tinubu should retain
New Commander 12 Brigade seeks inter-agency collaboration to enhance security in Kogi
Enugu residents lament increase in transportation fares amidst fuel scarcity
MSport Football Challenge: Road to final 2023