'I've been battling forces of darkness since my arrest,' IPOB leader says
Kanu also said that he would never abandon the fight for Biafra despite attempts from his persecutors to make him give up.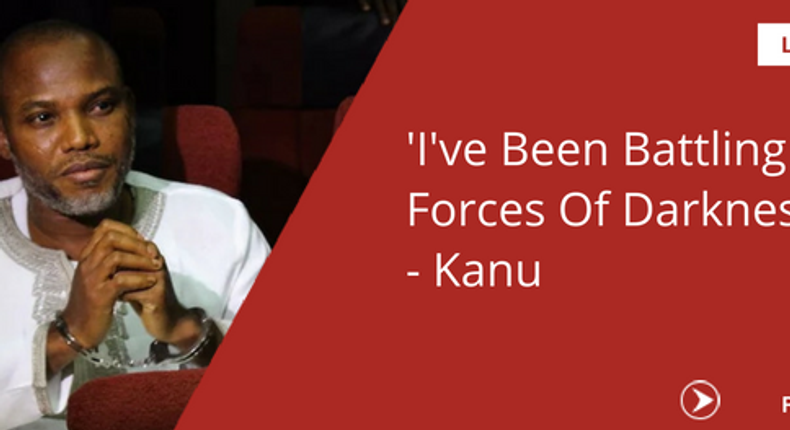 Leader of the Indigenous People of Biafra (IPOB),
The IPOB leader made the comments through his lawyer, Ifeanyi Ejioffor, The Sun reports.
"I have been battling with forces of darkness both physically and spiritually since I was arrested. They came with many strategies just to trick me into signing off my quest for Biafra and gain my personal freedom," Kanu said.
"Little did they know that I am more intelligent and determined; I refused all their offers because the freedom of my people, Biafrans, is paramount to me and their freedom is the freedom of Nnamdi Kanu. The pains and agony of all Biafrans are the pains and agony of Kanu.
"Prominent leaders, countries in the world and those who don't have the videos of the killed Biafrans in their possession should go to YouTube and watch the heinous crime committed by the Nigeria Government and her security agencies against peaceful members of IPOB during peaceful rallies and demonstrations in all the Biafra cities of Aba, Onitsha, Owerri, Igweocha (Port Harcourt), Calabar, Uyo, Asaba, Enugu, Bayelsa and other numerous cities.
"The senseless killing of Biafrans is the senseless killing of Nnamdi Kanu. The cry of the Biafran youths is the cry of Nnamdi Kanu. The joblessness of Biafrans after university is the joblessness of Nnamdi Kanu.
"The impoverishment and subjugation of all Biafrans is the impoverishment and subjugation of Nnamdi Kanu. The child abuse of Biafran children by the Hausa/Fulani cattle herders is that of Nnamdi Kanu.
"The illegal detention of Biafrans in several prisons both overseas and Nigeria is that of Nnamdi Kanu. The sexual harassment of our young ladies while seeking for jobs after graduation is that of Nnamdi Kanu.
"The raping and killing of our mothers and sister in our farmland by the Hausa/Fulani cattle headers is also that of Nnamdi Kanu. The untimely death of Biafrans due to bad road situations in Biafra Land is that of Nnamdi Kanu.
"The cries of our parents living in the riverine areas they call South/South due to the environmental damage caused by Shell in our land is also that of Nnamdi Kanu.
"The seizure of goods and sleepless nights and pains of all the Biafrans importers in the hands of the Hausa/Fulani, Yoruba customs and Police is that of Nnamdi Kanu.
"The stress that Biafrans pass through while traveling for 8 hours to Lagos and Abuja International Airports before they gain access to travel abroad which in most cases take many lives in the process while traveling is that of Nnamdi Kanu.
"The heartbreak of Biafran business men and women, importers and petty traders in Lagos State due to intentional fire outbreaks caused by haters of Biafrans, in their business places in Lagos and another part of Nigeria is that of Nnamdi Kanu.
"The cry of the Biafran families that lose their children in Malaysia, Indonesia, China, and India and other parts of the world due to immigration and police intimidation is that of Nnamdi Kanu. The death of Biafrans, those trying to cross Sahara Desert and Mediterranean Sea to Europe in search of greener pastures is that of Nnamdi Kanu.
"The fake promises of all the politicians in our villages and towns in (Biafran land) who promise and deceive our parents during election but always failing them  after being voted into power  and all these problems that affect all Biafrans are the problems of Nnamdi Kanu too.
"I want to say, thank you, thank you to our mothers from, Akwa-Ibom, Cross Rivers, Rivers, Bayelsa, Delta, Ebonyi, Enugu, Anambra, Imo, Abia states. I am grateful for all our mothers because you gave birth to these great men and women of honour, those sons and daughters that always protest for my release under the Sun and rain. My thanks to all the fathers too who allowed their children to join (IPOB meetings) across Biafra Land," he added.
The IPOB leader is facing charges of treason due to his activities as the Director of Radio Biafra.
JOIN OUR PULSE COMMUNITY!
Recommended articles
Kogi Assembly gives December 30 ultimatum to Education ministry over ₦497.3m WAEC fees
Why FG banned travellers from bringing 'Ghana Must Go' bags to airports
18,050 adults, 795 children infected with HIV/AIDS, on treatment in Borno – BOSACA
Kwara Govt warns citizens against roadside selling, indiscriminate dumping of refuse
You're free to contest for Edo governor  —  Obaseki tells Shaibu
PDP's candidate determination is solely the party's right – Obaseki
CAN prays for success of Tinubu's 2024 Budget of Renewed Hope
MC Oluomo secures second term as NURTW Lagos Chairman
Sarkin Fulani of Kwara sentenced to life imprisonment for kidnapping
Shelly-Ann Fraser-Pryce: Track legend signs mouthwatering deal with luxurious wristwatch brand
Sha'Carri Richardson: World's fastest woman reportedly bags $20,000,000 endorsement deal
She needs a break - Super Falcons coach explains Ashleigh Plumptre's absence from team
Sergio Ramos makes Champions League history 31 years after Daniel Amokachi
Thiago Silva recalls TB fright ahead of Chelsea debut