The presidential candidate of the Young Progressives Party (YPP), Prof. Kingsley Moghalu, has labelled President Muhammadu Buharis war against corruption a sham thats merely designed to target his political opponents.
While speaking during an interview on Channels Television's Business Morning on Monday, November 26, 2018, the former Deputy Governor of the Central Bank of Nigeria (CBN) said the current administration's efforts against corruption only attempts to advance its own political agenda while delegitimising its opponents.
He said corruption exists in the ruling All Progressives Congress (APC) just as much as it does in the People's Democratic Party (PDP), the main opposition party.
He said, "We're not really fighting corruption. We're playing political football with the fight against corruption. We're using the fight against corruption to advance partisan political interests.
"We want to make our party look legitimate because we want to say to Nigerians, 'They are corrupt', but who is they? if you're talking from the APC standpoint, who's APC? APC is PDP, PDP is APC, there's no difference.
"People are using the fight against corruption to advance their own narrow political agenda and delegitimise other political opponents; whereas, corruption is inside the APC and inside the PDP as well."
How I'll fight corruption as President - Moghalu
The presidential candidate promised Nigerians that, if elected president, he would address the nation's decaying value system and ensure that corrupt people are held accountable for their actions.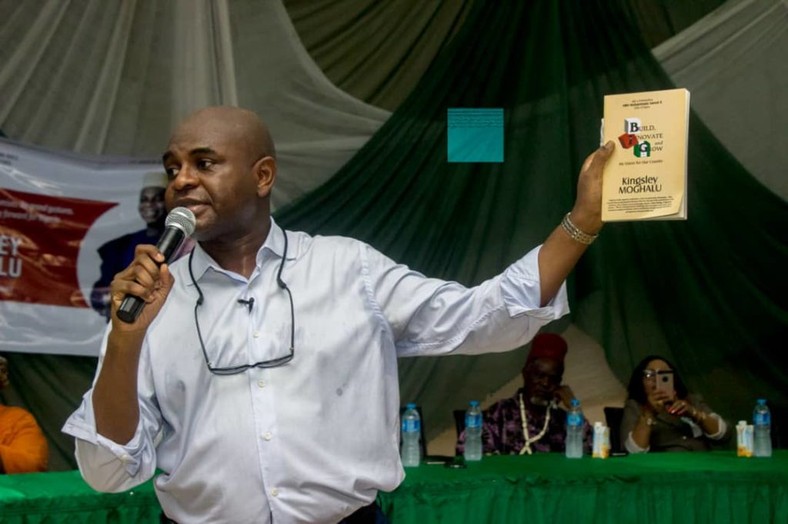 He said, "The first thing about corruption is to address the value system challenge. The value system in this country has been exceedingly corroded; people don't know, even, a sense of what is right or wrong. What is wrong has become normal to us and what is right has become strange. So if you're doing what is right, people think you're a bit funny.
"I will, as president, introduce the teaching of ethics in our primary and secondary schools. It's important that young people grow up knowing a sense of what is right or wrong.
"Also, it is very important that accountability for corruption should be impartial. I'll start the fight against corruption inside my own government. First, you must set that example so that your fight against corruption is credible."
The candidate also disclosed that, if elected president in 2019, he would declare his assets as required by law, for transparency.
"I'll bring into governance a lot of private sector concepts adapted to public sector which we used to run the Central Bank successfully," he concluded.
2019 presidential election
The 2019 presidential election, scheduled for February 16, 2019, is billed to be closely-fought between President Buhari of the APC and former Vice President, Atiku Abubakar, of the PDP.
Alongside Moghalu in the chasing pack is Donald Duke of the Social Democratic Party (SDP), Oby Ezekwesili of the Allied Congress Party of Nigeria (ACPN), Fela Durotoye of the Alliance for New Nigeria (ANN), and Omoyele Sowore of the African Action Congress (AAC).
Others are Tope Fasua of the Abundance Nigeria Renewal Party (ANRP), Eunice Atuejide of the National Interest Party (NIP), Adesina Fagbenro-Byron of the Kowa Party (KP), Chike Ukaegbu of the Advanced Allied Party (AAP), Hamza Al-Mustapha of the People's Party of Nigeria (PPN), Obadiah Mailafia of the African Democratic Congress (ADC), and many more.
79 candidates will contest in the election, the highest number ever in Nigeria's electoral history.