'We need infrastructure, not iPhones,' Minister tells World Bank
Adeosun said that expensive phones and suits will only raise consumption but infrastructure will drive growth.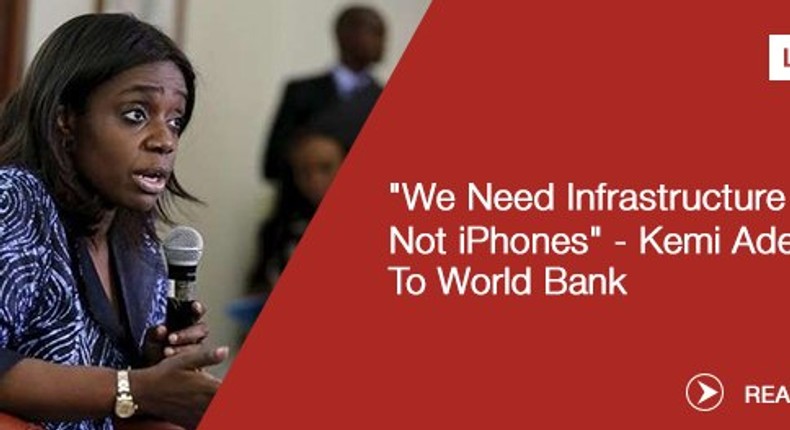 Adeosun stated this on Wednesday night, October 5, at the World Bank Headquarters in Washington DC, United States.
She said there is nothing left for investors in the West, adding that they have to come to Africa, but not to come and sell high-end consumables, rather commit to infrastructural development that will empower its people.
The Minister said: "We have just started a journey of transition, which will take us from an economy that was really dependent on oil, primary commodity, to a more productive economy, and we recognise that the differentiator will be infrastructure.
"We have come from spending 90 percent of our budget on recurrent and only 10 percent on capital. We are trying to move to 70:30, which is not enough.
"From the numbers that we have done, the infrastructure gap that we face, even if we devote our budget [to capital] for the next three years, it is not enough. So we've got to look for creative ways to mobilise additional capital.
"We are hungry for infrastructure. We have got 170 million people who don't have power in sufficient quantities. We don't have a rail system; we don't have a road structure. We believe that if we solve those infrastructure challenges, the entire productivity, agriculture, solid minerals, manufacturing, our unemployment problems could all be solved.
"It seems very simple, in terms of what needs to be done. We are quite excited about negative interest rates. We like that you're not earning any money.  We are happy to take your money and give you very small positive interest rate.
"We think that the time has come; everyone is thinking out of the west. There is nothing left in the west, everybody has to now come to Africa, but we don't want investors to come to Africa to sell us iPhones and many expensive suits.
"We want to become productive, and so we want this investment to come into infrastructure, that will enable us to compete and really enable Africans to stay in Africa."
Adeosun, who was the only African minister on the high-level panel, lamented how Nigerians pay for infrastructure with pain and with no value for their money.
"We think the narrative around who pays for infrastructure is a very important one in Africa. I think there is a sense of expectation from the people that the government will deliver infrastructure, but we believe that the user pays.
"I say that because at the moment, if you don't have infrastructure, you're paying anyway. The public pays; If you spend six hours on a journey that should take you an hour, you've paid.
"So how do we convert that payment, which is currently informal and very painful, into a formal payment and therefore revenue stream that could attract investors is the challenge that we are working on now."
She, however, noted that the Nigerian government is not solely relying on investors to lead in infrastructure, but that the country has already  taken the lead and creating an enabling environment for a profitable market.
"As I have said, we are leading with our own money. We are looking at regulatory framework, that would enable investors to come in. We know it's a new market and we are going to de-risk it," she said.
"So what we are starting with are just infrastructure bonds that we guarantee, and then hopefully, when investors get an appetite for what the Nigerian infrastructure framework can provide them in terms of returns, we believe we will be able to remove some of the safeguards needed at the moment."
Adeosun added that Africa's population is young, which is why a standard of living that can keep young and vibrant Africans in Africa must be provided. This, she said, is critical to eliminating poverty.
JOIN OUR PULSE COMMUNITY!
Recommended articles
Kogi Assembly gives December 30 ultimatum to Education ministry over ₦497.3m WAEC fees
Why FG banned travellers from bringing 'Ghana Must Go' bags to airports
18,050 adults, 795 children infected with HIV/AIDS, on treatment in Borno – BOSACA
Kwara Govt warns citizens against roadside selling, indiscriminate dumping of refuse
You're free to contest for Edo governor  —  Obaseki tells Shaibu
PDP's candidate determination is solely the party's right – Obaseki
CAN prays for success of Tinubu's 2024 Budget of Renewed Hope
MC Oluomo secures second term as NURTW Lagos Chairman
Sarkin Fulani of Kwara sentenced to life imprisonment for kidnapping
Shelly-Ann Fraser-Pryce: Track legend signs mouthwatering deal with luxurious wristwatch brand
Sha'Carri Richardson: World's fastest woman reportedly bags $20,000,000 endorsement deal
She needs a break - Super Falcons coach explains Ashleigh Plumptre's absence from team
Sergio Ramos makes Champions League history 31 years after Daniel Amokachi
Thiago Silva recalls TB fright ahead of Chelsea debut