NLC, TUC issue 30-day ultimatum to Govt over unpaid salaries
The presidents of the two unions issued the ultimatum at a rally organised by their respective state chapters at the NLC office in Lokoja.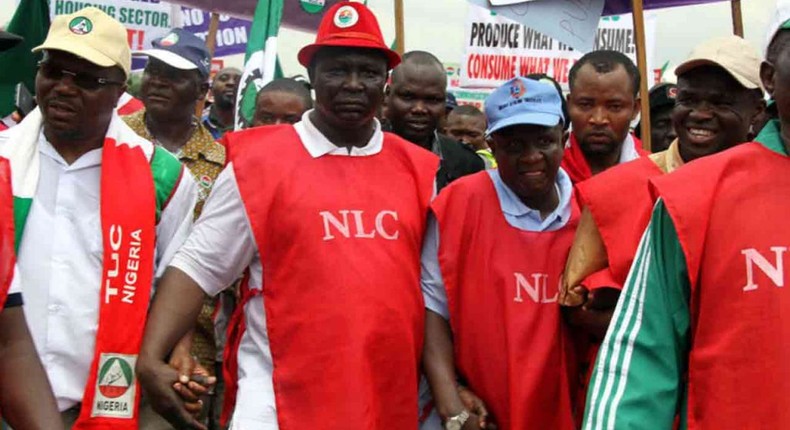 The Nigeria Labour Congress (NLC) and Trade Union Congress (TUC) on Wednesday gave the
Addressing a large crowd of workers, Mr Ayuba Wabba, NLC National President, said that no reasonable government would deny workers of their salaries for seven months.
Wabba threatened a national labour action in the state if the governor refused to address lingering issues and stop the usage of two banks for workers to access, what he called their fundamental human rights.
The president hailed the workers for their doggedness, courage and determination to press home their demands in spite of several intimidation from the state government and its apparatus.
``Let me salute you for your courage and determination to pay the ultimate price for your fundamental human rights in the face of threat and intimidation.
``All over the world, nobody gets his right while sitting down and watching without taking any drastic action; there is price for liberty everywhere in the world which is vigilance.
``We have heard about your predicaments and we thought we cannot have the comfort of sitting in Abuja without coming to see and confirm the report we received.
``With our collective strength and unity, we shall surely overcome these predicaments caused by our leaders," he said.
He, therefore, called on President Muhammadu Buhari to garner the will to ensure that no arm of government under his watch would mismanage public funds.
The News Agency of Nigeria (NAN) reports that the TUC President, Mr Bobboi Kaigama, also reiterated the need for the governor to pay the salaries within four weeks, saying they will not allow impunity against any worker in the state.
Represented by Mr Austin Etabor, the Deputy President of the union, Kaigama urged the workers to be united and stand together as one indivisible force, keeping their hope alive by defending their rights.
NAN also reports that both leaders of the organised labour urged the media in the state to avoid any form of bias reportage.
The Chairman of NLC in Kaduna State, Mr On Edoka, had earlier in a solidarity speech, alleged that some state governments were pushing labour unions to the wall.
Edoka warned that workers were prepared to fight back to secure their rights.
JOIN OUR PULSE COMMUNITY!
Recommended articles
My people want a Christian to emerge as Senate President  —  Gbenga Daniel
6 positive news stories from Nigeria in May 2023
Fuel prices will go down after removal of subsidy, says NNPC CEO Kyari
Niger governor sacks political appointees
5 Buhari appointees President Tinubu should retain
New Commander 12 Brigade seeks inter-agency collaboration to enhance security in Kogi
Enugu residents lament increase in transportation fares amidst fuel scarcity
MSport Football Challenge: Road to final 2023
BREAKING: We have not devalued naira to 680/USD - CBN denies report