Check out core strengthening workout, flat-back forward bend
We're starting to see a surge in fitness consciousness. In light of that, there are a few moves that work magic for the body. Thus, here is a core strengthening workout called flat-back forward bend.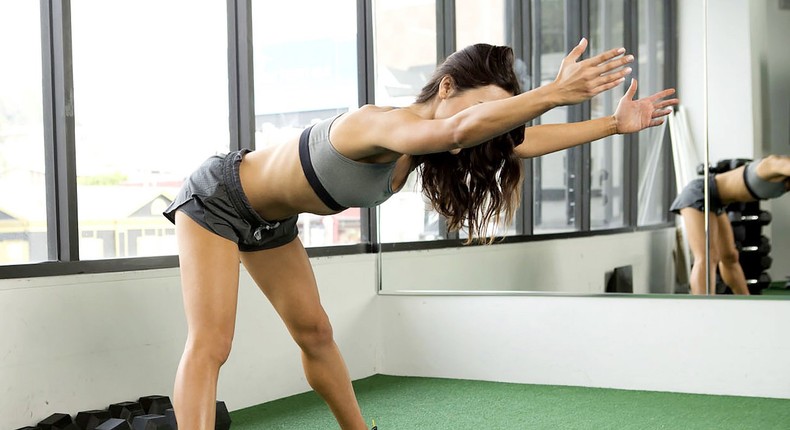 We're starting to see a surge in
People say slow and steady wins the race, and like any other workout, maintaining a steady position where it starts off easy, but then you start to feel the burn until you can hardly stand it — that's when you know it's working.
If you love that burn, you'll love this ultimate core-strengthening move known as the flat-back forward bend and you can achieve it by following these simple steps:
Stand with your legs in a wide straddle position, feet parallel, with about two to three feet between your heels.
Extend your arms straight into the air.
Take a breath in and as you exhale, slowly hinge at the hips, lowering your torso so it's parallel to the ground.
Be sure to shift weight forward into the toes and really reach your fingertips away from you. Keep the abs pulled in as you breathe deeply.
Hold here for 30 seconds. Then slowly rise back up.
Then lower halfway and rise back up, repeating 10 times.
Lower and hold for another 30 seconds.
Rise up to stand.
If your hamstrings are stiff, try to bend at the knees a little, it'll still be effective. And if your lower back aches, bring your hands to your hips, and shift weight back into your heels a little.
Try out this great workout and let us know how it works for you.
JOIN OUR PULSE COMMUNITY!
Recommended articles
Kwara Govt warns citizens against roadside selling, indiscriminate dumping of refuse
You're free to contest for Edo governor  —  Obaseki tells Shaibu
PDP's candidate determination is solely the party's right – Obaseki
CAN prays for success of Tinubu's 2024 Budget of Renewed Hope
MC Oluomo secures second term as NURTW Lagos Chairman
Sarkin Fulani of Kwara sentenced to life imprisonment for kidnapping
We'd soon settle who owns Lagos – Erelu Kuti IV
Ondo State government dispels signature forgery allegations against Akeredolu
Herbal HIV treatment claims lives in Gombe State
Shelly-Ann Fraser-Pryce: Track legend signs mouthwatering deal with luxurious wristwatch brand
Sha'Carri Richardson: World's fastest woman reportedly bags $20,000,000 endorsement deal
She needs a break - Super Falcons coach explains Ashleigh Plumptre's absence from team
Sergio Ramos makes Champions League history 31 years after Daniel Amokachi
Thiago Silva recalls TB fright ahead of Chelsea debut