When will the EFCC arrest Goodluck Jonathan?
This circle of arrests has one central figure in the middle; Goodluck Jonathan, yet the EFCC is not saying anything about his involvement or when, if at all, it will investigate him.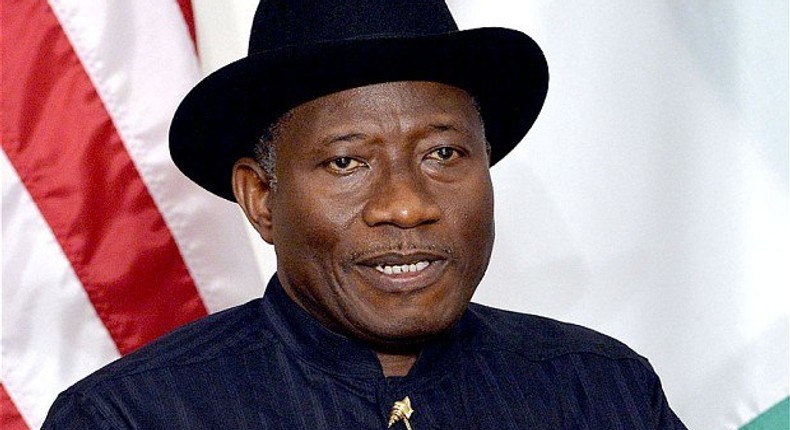 The first person to be arrested was former National Security Adviser, Sambo Dasuki who is alleged to have supervised the laundering of $2 billionfrom Nigeria's coffers, most of which was spent on "mobilizing" people for Jonathan's re-election bid.
Dasuki was arrested by the Department of State Services (DSS) on December 1, 2015 and handed over to the EFCC the following day. He was re-arrested by the DSS on Tuesday, December 29, after being released on bail.
The former NSA, in his defence, said that Jonathan had approved the spending of the funds.
"There was no contract awarded or equipment bought without approval from the then President and Commander-In-Chief. I am not a thief or treasury looter as being portrayed," he said via a statementon Wednesday, November 18, 2015.
The claim was however denied by Jonathan during a gathering co-hosted by the National Democratic Institute (NDI) and the Centre for Strategic and International Studies (CSIS) in Washington DC, on November 19.
"I did not award any $2 billion contract for procurement of weapons. Where did the money come from? I did not award a contract of $2billion for procurement of weapons," Jonathan said.
"I can guess, this is about trust, that perhaps former President Goodluck Jonathan had implicit trust in Dasuki and felt that some of the money he needed to run his campaign could be channelled through the office of the NSA," Aziegbemi said during a recent interview with Vanguard.
The EFCC also arrested PDP spokesperson, Olisa Metuh after he was accused of receiving N400 million out of the funds laundered by Dasuki.
However, Metuh, through a no-case submission filed before the Federal High Court in Abuja, argued that the EFCC couldn't validly prosecute him for corruption without involving Jonathan.
The PDP spokesperson said, through his lawyer, Chief Onyechi Ikpeazu (SAN), that some of the funds he was accused of laundering had been used for Jonathan's campaign in 2015 hence the former president was a vital witness that ought to be called by the prosecution.
"Dr Jonathan, to whom the presentation was made for which the payment was made, is therefore a material and indispensable person in order for a prima facie case to be present," Metuh's lawyer argued.
"Where the prosecution failed to call such a vital witness, a strong presumption will arise that the evidence, if called, would be unfavourable to the prosecution," he added.
A witness who testified during Metuh's trial on Monday, April 11, 2016, also said that Jonathan gave the permission for the funds to be paid into the PDP spokesman's account.
Dear EFCC, when will you invite Jonathan for questioning?
JOIN OUR PULSE COMMUNITY!
Recommended articles
Christians, Muslims jointly hold iftar to strengthen peaceful coexistence
Don't force children to fast during Ramadan - Islamic cleric
There will be no public holiday during census - FG
Oyakhilome rallies Nigerian Youth in Diaspora to defend Tinubu's mandate
Popular filmmaker urges Tinubu to fix electricity supply in Nigeria
Don't truncate democracy because you lost election – Idimogu
Don't loan money to Ganduje's govt - Kano governor-elect warns lenders
BREAKING: DSS arrests man who threatened to import IPOB to Lagos
Man opposing Tinubu's inauguration shouts 'Obidients' as he was being removed from plane
Manchester United identify Portuguese goal-machine Goncalo Ramosas Osimhen alternative
Giannis Antetokounmpo outshines Jordan Nwora as Bucks set record against Pacers
NPFL Review: Rangers continue to flirt with relegation, 3SC vs Plateau produce another classic
Arsenal reach first Champions League semi-final in 9 years with victory over Bayern