Falana is a mischievous hypocrite - Lere Olayinka
Olayinka called the Lagos lawyer a mischievous hypocrite, following his comment reportedly supporting the freezing of Fayose's bank account by the Economic and Financial Crimes Commission (EFCC).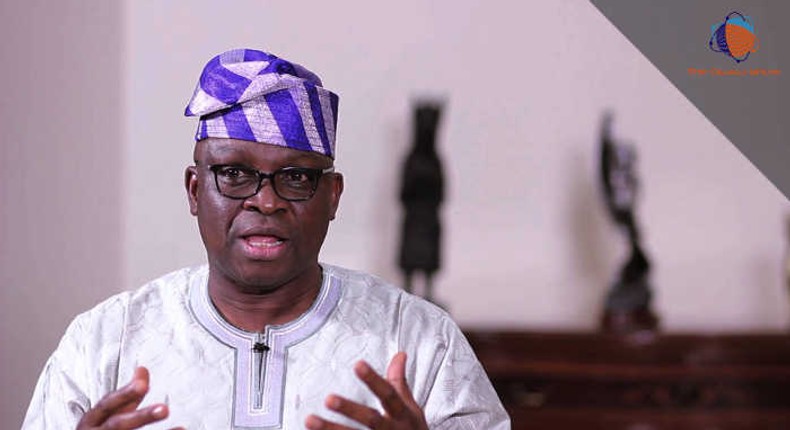 Fayose's aide said "Falana is only deceiving the Economic and Financial Crimes Commission (EFCC) on Governor Ayodele Fayose's matter because of his ambition to contest the Ekiti State Governorship election in 2018,thinking that he can achieve what he used the EFCC to achieve against Governor Fayose in 2006 ten years after.
"Even though this comment coming from Femi Falana ought to have been ignored like we have always done because his hypocrisy has become so legendary that he should no longer be taken seriously by sane minds, it was shameful that Falana, a Senior Associate Nigeria (SAN) could say that EFCC can freeze Nigerians bank accounts and obtain a court order later even when Section 34 of the EFCC Act provided that a court order must be obtained (ex-parte) and made available to the bank manager before a bank account can be frozen."
He also cited Section 34 of the EFCC Act, saying the anti-graft agency cannot freeze anybody's bank account without a court order.
The Governor's spokesman said "This position was also expressed by Justice Gabriel Kolawole of the Federal High Court, Abuja, yesterday when he ordered the EFCC to pay N12.5 million damages to the son of former Governor Murtala Nyako, Senator Abdulaziz Nyako for unlawful freezing of his account and illegal detention.
"It is, therefore, strange that a SAN could tell Nigerians that EFCC can carry out an action first and obtain court order to justify the action later.
"If I may ask, was Falana called to the Bar before he attended Law School and passed his Call-To-Bar Exams? Was Falana's LLB Certificate given to him before he got admission to the University? Was Falana's BL Certificate issued to him before he attended the Law School? Was Falana's Birth Certificate issued before he was born? Was Falana's Marriage Certificate issued before he got married? Has Falana ever traveled to UK or USA and obtained Visa later? Can I, Lere Olayinka, because I can now quote some laws begin to practice as a lawyer and go to University to study law later?"
He added that "Obviously, opinions of lawyers like Femi Falana are better left in the trash cans and Nigerians should begin to thank God that he was not made the Attorney General of the Federation and Minister of Justice.
"It is also important to tell Falana to seek the face of the Lord for forgiveness of his sins against Ekiti and Governor Fayose in particular, because it appears God deliberately frustrated his bid to be appointed Attorney General of the Federation and Minister of Justice because of what he would have used the position for.
"For instance, over ten Ekiti indigenes were murdered during the APC government of Dr Kayode Fayemi, Falana kept silent. He also kept silent when the future of Ekiti State was being mortgaged to frivolous loans and deductions from workers salary were not being remitted. It also made no meaning to Falana that democratically elected local government chairmen and councillors were sacked and council election was not conducted throughout the four years of APC government in Ekiti State."
"Instead of hiding under human rights activism to perpetrate evil against Ekiti and its people as he has always done, Falana should be bold enough to declare his governorship ambition, which is not hidden and let's see how far he can go this time around.
"Like we have maintained, this is 2016 and 2006 that Falana and his criminal collaborators used EFCC to remove governors, Governor Fayose's impeachment was later declared illegal by the Supreme Court," Olayinka said.
Governor Ayo Fayose's Zenith bank account was blocked by the Economic and Financial Crimes Commission (EFCC) on Monday, June 20, 2016.
See Pulse Photo-News gallery below.
JOIN OUR PULSE COMMUNITY!
Recommended articles
Gunmen ransack 2 communities in Ebonyi
Unemployment, others root cause of poor mental health - Don
Buhari's assets remain the same after 8 years as president
Attend tribunal to show loyalty to Atiku, PDP - Dino challenges Makinde
Bala Mohammed emerges Chairman PDP Governors' Forum
Ondo Assembly elects Oladiji as new Speaker
Bauchi Gov Mohammed calls for unity among PDP members
FG increases trips on Abuja-Kaduna train route
FG moves to ban children below 11 years from writing Common Entrance exams