Buhari wants more Nigerians on the farm
Only 2.5% of arable lands in the country is being cultivated.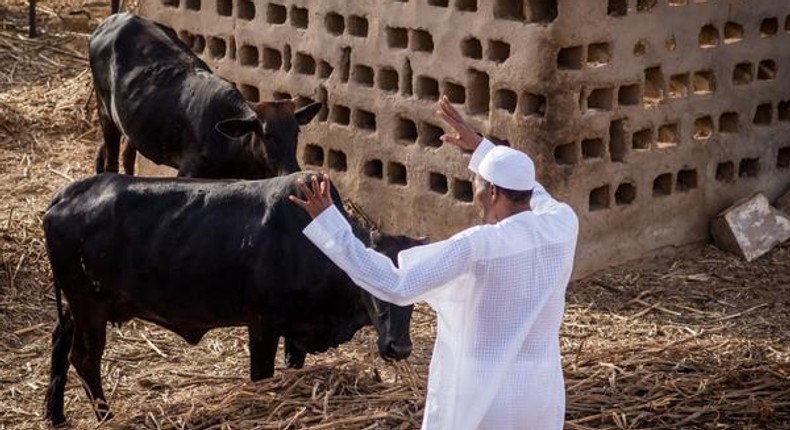 President Muhammadu Buhari says he wants more Nigerians to embrace farming to improve food production in the country.
The president told journalists on Tuesday, July 20, 2021 that he was surprised to hear that only 2.5% of arable lands in the country is being cultivated.
The 78-year-old's administration has for the past six years made diversification of the economy one of its key goals, achieving mixed results.
He had said on Monday, July 19 that agriculture is the backbone of that diversification goal, as it's a more stable mainstay of the Nigerian economy, and must be exploited to provide a boost for the nation.
The president also noted that insecurity has had an adverse effect on cultivation of land, with many rural farming communities devastated by violence.
He said on Tuesday that he's directed security agencies to work with communities to create a more secure environment for farmers.
Nigeria's agricultural sector is still heavily dominated by subsistence farming that is unattractive to its largely youthful population.
The president's encouragement of farming has failed to properly penetrate, despite unemployment rising to a record 33.3% last year.
JOIN OUR PULSE COMMUNITY!
Recommended articles
Melaye condemns violence in Kogi politics, calls FG to investigate Bello, Yakubu
National Orientation Agency caught sleeping amid fuel subsidy controversy
Tinubu will tansform fortunes of Nigeria, says Group
Fuel Subsidy: NLC is commited to Wednesday strike
Ogun Govt. orders investigation into student's killing
475 pilgrims depart Yola for Saudi Arabia for this year's Hajj
Be wary of bigots posing as associates, cleric advises Tinubu
Sen. Wamakko mourns massive killing in Sokoto by bandits
Adeleke announces dissolution of Osun Assembly