President should quit blaming Jonathan and get on with his job
President Buhari has made a pastime out of blaming his predecessor. He really should get on with the job he was elected to do.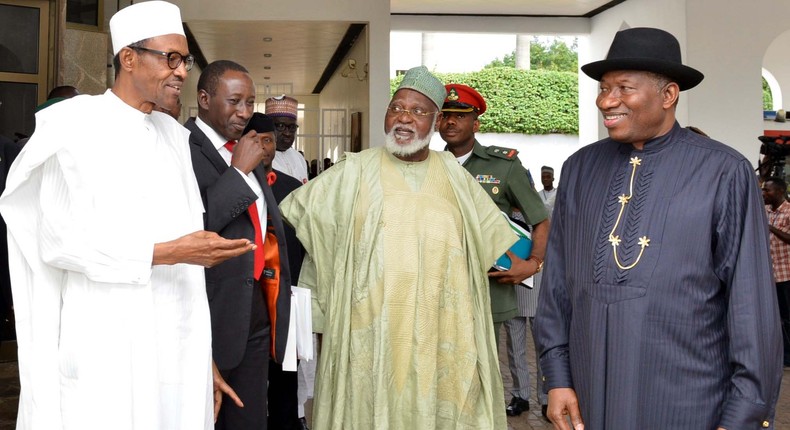 President Muhammadu Buhari loves to tell everyone how empty the treasury was when he took over the reins.
In July, 2015, the President recounted a rather gloomy picture of the state of affairs when he assumed duties as the nation's number one citizen.
"This culture of 100 days is bringing so much pressure with treasury virtually empty, with debts in millions of dollars; with state workers and even federal workers not paid their salaries…it is such a disgrace for Nigeria. I think Nigeria should be in a position to even pay its workers.
"This bad management that we find ourselves in, we really need your help....." , Buhari lamented.
Buhari's predecessor, Goodluck Jonathan, was quick to push back on claims that he left an empty treasury.
"Nigeria is a fairly robust economy," Jonathan said, barely believing his own words.
"But sometimes, we over politicize some issues and make it look so bad. It was not that bad. Some people ask questions like I was the President of Nigeria since independence; I was the President for five years.
"It is not true; there is no way that Buhari would have inherited an empty treasury and at the same time give bailout to the states. It's not possible," Jonathan flared.
Jonathan also predicted that he's going to be investigated and possibly tried for the wanton corruption that was perpetrated during his reign.
"Of course, obviously, I would be investigated. In fact, I am being investigated. Investigations are going on. I would not want to make certain comments because government is working," said the erstwhile President.
Buhari's media aides and Ministers have also wasted little time in telling Nigerians how bare the treasury was when they unpacked their wares into the Villa.
On Thursday, November 3, 2016, President Buhari went down that 'empty treasury lane' again.
According to the President, he almost took to his heels when an empty treasury stared him in the face upon assumption of office.
Said Buhari: "Actually, I felt like absconding because 27 out of 36 states in Nigeria couldn't pay salaries and we know they have no other source than to depend on salaries.
"And I asked: 'any savings?' I was told there was no savings. And I asked : what have you done on agriculture, power, rail, roads? Nothing. You know more than I do because you move around. I have not been moving around since after elections but you do. How many of the Trunk A roads are still good enough? How much power do we have, although there are some elements of sabotage?
"I was told the money was used to import food and fuel. I didn't believe the answer and I still don't believe it".
It's been akin to watching kids play the blame game out in the park.
When majority of Nigerians voted out Jonathan last year, they expected better from his successor.
Buhari was handed the mandate precisely because everyone knew the treasury had been stripped bare by Jonathan and Company.
Most were willing to admit that Jonathan was poor as President and hedged their bets on Buhari overseeing a turnaround.
In the run up to the general elections last year, Nigeria's economy was already heading south.
The Naira was depreciating faster than the time it will take you to jump from your bed and the global price of oil was plunging just as fast.
Nigeria's obsession with a single product for its export proceeds, had finally caught up with her. Everyone knew this day will come.
Buhari and his co-travelers in the All Progressives Congress (APC) knew exactly what they were asking for when they criss-crossed the length and breadth of this country to solicit votes.
They knew exactly what they were going to be walking into in Aso Rock should they win.
Buhari and his APC had campaigned on a change mantra.
That meant they knew things were bad and asked for help from the voting public to help change the state of play in the country.
Which is why all these excuses bordering on "empty treasury and looting of the country" under Jonathan are beginning to sound hollow, well-worn and bare-boned.
There are no longer tenable, one year in the life of an administration that promised to ring the changes.
Jonathan now belongs in our past--as he should.
We may choose to revisit his deeds as President, now or in the nearest future, but Buhari still has a country to run. He must never lose sight of that.
"Whatever the scale of the problem, the important thing is how one tackles it.  Accordingly, this administration is committed to finding lasting solutions to our economic/structural imbalance", the President added in a bid to walk back his comments of gloom.
"Let us have faith in our great nation that we will come out of this recession vibrant and strong. I am glad that the report presented today has given us reason to keep faith in our ability to overcome our challenges".
Get on with the job, Mr. President!
The kitchen was always going to be hot for anyone who took over from Jonathan.
If Buhari and his team knew they couldn't stand the heat, they had no business hauling themselves into the cauldron in the first instance.
JOIN OUR PULSE COMMUNITY!
Recommended articles
Buhari's assets remain the same after 8 years as president
Attend tribunal to show loyalty to Atiku, PDP - Dino challenges Makinde
Bala Mohammed emerges Chairman PDP Governors' Forum
Ondo Assembly elects Oladiji as new Speaker
Bauchi Gov Mohammed calls for unity among PDP members
FG increases trips on Abuja-Kaduna train route
FG moves to ban children below 11 years from writing Common Entrance exams
Akeredolu is alive - Ondo govt reacts to death rumour
Tinubu sends condolence message to India over deadly train crash