President inaugurates 200-bed hospital in Benin
The president arrived at the state capital aboard Air Force flight 5N-FGW and was received by Gov. Oshiomhole.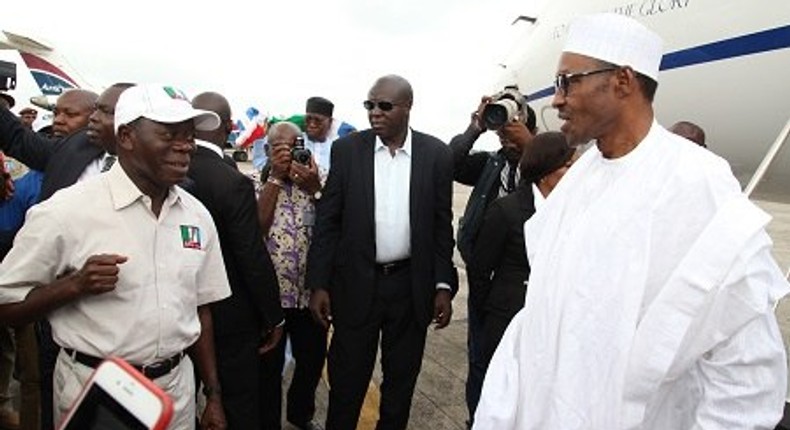 President Muhammadu Buhari on Monday in Benin inaugurated the remodeled 200-bed capacity ultra modern central hospital.
Buhari, who said he was impressed with the edifice, noted that it was "the best way to do things and the best thing to do for the people" by any government.
While commending Gov. Adams Oshiomhole's efforts at uplifting the lives of the people, Buhari said "I respect his sacrificing his personal comfort to constructing the edifice".
He said that he was in the state for the third time to inaugurate projects executed by the governor.
Earlier, Oshiomhole said that since the hospital was established in 1902, successive governments had tried to renovate the hospital.
He, however, said he was embarrassed by the state of the medical facility during his first visit and decided that rather than continue with the "piece-meal renovation work; we decided to demolish and rebuild the hospital.''
Oshiomhole stressed that this was with the conviction that public health facility should not be inferior to private one's.
The governor said that one way to show equality was for government to provide good health facilities and stop lamenting about foreign medical tourism.
Similarly in her opening remarks, the State Commissioner for Health, Dr Aihanuwa Erigie, said that the hospital was established in 1902 with initial bed capacity of 10.
She disclosed that each section was equipped with state of the art facilities.
JOIN OUR PULSE COMMUNITY!
Recommended articles
From Air to Water: Macif is bringing a technology that provides sustainable clean drinking mineralised water from air to Nigeria
NMA wants Tinubu to prioritise health sector, congratulates Kwara Gov
Kano Gov orders demolition of illegal structures in Race Course, others
Ajulo faults NLC proposed strike, urges dialogue on wage review, palliatives
Legislative experiences great advantage for Tinubu, Shettima – Smart Adeyemi
Auxiliary speaks from hideout, says 'police can't declare me wanted'
Tinubu's biopic, Last Man Standing, to premiere June 12 in Lagos
Zamfara Governor addresses purported ₦9trn assets declaration
Tinubu promises minimum wage review as subsidy dispute rumbles on