How Army chased terrorists out of Sambisa Forest
The details were given by Theatre Commander of Operation Lafiya Dole, Major General Leo Irabor, in Maiduguri.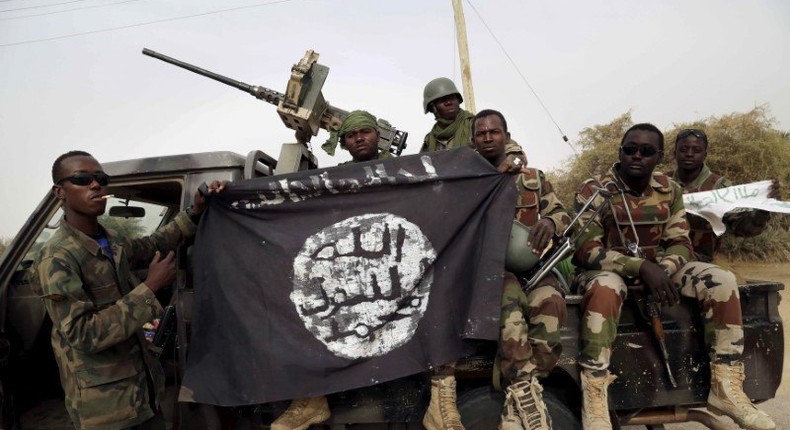 The Nigerian Army has revealed details of the operation which led to the capture of notorious Boko Haram stronghold,
The details were given by Theatre Commander of Operation Lafiya Dole, Major General Leo Irabor, in Maiduguri, Borno State on Wednesday, December 28.
Irabor said, while briefing journalists, that the operation was executed by a combination of ground attacks and air assaults.
Read the full press briefing below:
Ladies and Gentlemen, in continuation with the weekly live update of our activities in Operation LAFIYA DOLE, this afternoon I am glad to welcome you to Headquarters Theatre Command for this interaction.
Recall that during our last meeting, I told you to take particular note of Camp Zairo in Sambisa Forest. Our gallant troops of Operation LAFIYA DOLE have cleared the location which is the last stronghold of Boko Haram Terrorists (BHTs) deep inside Sambisa Forest.
For the purpose of emphasis, let me re-orient you to Sambisa Forest before giving you the detailed account of the operation as well as other activities undertaken in the past one week as shown.
On 22 Dec 16 at about 0800hrs, own troops commenced advance for the capture of CAMP ZAIRO which was the main BHT enclave suspected to be holding high value persons in Sambisa Forest.
The Air Component and Artillery were effectively employed during the operation before the final assault by the troops. Our troops made contact with the BHT and successfully cleared the camp after some resistance from the insurgents.
On sighting of our troops and having been overpowered in the fire fight, most of the BHT fighters fled in all direction. The gallant troops subsequently carried out search for any abductees and equipment. Our troops also raided and destroyed other camps and hideouts around Camp Zairo. At the camp, our troops destroyed several BHT logistics as shown.
The gallant troops also dismantled the official BHT flag at Camp Zairo signifying the capture of the insurgents' Headquarters. The flag would be officially presented to me by the GOC 7 Div. Later, same would be conveyed to COAS for further action to the C-in-C.
During the operation in Sambisa, ISR coverage indicated that the BHT were in disarray. The clip is as shown. Our troops have conducted some fighting patrols during the period under review:
On 20 Dec 16 at about 1730hrs, own troops deployed at MIYANTI conducted patrol along road MIYANTI-BANKI Junction. Contact was made with the BHTs at one of their crossing points and one of them was killed in action while another was wounded. Items recovered during the patrol include 3 bicycles, a basket of kola nuts, 2 cartoons of Omo detergent, 92 sachets of cowbell milk, 7 measuring cups of sugar, 15 bars of duck soap, 10 packets of matches and 8 packets of Diclofenac tablet.
On 22 Dec 16 at about 0843hrs, own troops in conjunction with vigilantes conducted fighting patrol along road KATARKO – GONIRI -BULTURAM KURA – BULTURAM KWANA – MELERI – NGAMMA and YURAMTI village. The patrol team apprehended 15 suspected BHT members comprising 5 men and 10 family members in YURAMTI village. The suspects were relocating from ZINDIYA and BUK villages in DAMBOA LGA of Borno State to GONIRI town. All suspects are in custody undergoing investigation.
On 23 Dec 16 at about 0801hrs, own troops embarked on fighting patrol to KALARI village to deny BHT freedom of action. The patrol recovered one HK21 machine gun during search of a suspected location and there was no any contact with BHT.
Ambush Operation. We equally conducted ambush operations during the period under review:
Between 19 21 Dec 16, own troops in conjunction with CJTF embarked an ambush operations at suspected BHT crossing point in MADA general area where they laid in wait for 2 days. During the process, a suspected BHT member Ali Bulama (53 years) was arrested in MOMADU BUKUMIRI village around MAINOK general area in KONDUGA LGA of Borno State. The suspect has been undergoing interrogation.
On 23 Dec 16 at about 0845hrs, own troops deployed at MAULI on admin patrol to Alagarno ran over an IED along the road and while attempting to salvage the situation, they came under escaping BHT attack. Sadly, 4 soldiers were killed in action while 2 others were wounded. One canter truck was damaged. The wounded soldiers have been stabilized while the bodies of Killed in Action (KIA) troops had been deposited at University of Maiduguri Teaching Hospital (UMTH) mortuary.
During the period, our troops arrested some suspected BHT in different areas. These BHT fled Sambisa Forest during our operations.
On 20 Dec 16 at about 0530hrs, own troops deployed at ZABARMARI arrested one Abdullahi Yakine at DANGE in MAFA LGA. Preliminary investigation revealed that the suspect is from BURKINA FASO. Suspect in our custody undergoing further investigation.
On 24 Dec 16, own troops arrested a suspected BHT leader who was traced to Lagos. He has been undergoing investigations.
On 25 Dec 16, own troops deployed in POTISKUM arrested a suspected BHT member Musa Abdullahi at FIKA. He is in custody undergoing interrogation.
On 26 Dec 16, following a tip-off, our troops arrested 2 BHT members who sneaked into Maiduguri. Their accomplice has also been arrested and is undergoing interrogation.
On 26 Dec 16 at about 0815hrs, some civilians within Kasuwan Shanu in MAIDUGURI sighted 2 suicide bombers trying to infiltrate the cattle market. The suspects were challenged by CJTF from a distance but one of the 2 suicide bombers panicked and attempted to run into the crowd to detonate the suicide vest strapped on her.
The vest detonated partially killing her while the other attempted to run but was killed before detonating the suicide vest her. Only the 2 suicide bombers died during the incident. No other casualty was recorded. The Nigeria Police and its EOD team recovered the unexploded suicide vests.
Warning. Given the situation of the BHT who are currently in disarray, the public is hereby warned to be weary of individuals coming to hibernate in and around their homes. Also, we would like to warn that failure to report the presence of BHT members in your home is tantamount to support to the BHT. All are therefore, to report such presence to troops and other security agencies.
Going Forward Expectations. At this stage, mop-up operations would be intensified. Road construction will also continue deep into the forest to enhance domination. Other stakeholders are expected to repair roads, bridges and carryout massive reconstruction across the Theatre.
Contributions by way of equipment support for construction and re-building of infrastructures and communities would be appreciated from corporate organizations and well-meaning Nigerians. Care for the IDPs should equally be intensified.
Ladies and Gentlemen, we have won the war. We need to win the peace. You have a role. Our collective destiny lies in our hands. You have what it takes to contribute selflessly to this cause. I therefore urge members of the public to remain vigilant and report any suspicious movement of persons and objects to the military or to the nearest security agencies.
On this note, on behalf of all troops in Operation LAFIYA DOLE, I wish to sincerely thank the Commander-in-Chief for all the support and encouragement. I also thank the Chief of Defence Staff, the COAS as well other Service Chiefs for all their leadership and support to our operations in the Theatre.
The understanding and sacrifice by all the credible media houses in our operations are well appreciated. I thank everyone, and re-state that we remain ever committed to the mandate of Operation LAFIYA DOLE. Thank you.
JOIN OUR PULSE COMMUNITY!
Recommended articles
FG declares September 27 a public holiday for Eid-el-Maulud
PDP calls for full investigation of Supreme Court fire
Saudi Arabia to conduct free surgeries for indigent Nigerians
Information Minister cautions Zamfara Govt against politicising insecurity
He didn't deserve to be murdered  —  Fani-Kayode reacts to Bakare's criticism of Mohbad
FCT residents caution against lynching suspected 'manhood thieves'
Ondo Assembly serves Deputy Gov Aiyedatiwa letter of allegation
11 banks generate ₦72 billion from account maintenance charges in H1, 2023
Emefiele continues to identify as CBN Governor on X even after resignation
Mikel Obi: Super Eagles legend branded 'fine boy no pimple' in Dubai
Give us Mourinho! Chelsea fans beg for 'Special One' after latest defeat
Check out Cristiano Ronaldo's amazing car collection reportedly worth over a staggering N20 BILLION
Anthony Joshua and Burna Boy: Nigerian-born boxer and African giant team up for Boss at Milan Fashion Week
How Nigerians can vote for Osimhen to win FIFA Best Player Award ahead of Messi
I want to 'teach' after football - Lionel Messi opens up on retirement plan