Army advises Nigerian media to check their information properly before publishing
This was contained in a statement issued by the Army headquarters on Facebook on Tuesday, November 27, 2018.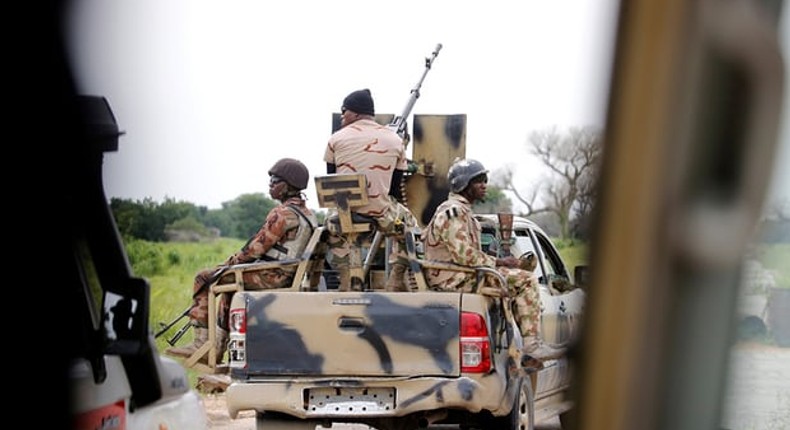 The Nigerian Army has called on the media to double check information before publishing stories.
This was contained in a statement issued by the Army headquarters on Facebook on Tuesday, November 27, 2018.
Army slams SaharaReporters
The Army authorities also reacted to a report published by online media platform, SaharaReporters.
According to its statement the media platform had reported that the bodies of the men killed in the recent Boko Haram attack have not been evacuated.
The Nigerian Army denied the report, describing it as fake news and a smear campaign.
Read the complete statement below:
The attention of the Nigerian Army (NA) has once again been drawn to another false publication by an online newspaper (Sahara Reporters), alleging that the bodies of our gallant soldiers and members of Civilian Joint Task Force who lost their lives in the unfortunate Metele Attack are yet to be evacuated.
The general public is to please note that the information is despicably false and a calculated attempt to spread fake news aimed at discrediting and undermining the NA in the discharge of its constitutional roles. For the avoidance of doubt, immediately after the attack, reinforcement was sent to the location.
Thereafter, a special search and rescue team led by a senior military officer was constituted and equally despatched. The team worked tirelessly, searching all the nooks and crannies of the general area and have evacuated all the gallant troops that paid the supreme price in defence of their fatherland.
It is sad to note that in a bid to be seen as first to break news, some media houses have discarded the ethics of their noble profession through the hasty publication of unverified information.
The NA would once again reiterate the need for correct and balanced reportage especially when reporting issues regarding military operations. Furthermore, all print and electronic (online) newspapers as well as social media forums and blogs are advised to double check their information before publishing.
This is because publishing false, sensational news is inimical to national security and could also cause panic, bitterness and disunity among the citizenry.
You are please requested to note this and disseminate same using your various media channels. Thank you.
This is coming on the heels of a communique issued by Yoruba socio-political group, Afeniferecalling on President Buharito sack all the security chiefs following the recent Boko Haram attack.
JOIN OUR PULSE COMMUNITY!
Recommended articles
475 pilgrims depart Yola for Saudi Arabia for this year's Hajj
Be wary of bigots posing as associates, cleric advises Tinubu
Sen. Wamakko mourns massive killing in Sokoto by bandits
Adeleke announces dissolution of Osun Assembly
PDP want Tinubu, Shettima to make their assets declaration public
Strike: FG heeds TUC's demands, set up committee to review minimum wage
Group urges Nigerians to exercise patience with Tinubu
I did not assault my wife – Ondo Deputy Governor
Makinde seeks review of Supreme Court's judgment to pay ₦3.4bn debt to LGs