Foreign airlines are refusing to fly to Kaduna
The government had earlier announced that the Abuja airport would be shut down on March 8 due to damage on the runway.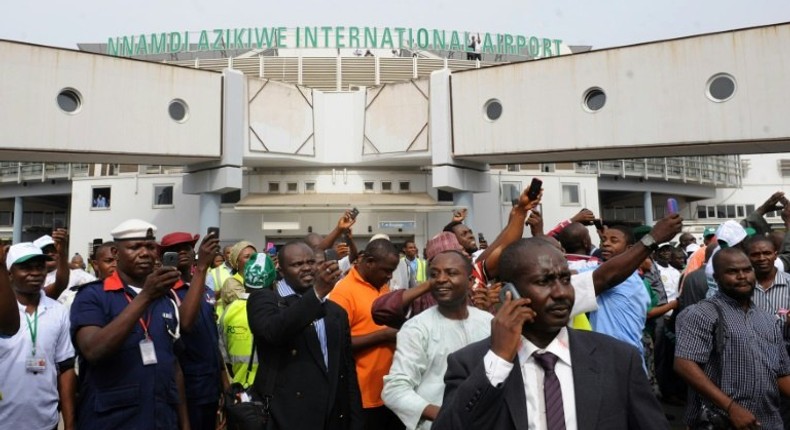 Foreign airlines are refusing to use the Kaduna airport despite the impending closure of the
Flights heading to Abuja will be diverted to Kaduna where passengers will be transported to Abuja by road.
However, only one foreign airline, Ethiopian Airlines, has agreed to use the Kaduna airport as an alternative.
This was disclosed by Minister of State for Aviation, Hadi Sirika, who spoke to journalists on Monday, March 6.
German carrier, Lufthansa Airlines said, in February, that it would not fly to the Kaduna airport.
Similar sentiments were expressed by British Airways and South African Airways while KLM and Air France have temporarily canceled flights to Abuja during the period of the repairs.
President of the Association of Foreign Airlines' Representatives in Nigeria (AFARN), Kingsley Nwokoma said that security concerns were responsible for the airlines' refusal to fly to Kaduna.
"The major reason is security. The road between Abuja and Kaduna has many issues, security wise. There has been so much kidnapping on that road," he told ThisDay.
"The second reason is that the local carriers are not in any form of partnership with these international airlines so that they can code-share. Ethiopia Airlines might go to Kaduna, but the major carriers like British Airways, Lufthansa, KLM, Air France, South Africa Airways, Etihad, Qatar, Emirates, Turkish airlines will not go to Kaduna.
"If anything happens on the road between Abuja and Kaduna who takes responsibility. Until they finish the runway in Abuja, these foreign airlines will stop the Abuja flights," he added.
The government is however determined to proceed with the closure as Sirika said further that the Abuja Airport would be shut down from 12 am on Wednesday, March 8 as scheduled.
Sirika also said that observations made by Acting President, Yemi Osinbajo, during an inspectorial visit on Friday, March 3, had been "taken care of."
The airport will be closed for six weeks to allow for repairs on the runway, which the government says is too damaged to be managed.
JOIN OUR PULSE COMMUNITY!
Recommended articles
Risk management in indices trading: Tips and tools for managing your exposure
Tunubu lauds people of Zamfara for ensuring his biggest win
You're now a blogger —  Shehu Sani mocks 'retired governor' El-Rufai
Gov. Eno appoints SSG, CPS
Gov. Sani retains El-Rufai's appointees as top government officials
Gov. Diri warns fuel marketers against hoarding, profiteering as price hits ₦‎600
Aliyu nullifies recent, traditional rulers' appointments by Tambuwal in Sokoto
Sanwo-Olu slams fuel marketers for unfairly hiking prices
FG changes date for national award