Abacha's son Abdullahi dies in his sleep
Abdullahi is one of the seven sons of the late dictator General Sani Abacha.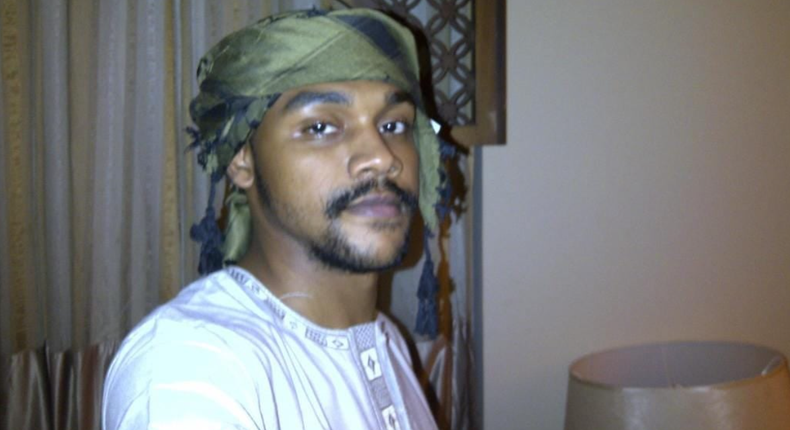 Abdullahi Abacha, the son of the former Military Head of State, Gen Sani Abacha, has died.
The news of his passing was announced by his sister and wife of Yobe State governor, Gumsu Abacha, on Saturday, March 4, 2023.
Taking to her Twitter page to break the sad news, Gumsu disclosed that Abdullahi died in his sleep in the early hours of the day and asked the public to include him in prayers.
Her tweet read: "Innalillahi wa inna ilaihi raji'un. I lost my younger brother Abdullahi Sani Abacha. He died in his sleep. May Allah forgive his shortcomings and grant him jannatul firdous, Ameen. Please include him in your prayers."
Gumsu added that Abdullahi's remains would be buried at Gudu Cemetery today after a prayer at the Central Mosque in Abuja.
The deceased is one of the 10 children (seven sons and 3 daughters) the late General gave birth to before his demise in 1998.
Recall Abacha had come into power in 1993 after displacing the interim government headed by the late Ernest Shonekan in the last coup d'etat recorded in Nigeria.
He ran a controversial regime which saw the persecution of pro-democracy advocates, forcing many of them to go into exile.
He died mysteriously on 8 June, 1998, inside the Aso Rock Villa, just before he could complete his planned transition from a military ruler to a democratic president.
Abacha was buried on the same day according to Muslim tradition and without an autopsy, leading to speculations that his death may not have come naturally.
JOIN OUR PULSE COMMUNITY!
Recommended articles
Chinese Yuan strengthens to 6.8717 against dollar
Baba-Ahmed: Tinubu petitions NBC to sanction Channels TV
Tinubu: APC finally receives petitions from Obi, Atiku
Kogi 2023: NUJ initiates media parley for governorship aspirants
Matawalle alleges sabotage by FG in failed re-election bid
Gov. Badaru directs recruitment of 32 medical doctors
Abia retirees celebrate Otti's victory, clad in all white
Benue PDP suspends officials who suspended national chairman Ayu
Kwankwaso says 2023 presidential election didn't reflect people's will
Manchester United identify Portuguese goal-machine Goncalo Ramosas Osimhen alternative
Giannis Antetokounmpo outshines Jordan Nwora as Bucks set record against Pacers
NPFL Review: Rangers continue to flirt with relegation, 3SC vs Plateau produce another classic
Arsenal reach first Champions League semi-final in 9 years with victory over Bayern