Mixed reactions trail Buhari's next year appropriation bill
President Buhari's presentation of the 2017 budget on Wednesday has been generating mixed reactions.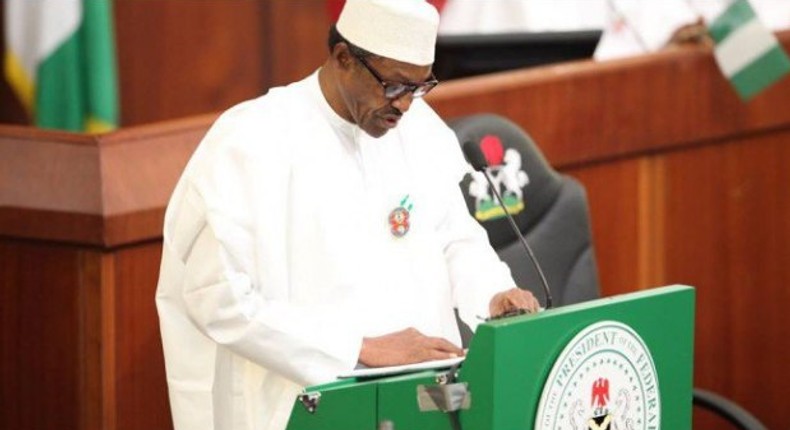 President Muhammadu Buhari presented the N7.28 trillion 2017 appropriation bill tagged "Budget of Recovery and Growth" to the National Assembly.
The symbolic event which took place during a joint session of the National Assembly on Wednesday, December 14, 2016, has been generating missed reactions.
While most Nigerians expressed optimism that the 2017 budget would lead Nigeria out of its current economic recession, others are of the view that the bill would be 'padded' like others.
Describing the budget as "bogus,"Victor Osim said 2016 N6.5 trillion budget has nothing to show for it.
He said: "2016 Budget of change N6.5trn landed inside a basin of recession, without any accountability, no jobs, no project implemented. Nothing to show. Here we are with another budget of recovery worth N7trn. I Hope this one won't be padded and dived into deception," he added.
Like most Nigerians, Ogbu Martin Ndubuisi is tired of "yearly recitation of promises" by President Muhammadu Buhari and the All Progressives Congress (APC) led government
"Budget of confusion, from the confusing to the confused," he said.
"What are the impacts of the one Buhari presented and signed before? Maybe all the money and allocation went to padding and we are here again reading orchestrated grammar writing by joint political jobbers to impress some mentally poor individuals. After two years, we are still hearing promises upon promises without any result to show for them," he said angrily.
Babatunde Disu cautioned that some policies made by President Buhari may lead to the death of more Nigerians. He, however, advised for more people-friendly policies in 2017.
His words: "How possible is this fallacy? With the way Buhari is going, he will kill more Nigerians through hunger and hardship. This is one of the dictatorial antics of a typical demented unrepentant illiterate dictator to remain perpetually in power through the creation of artificial hunger within the polity," he added
Isa Abdullahi however has a different view. He said: "We need to be patient. By 2025, Nigeria will be able to feed it self, most people are now patronising local made rice, by the time our farmers can farm & process more rice, the nation will have less hunger," he added.
JOIN OUR PULSE COMMUNITY!
Recommended articles
Kwara Govt warns citizens against roadside selling, indiscriminate dumping of refuse
You're free to contest for Edo governor  —  Obaseki tells Shaibu
PDP's candidate determination is solely the party's right – Obaseki
CAN prays for success of Tinubu's 2024 Budget of Renewed Hope
MC Oluomo secures second term as NURTW Lagos Chairman
Sarkin Fulani of Kwara sentenced to life imprisonment for kidnapping
We'd soon settle who owns Lagos – Erelu Kuti IV
Ondo State government dispels signature forgery allegations against Akeredolu
Herbal HIV treatment claims lives in Gombe State
Shelly-Ann Fraser-Pryce: Track legend signs mouthwatering deal with luxurious wristwatch brand
Sha'Carri Richardson: World's fastest woman reportedly bags $20,000,000 endorsement deal
She needs a break - Super Falcons coach explains Ashleigh Plumptre's absence from team
Sergio Ramos makes Champions League history 31 years after Daniel Amokachi
Thiago Silva recalls TB fright ahead of Chelsea debut