5 reasons why traffic is a constant occurrence
Find out why Lagos is constantly suffering from traffic.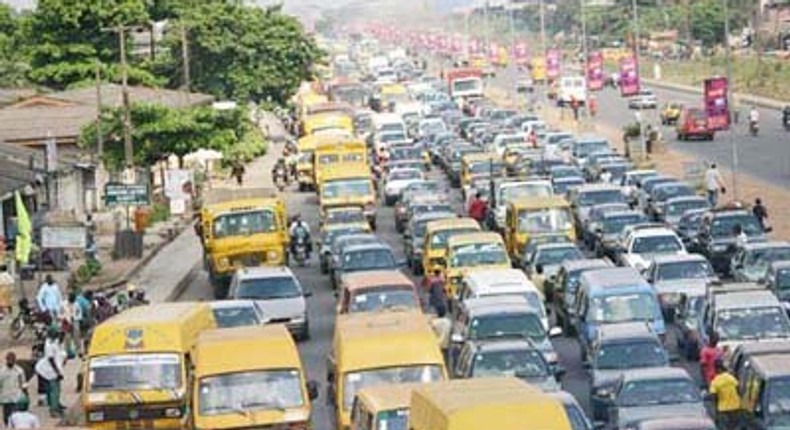 For most people, Lagos state is synonymous with the word, traffic.
This is because traffic congestions rule the streets of Lagos.
Unfortunately, there is no solution in sight for this particular issue, here is why.
Bad roads- It is a known fact that Lagos state is ridden with loads of deplorable roads. These bad roads are filled with potholes that fill up with water during rainy seasons which cause traffic to build up as motorists either get stuck in them or try really hard to navigate them. Last week, the state government also blamed the roads for the traffic. According to the Permanent Secretary, Ministry of Works and Infrastructure, Ajibade Bade–Adebowale, traffic is caused by poorly designed roads. In fact, he blamed the roads for the recent NINE-hour gridlock on the Apapa-Oshodi expressway.
Too many cars- Lagos is a heavily populated city. Thus, this state is becoming overrun by too many cars. Lagos has too many cars, not enough roads, so, the result is constant traffic.
Unruly motorists- You can always find those few bad eggs on the streets. These few ignore traffic lights, over speed, break every traffic rule, and thereby create traffic.
Corrupt officials- While there are a lot of good LASTMA officials, there are also some corrupt ones. In a bid to extort drivers, they end up causing traffic. The other corrupt officials in other agencies take advantage of their positions and bully other motorists. These ones use lanes meant for BRT, and so on.
Accidents- Due to bad roads, unruly motorists, corrupt officials, an accident occurs in Lagos every other day. While the accidents might create a little traffic, the inability of the appropriate channels to clear the roads afterwards, creates massive traffic. Sometimes, the vehicles involved in the accidents stay on the roads for days and days, all of which contribute to traffic congestions.
As long as there are bad roads, too many cars, unruly motorists, corrupt officials, and accidents, traffic will continue to exist in Lagos state.
JOIN OUR PULSE COMMUNITY!
Recommended articles
APC aims for victory in Edo 2024 elections – Senate President Akpabio
NASS will address Nigeria's security for rapid socio-economic development - Sen. Jibrin
FCTA committed to support, nurture talent for sustainable economic growth - Wike
FG promotes 32,361 personnel across Immigration, Civil Defence, Fire, & Correctional Services
We're making efforts to rescue remaining 4 abducted FUDMA students - Police
Usage of obsolete equipment by FRCN, NTA is unacceptable - Minister Idris
We're making efforts to rescue remaining abducted FUDMA students – Police
BUA Group Chairman Rabiu declines APC standing committee nomination
Malta Guinness crowned iconic malt drink of the year at the 2023 Brandcom awards
Shelly-Ann Fraser-Pryce: Track legend signs mouthwatering deal with luxurious wristwatch brand
Sha'Carri Richardson: World's fastest woman reportedly bags $20,000,000 endorsement deal
She needs a break - Super Falcons coach explains Ashleigh Plumptre's absence from team
Sergio Ramos makes Champions League history 31 years after Daniel Amokachi
Thiago Silva recalls TB fright ahead of Chelsea debut