Meeting Chukwuemeka: The visit (Ep.5)
"What do you think I should wear to the place?" I asked, turning 360 degrees to give Faith a clearer view of the purple and black dress I was wearing.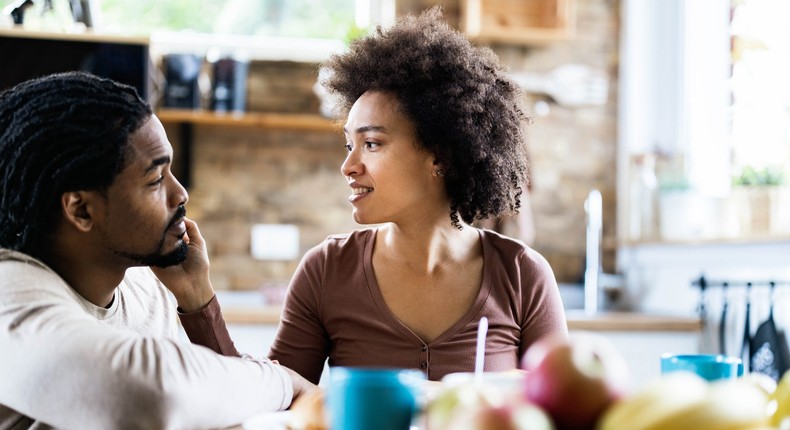 "You really want to go meet his parents?" Faith asked with a smirk on her face.
"It's just a harmless meeting babe," I said, holding her hands, wiggling it left and right in a playful manner. "Okay, if that's what you want, it's fine by me, but you won't be wearing this dress," she said pointing at the dress I was wearing. "Lets help you find something more comfortable and beautiful because this dress makes you appear like you are going for an interview at First Bank". We both laughed and proceeded to find a better dress that would help me grace the occasion better.
The day came, and I appeared in my dress. I decided to visit "Ashabi Makeovers" , my usual makeup artist, for a proper face glam. Before stepping out of the studio, I called Chukwuemeka to send me the house address and he did. In a few minutes, my ride arrived and the journey began.
After one hour, thirty minutes of traffic, I finally got to Chukwuemeka's house. He was waiting for me in front of his house so the driver did not miss his way. When the driver parked, I alighted from the vehicle, waiting for Chukwuemeka to pay the Uber driver but he didn't respond and looked away. "Aunty your money is six thousand, five hundred naira," the uber driver said. "That's a lot!" I exclaimed, looking at Chukwuemeka stylishly to see if he would budge, but he was looking in the opposite direction. I automatically understood that gesture, it meant that I was on my own so I decided to figure out how to pay my driver. I tucked my hand into my purse and proceeded to make a transfer with my mobile phone as I didn't have enough cash to pay the driver. "I've received the alert, '' he said, and drove away.
"Why did you act like that? Were you not supposed to pay for my Uber?" I asked, facing chukwuemeka. Babe, calm down, you didn't tell me that you would not have money for Uber now. I mean… It's…It's… just Uber fare... He said stuttering.
"And you have the money," he said. "Stop forming broke for me, you're a rich woman" he said trying to caress my cheeks with his hands. "You know what, let's go in my parents would be so excited to see you" he said as he dragged my left arm with him into the house.
Their house was the type that portrayed luxury in Nollywood movies. From the paintings on the wall, to the sitting arrangements, and the ambience, it was so beautiful to see. While I was still observing the living room, I heard a voice say "is this Eniola?". I turned to see her walking towards me. "meet my mom," Chukwuemeka said, embracing his mom with his left arm. "Nice to meet you," she said as we hugged. "Now let's go into the kitchen, I guess we have a lot to talk about'' she said. While we walked towards the kitchen, she paused to ask "can you cook yoruba egusi soup?"...
JOIN OUR PULSE COMMUNITY!
Recommended articles
D'USSE Cognac global brand ambassador host unforgettable cocktail event in Lagos, Nigeria
Sex is now a sport in Sweden, all you need to know about the competition
Amstel Malta Reporters earn their spotlight at the AMVCA 2023
5 outfits for 5 days of work inspired by Phyna
From Waves to Weaves: 10×10 storms hair industry with a 9-day market activation in Lagos
This week's best celebrity pictures on Instagram
20 ways people experience unexpected orgasms
Everything you missed at the #TheMeistersExpression Concert in Ibadan
In this Ugandan tribe, the bride's aunt has s*x with the groom to test his sexual prowess
Skinny shaming: 5 things you should never say to a slim person
The importance of boundaries in relationships: Nurturing love and respect
Trace to set the African music scene ablaze with first Trace Awards & Festival in Kigali