How to beat morning breath
You roll over and whisper, "Good morning." She recoils from the gust of rancid breath you've just unleashed across the pillow.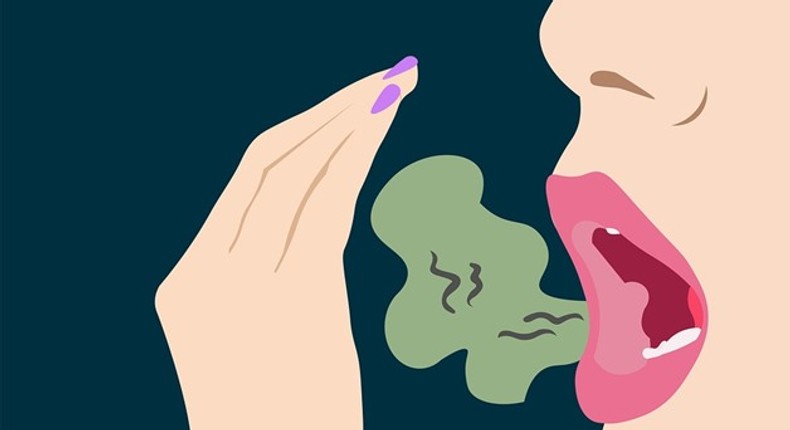 Your stank mouth woke up like this.
You roll over and whisper, "Good morning." She recoils from the gust of rancid breath you've just unleashed across the pillow. Nothing ruins a sleepover like morning breath. And the problem is: Where does it come from? You brushed your teeth last night. You don't have a gastric disease. Why does your breath smell like a tin of mackerel left open on a hot subway?
Read on for the six things you need to do to stop morning, and the fastest way to fix it:
Sure, you ran a toothbrush around your mouth for two seconds. But any single morsel of food left behind becomes bait for bacteria.
"Bacteria eat food particles left behind," says NYC-based cosmetic dentist Dr. Brian Kantor of Lowenberg, Lituchy & Kantor, "and fuel bad breath by releasing volatile sulfur compounds through anaerobic respiration."
Translation: bacteria eat your leftovers and belch out the rotten-egg stench you wake up to.
So if you've got an important morning ahead, be thorough: floss, brush and use an antiseptic rinse. Leave no crumb behind.
Stop your mouth breathing.
The most critical thing to know about morning breath: saliva is your friend.
"Saliva is high oxygen, which kills bacteria," says Kantor. "It breaks down food particles and debris, and removes them from your mouth when you swallow."
Trouble is, saliva production decreases while you sleep. And if you're breathing through your mouth, you're creating a dry zone where bacteria thrive.
The fix could be as simple as turning onto your side or stomach. Or maybe you need a decongestant. However you fix it, a closed mouth will be less sour the next morning.
If a dry mouth is bad, then mouthwash is your friend. But not the kind that can accidentally set you back.
"Moisten your mouth," says Kantor. "Use a lot of water. And use a non-alcoholic mouthwash the night before because alcohol will dry out your mouth—and that's the last thing you want."
Look for the alcohol-free version of whatever mouthwash you use. And, while we're at it, don't try to cure your morning breath by rinsing with vodka, either.
Besides loving a dry mouth, bacteria enjoy an acidic place to feed and multiply.
"Bacteria are more likely to collect in acidic environments," says Kantor. "So what you can do is gargle with baking soda, because it's a base."
You'll find baking soda in many dental products, and all of them cut the acid and help stamp out the stench.
You're flossing, you're brushing, but you're still waking up smelling like a bull mastiff. Turn your attention to your tongue.
"The tongue has a lot of surfaces where food particles can get lodged," says Kantor," so you want to use a tongue scraper and really keep your tongue clean."
Also, in the morning, taking your toothbrush to your tongue is a fast way to remedy whatever damage the night has done, or at least spread the minty smell of toothpaste around.
Finally, when you've made it to daylight and you really want to kick that morning breath, hit it with the one-two punch: brushing, then brunch.
Brushing, flossing and rinsing clear out the root causes of your oral odour. Eating something starts your saliva flowing. Think of it like turning on the faucet to rinse out the drain.
"Every time you eat, you increase saliva," says Kantor. "Crunchy fruits and vegetables are the best. They stimulate saliva flow and they mechanically clean teeth and remove surface stains."
Translation: an apple a day might not keep the doctor away, but one in the morning could get you invited back for another sleepover.
JOIN OUR PULSE COMMUNITY!
Recommended articles
For women: 4 foreplay tips to drive men wild
5 people share awful and sometimes funny things their bosses have said to them
Ramadan: Six facts about the holy month for non-muslims
These are 5 top signs of fake love in a relationship
5 interesting health benefits of Agbalumo (African star apple)
The best 5 cities in Nigeria
The oldest woman ever to be on a Vogue magazine cover is a Filipino tattoo artist
Why your body suffers when you don't have regular s*x
6 reasons your nipples hurt
5 celebs with face cards that never declines and their makeup techniques
Chicken vs Turkey: Here are 3 nutritional differences
Is less actually more? Five benefits of a more minimalist life
Manchester United identify Portuguese goal-machine Goncalo Ramosas Osimhen alternative
Giannis Antetokounmpo outshines Jordan Nwora as Bucks set record against Pacers
NPFL Review: Rangers continue to flirt with relegation, 3SC vs Plateau produce another classic
Arsenal reach first Champions League semi-final in 9 years with victory over Bayern