7 health benefits of zobo drink (Hibiscus tea)
Hibiscus Tea, also known as zobo drink, is a very popular beverage in many regions of the world, and is often used for medicinal purposes.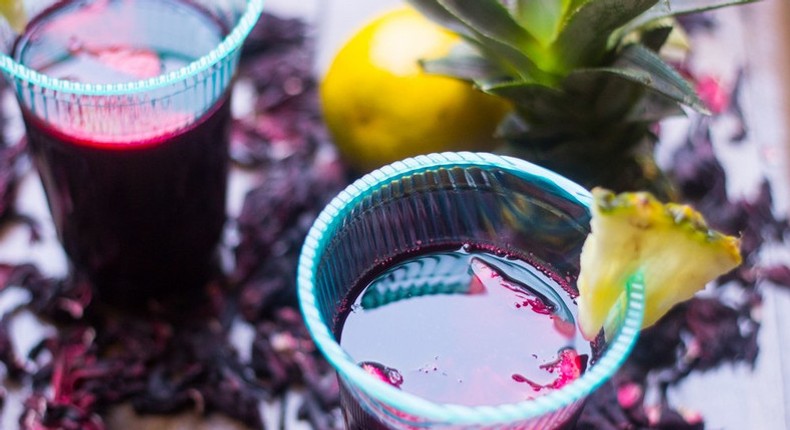 The tea is made from the hibiscus plant, which is ruby red in colour.
There are many species of the hibiscus plant across the world including across Africa. The most common variety used in zobo drink both in Nigeria and across the world, is called roselle. Beyond Africa, hibiscus rosa-sinensis is also described as having a number of medical uses in Indian Ayurveda.
Hibiscus tea is made by steeping dry hibiscus / zobo leaves in boiling water, and can be enjoyed both hot and cold. It has a sour taste, so it is known as sour tea, having a flavour similar to cranberry juice.
In the Caribbean, a hibiscus drink called sorrel is made by adding ginger, sugar and rum to the hibiscus brew. Though, it is advised that anyone seeking to gain any health benefits from a hibiscus tea does not add anything with negative dietary effects such sugar or alcohol to the drink.
Zobo drink has an enjoyable taste, and the health benefits may also be far reaching. From managing high blood pressure, lowering cholesterol and protecting the liver, to relieving menstrual cramps and acting as an antidepressant, hibiscus tea has an impressive list of potential benefits.
Health benefits of hibiscus tea:
*hibiscus tea may be dangerous during pregnancy, due to its ability to cause hormone fluctuations*
1. Zobo leaf drink may relieve menstrual pain
Traditionally, the health benefits of hibiscus tea include relief from cramps and menstrual pain. It is thought to help in restoring hormonal balance as well, which can reduce the symptoms of menstruation like mood swings, depression, and overeating.
2. Zobo drink may manage high blood pressure
Consuming zobo drink may lower the blood pressure in pre-hypertensive and mildly hypertensive adults. A study in the Journal of Advanced Pharmaceutical Technology & Research found that it has antihypertensive and cardioprotective properties, which may be beneficial for people suffering from hypertension, and those at high risks of cardiovascular diseases.
3. HIbiscus tea may lower cholesterol
Research in the Journal of Alternative and Complementary Medicine shows that zobo drink helps to lower the levels of (bad) LDL cholesterol from the body, thereby helping to protect against heart diseases and protecting blood vessels from damage. The hypolipidemic and hypoglycemic properties of hibiscus tea may be beneficial for those who suffer from blood sugar disorders like diabetes.
4. Zobo drink may protect the liver
The BMC Complementary Medicines and Therapies journal published a study that also suggests that the antioxidant properties, in particular from flavonoids, of hibiscus tea may also help in treating liver diseases. Antioxidants help protect your body from diseases because they neutralize the free radicals present in body tissues and cells. Hibiscus tea could increase your lifespan by maintaining good overall health.
red-roselle-hibiscus-plant
5. It contains anti-cancer properties
According to research in the Cancer Letters journal, hibiscus tea contains hibiscus protocatechuic acid which has antitumor and antioxidant properties. Hibiscus may slow down the growth of cancerous cells by inducing apoptosis, commonly known as programmed cell death.
6. Hibiscus tea is an anti-inflammatory & antibacterial agent
Zobo drink is rich in ascorbic acid, also known as vitamin C, an essential nutrient required by your body to boost and stimulate the activity of the immune system. It is also used to treat discomfort caused by fever.
7. Zobo leaf drink may be an antidepressant agent
Hibiscus tea contains many vitamins and minerals, while it's the presence of flavonoids which have been found to have antidepressant properties, by a study supported by CNPq and CAPES in Brazil. Consumption of hibiscus tea may help calm down the nervous system, and it may reduce anxiety and depression by relaxing the mind and body.
8. Zobo drink may promote weight loss
A study in the Molecules journal has shown that hibiscus may reduce lipid accumulation, as well as acting to lower the development of fat tissue in the body. Both of these effects suggest that hibiscus tea may be a useful aid for weight loss, when combined with a health diet and lifestyle.
Cautions
Remember to always consult with your doctor about any medical concerns, conditions and supplements that you may be taking. Always take the advice of a medical professional on how to proceed with your treatment.
JOIN OUR PULSE COMMUNITY!
Recommended articles
Raising a Toast to the true Orijinals: Orijin unveils new limited edition packs this festive season
8 sperm-killing foods that dads need to avoid!
Why reverse cowgirl is the world's most dangerous sex position
The male G-Spot, where it is and how to stimulate it
5 ways to spot a sex addict or know if you are one
Beyond the runway: Lush hair steals the spotlight at Lagos Fashion Week's 10th edition
Escudo Rojo introduces Luminoso Wine in spectacular launch event
Bikiya Graham-Douglas continues to promote African Arts & Culture with Beeta Arts Festival (BAF)
Spices, Stories and Surprises: Detailed look at vibrant African Food & Drinks Festival Abuja
Make this no-yeast bread with only 3 ingredients
What is a Jacob's ladder piercing? It's pretty extreme
3 ways to get rid of vaginal odour
Shelly-Ann Fraser-Pryce: Track legend signs mouthwatering deal with luxurious wristwatch brand
Sha'Carri Richardson: World's fastest woman reportedly bags $20,000,000 endorsement deal
She needs a break - Super Falcons coach explains Ashleigh Plumptre's absence from team
Sergio Ramos makes Champions League history 31 years after Daniel Amokachi
Thiago Silva recalls TB fright ahead of Chelsea debut